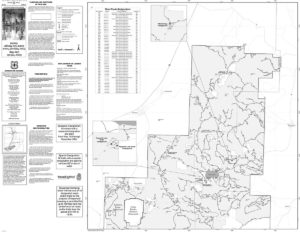 Motor Vehicle Use Maps (MVUM) are important maps for boondockers because they explain where free, dispersed camping is allowed within a national forest or national grassland, and where it's not.
MVUMs are published by the U.S. Forest Service, and therefore apply only to national forests and national grasslands.
MVUMs are "legal documents" as far as the USFS is concerned, and hence reflects the USFS' official policy.
Because they are "legal documents" they are drawn precisely to scale with GPS coordinates marked out in grid pattern.
An MVUM tells you which roads are authorized for street legal vehicles only.
An MVUM tells you which roads are authorized for all vehicles, including off-road vehicles.
An MVUM shows you where USFS lands (public land) are versus inholder lands (private property).
Most MVUMs will explain which roads are authorized for dispersed camping, or if any dispersed camping is allowed.
Each national forest and grassland compiles and updates its own MVUM. While all MVUMs have a consistent appearance, they don't all consistently show the same information.
Each forest or grassland visitor center will provide printed copies of MVUMs.
Motor Vehicle Use Maps Archive by State
Motor Vehicle Use Maps Archive by Forest/Grassland