Boondocking at BLM Long Term Visitor Areas (LTVA) remains the best deal for boondockers who want extra long term stays for very little money. Long Term Visitor Areas are defined by the BLM as a developed campground where campers can stay for as long as 7 months. These campgrounds do not offer hookups, though a couple of them offer dump stations and fresh water.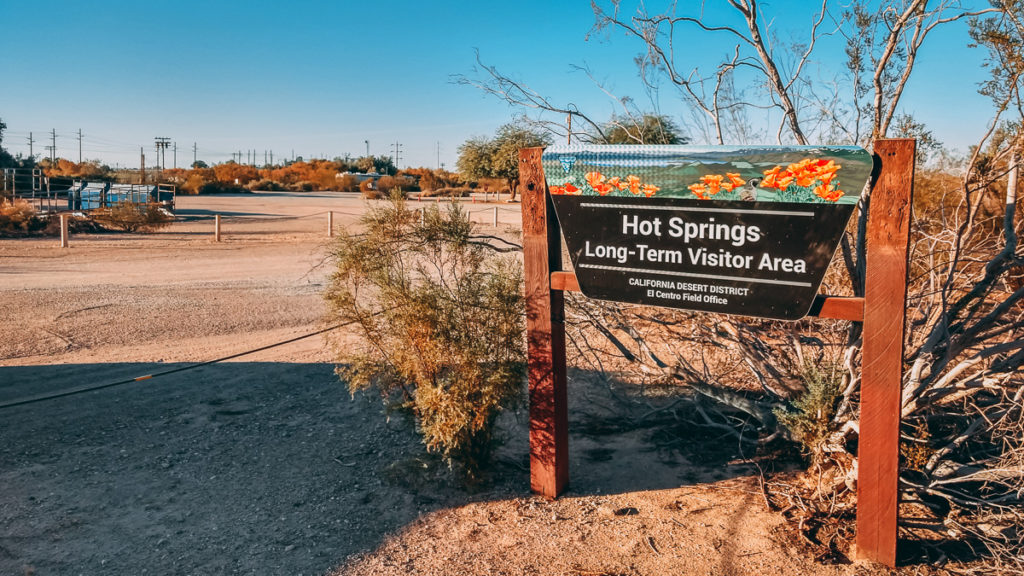 Boondocking at BLM Long Term Visitor Areas
Most LTVAs cost money during the snow bird season, while some are free either part of the year, or the entire year. Either way it's very cheap to boondock at an LTVA…
The LTVA long term permit ($180) allows use of LTVAs continuously from September 15th to April 15th or for any length of time between those two dates. You can either stay the entire period at one LTVA, or move to other LTVAs during the period without incurring additional cost.
The LTVA short-visit permit ($40) allows use of LTVAs for any 14 consecutive day period from September 15th to April 15th, which begins on the day the permit receipt is exchanged for the official permit and decal. The short-visit permit may be renewed an unlimited number of times for the cost of the permit, and is valid at any LTVA.
From April 16th through September 14th, the fee varies from one LTVA to the next…

Hot Springs, Midland, Pilot Knob and Tamarisk LTVAs remains free during this period
La Posa and Imperial Dam LTVAs are $10 per vehicle for day-use, $15 per vehicle for overnight use, or $75 annually per vehicle, for up to 5 people per vehicle. There is a $1 fee charged for each person over the 5 person limit. The maximum stay is 14 days in a 28-day period.

Visitors can purchase permits on site by seeking the camp host or at the BLM field offices in El Centro, CA and Yuma, AZ.
If you plan to stay at an LTVA during the September 15th to April 15th period, keep in mind snowbirds will start flocking to these areas right away, but the heaviest migration occurs right after Thanksgiving. Make sure to claim your site before then.
You don't have to stay the full period of the permit. You can stay for a shorter period, then move out and come back. However, the 180-day and 14-day clocks continue to run even while you're gone. But, the fee is good for all LTVAs, so you can move from one LTVA to the next.
What's it Like to Boondock at an LTVA
Quiet yet crowded, secluded yet communal, are perhaps ways to describe LTVAs during the popular time of the year (September 15th to April 15th).
LTVAs are popular with snowbird boondockers. They return year after year to the same LTVA, often times the same campsite. Each LTVA becomes a neighborhood where campers remember each other from previous years and hang out over campfires. Camp hosts often organize barbecues and evening socials. There is usually a community bulletin board where campers can make announcements, and usually a donation bin where you can throw away junk in hopes of finding someone who will make use of it.
Many campers will purchase the long term permit ($180) but spread it out over multiple LTVAs. They'll spend a month in one, then move to another, usually hitting a dump station in between.
Because of the long term nature of LTVAs, most boondockers will purchase a portable black tank and haul their waste to a dump station so that they don't have to tow/drive out of the campground.
LTVAs are generally very well kept in terms of trash and peace. Most camp hosts are pretty good about kicking out noisy campers and keeping the area clean.
Most LTVAs have areas where social campers can park close to each other and hang out, and areas where others can find seclusion.
All LTVAs are located in the southern deserts of California and Arizona. Because these areas have not already been claimed by State and Federal parks, they tend to be less desirable for their landscape, and more valued for their freedom.
Scheduling a Stay at an LTVA
LTVA camping is strictly first-come-first-serve. There is no reservation system.
Getting the best campsites starts as soon as the September 15th to April 15th season opens, but the heaviest arrival of snowbirds comes immediately after Thanksgiving.
Map of LTVAs
Parks, Monuments, Forests, Grasslands, Wilderness
Military Areas, Bombing Ranges
Hot Springs LTVA (32.76734444, -115.2703056), 7 miles south east of Holtville, CA along I-8 (official website) (read our review)
Tamarisk LTVA (32.70812222, -115.1271), 10 miles east of Calexico, CA along CA-98 (official website)
Pilot Knob LTVA (32.74273889, -114.7554806), on the south side of I-8 at Felicity, CA (official website)
Imperial Dam LTVA (32.901077, -114.494701), at Senator Wash Reservoir, 6 miles north of Bard, CA (official website)
Midland LTVA (33.7296, -114.661), Midland Rd, 5 miles north of Blythe, CA (official website)
Wiley's Well LTVA (33.4935, -114.8881), part of the greater Mule Mountains LTVA, located on Wiley's Well Rd, about 5 miles south east of Ironwood State Prison, CA (official website)
Coon Hollow LTVA (33.4479, -114.9011), part of the greater Mule Mountains LTVA, located on Wiley's Well Rd, about 8 miles south of Ironwood State Prison, CA (official website)
La Posa LTVA (33.65165, -114.2169), 1/2 mile south of Quartzsite, AZ, along US-95 (official website)
Which LTVAs are the Best?
Imperial Dam is considered the most popular because it comes with the most amenities (dump station, fresh water, showers, etc.). La Posa is popular because it sits right in the middle of the annual Quartzsite RV show. Hot Springs is popular because it comes with a free, fully developed hot spring, and offers facilities for filling your jugs through a special faucet.
Tamarisk is considered the least desirable because it's the smallest of the LTVAs, and offers no amenities. Wiley's Well and Coon Hollow are the most remote of the LTVAs.
Are LTVA Rules Strict or Lenient?
Generally the rules are lenient and easy for most boondockers to abide by. The most notable rules…
Quiet hours are from 10:00pm to 6:00am
You cannot remove wheels and tires from your RV, your RV must remain fully ready to move at any time
No loud music (don't set up speakers and amplifiers at your site), and no excessively loud generators
Don't erect structures (storage units) or fencing.
Don't dump gray or black tanks on the ground
Don't gather firewood from within the LTVA
No shooting guns within the LTVA, nor within a 1/2 mile buffer from LTVA boundaries
No personal aircraft (ultralights, balloons, drones)