Free camping at Buenos Aires National Wildlife Refuge is available all year long, without reservations. The US Fish & Wildlife Service provides eighty-three (83) primitive campsites throughout the refuge. Each campsite is limited to one party of campers. Some of these sites are small, but others are large enough to accommodate several RVs.
Camping at Buenos Aires National Wildlife Refuge
Buenos Aires NWR restricts camping to its network of eighty-three (83) primitive campsites located throughout the greater portion of the refuge. Each of these sites are marked by a numbered sign. Most sites have a fire pit, but that's about it.
Passes and Permits
Passes and permits are not required for camping inside Buenos Aires NWR. Special Use Permits are available for commercial activities like guided tours, hunts, filming, or group events.
Areas Off-Limits to Camping
You cannot camp in areas not marked by a numbered campsite sign. Boondocking, dispersed camping, backcountry camping is not allowed inside the refuge.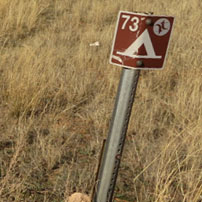 Maximum Length of Stay
Camping is limited to 14 days within any 30 day period. The 14 days applies to all campsites collectively, not individually. Once you reach the 14 day maximum, you cannot camp within the refuge until the 30 day period is met.
Campfire Restrictions
Campfires are restricted to just fire rings at each numbered campsite. You're free to gather dead and down firewood to build a campfire. You are not allowed to transport wood outside of the refuge. You cannot cut down standing trees, dead or alive.
Weapons
Firearms are allowed into the Refuge. Shooting firearms is prohibited with the exception of hunting or self-defense. Shooting under any other use, including target shooting, is prohibited.
Air guns, bows and arrows, crossbows, spears, gigs, or other weapons are not allowed into the Refuge, except for use with hunting. (Reference, § 27-43 Weapons Other Than Firearms)
Off-Road Vehicle Use
All vehicles (including bicycles) may only be operated on designated public roadways. Designated roads are provided on refuge maps. Seasonal road closures may occur.
All motor vehicles, including OHVs and motorcycles, must be licensed, insured, and equipped to legally operate on state highways. Many states do not allow for the modification of OHVs for legal operation on state highways and cannot be legally operated on national wildlife refuges.
OHVs and motorcycles registered in Arizona must have valid motorcycle (MC) plates. Motor vehicle operators must possess a valid driver's license and insurance.
Other Rules Established by Buenos Aires NWR
The use of artificial light, including automotive headlights, to illuminate wildlife is prohibited.
The use of flagging tape, reflective tape, or other signs or markers is prohibited.
Leaving property abandoned on a national wildlife refuge is prohibited.
Pets must always be under the control of the owner. Unconfined domestic animals are not allowed.
Disturbing the peace or other disorderly conduct on the refuge is prohibited.
All accidents involving injury to people or wildlife and/or property damage must be reported to an on-duty refuge official within 24 hours of the accident.
Persons under the age of 21 years may not possess or consume alcoholic beverages on the refuge. Providing alcoholic beverages to persons under age 21 is also prohibited.
Possession of drug paraphernalia, including any instrument that facilitates the consumption of a controlled substance, is prohibited.
Fishing is prohibited.
Map of Campsite at Buenos Aires National Wildlife Refuge
Additional Information
Downloads
Phone Numbers
More About Boondocking in National Wildlife Refuges
More About Boondocking in Arizona