Which is better for boondocking, a campervan versus a trailer? Campervans, otherwise known as Class B RVs and Class B Vans, are very popular as boondocking vehicles, particularly those who prefer to keep moving. On the other hand, a trailer is better for boondocking if you prefer to remained camped in one place for a longer period.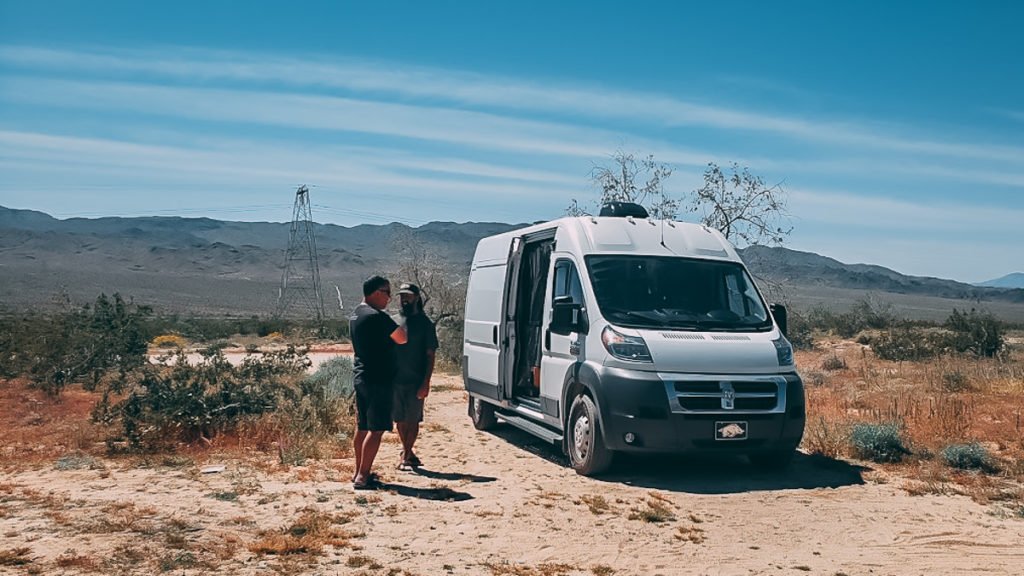 Campervan Versus Trailer for Boondocking
The three primary boondocking advantages that campervans offer over trailers…
Their smaller profile allows them to boondock in places that trailers and tow vehicles cannot get into. They can also turn-around in tight places whereas trailers need more room to get turned around.
Packing up camp takes less time in a campervan, allowing you to leave more quickly and easily. There's a lot less to put away and secure down. Because campervans have much less space for storage, there is a lot less stuff to pack up.
Gas mileage is the best with campervans, getting between 10 MPG to 20 MPG depending on make and model, and how much cargo its carrying. By comparison, a truck and trailer will get between 5 MPG to 10 MPG depending on make, model, and cargo weight.
Campervans Are Cheaper
A Dodge Ram ProMaster 2500, Ford Transit Cargo, or Mercedes Sprinter, each with a high roof, and each in their cargo van configurations, will cost about $40,000 for a base model. Only the Mercedes offers a four-wheel drive option, which will add another $15,000 to the price.
By comparison, a truck and trailer can cost about double that. A half-ton pickup truck with a small trailer can run you easily around $60,000 for both, up to $100,000, depending on what options you want and what brand of trailer you buy.
However, keep in mind that when you buy a cargo van brand new, it has nothing in it. You will have to spend a lot of time and money outfitting it with a bed, storage cabinets, a cooktop, solar and battery, etc. A fully built-out cargo van may eventually add another $10,000 to $40,000 in equipment, materials, and time.
Do You Need the Four-Wheel Drive?
If your goal is to go boondocking full time, then yes you will want the four-wheel drive Mercedes.
Remember that one of the bigger reasons for going with a campervan is to get into places that trailers and motorhomes cannot get into. There is a lot of secluded camping out there that demands four-wheel drive.
All-wheel drive (AWD) is not the same as four-wheel drive (4WD). AWD is generally a computer-controlled drive-train that senses how much power to apply per wheel depending on road surface. By contrast, 4WD simply locks both axles together so that all four wheels spin at the same time regardless of road surface. A 4WD system depends upon sand, gravel, or mud to allow each wheel to slip when turning.
4WD vehicles do much better navigating through sand, mud, and rocky terrain than AWD vehicles. AWD systems were designed for extreme weather like snow, ice, and rain. They were not intended for difficult terrain.
The AWD option on the Ford Transit is not going get you into some of the more secluded areas as the 4WD option on the Mercedes Sprinter.
Going Stealth With a Campervan
Another big reason to get a campervan is that you're better able to go stealth. You can park along the curb in a neighborhood without getting ticketed by local law enforcement. You can overnight at Walmart, or even a grocery store, and no one will suspect that you're sleeping overnight.
This is great if you plan to spend more time in urban areas. Boondockers who need to remain close to town for job reasons prefer to use campervans.
Are Campervans Well-Suited for Couples and Families?
No, they are not. Even though many couples have lived in campervans as full time RVers, just about every campervan couple we have met eventually upgraded to a larger trailer or motorhome.
Living together in such a small space for several years demands a lot of relationship skills. Most couples and families don't have these skills. If however, you plan to spend more time outside of the van, it can work. If you plan to set up a tent outside of the van, it can also work. Couples will often need to have separate space, where one person can stay in the van, and the other person can stay outside. Otherwise, constantly being side-by-side 24-hours a day will generate a lot of fights even with the most romantic of couples.
If you are an introvert, don't even waste your money on a campervan. You will not enjoy sharing it with someone else.
Should You Get a Campervan or Trailer?
Campervan Advantages – Better for getting into smaller sites and tighter spaces. Easier to get turned around on narrow dirt roads. Better fuel economy. Overall cheaper to purchase. Offers the stealth option for urban camping. Much more leak-proof during rainstorms.
Campervan Disadvantages – They are very limited on how much water and sewage they can hold. Requires you to spend additional money building your living quarters. Overall cabinet storage is very limited. They do not support traditional RV toilets, instead they are limited to cartridge toilets. Not well-suited for camping in the same place for weeks at a time. If you need to drive into town for supplies, you must pack up camp.
Trailer Advantages – Better for boondockers who want to remain camped in the same place for longer periods. Offers larger water tanks and sewage tanks. Offers most home amenities like shower, toilet, cooktop, refrigerator. Better equipped for cooling and heating during extreme weather. If you need to drive into town for supplies, you don't have to pack up camp, just unhitch the trailer.
Trailer Disadvantages – They are larger and tend to be more limited on where you can set up camp. More expensive because you need to also purchase a tow vehicle. Trailers tend to experience more leaks during rain storms than campervans. Towing a trailer requires more driver skill.
Dodge vs Ford vs Mercedes
No doubt it, the Mercedes Sprinter with the 4WD option is the best campervan choice for boondockers. The 4WD makes all the difference. It allows you to get into those secluded areas that trailers and motorhomes cannot get into. Getting into those areas is one of the biggest reasons why boondockers get campervans.
When it comes to Dodge versus Ford, the Dodge Ram ProMaster is by far and away the more popular choice. The reason why is because the Dodge offers a taller interior height and can haul more weight. The Ford Transit can actually tow a larger trailer than the Dodge, but most boondockers don't tow with a campervan.
The Bottom Line
Campervan – Get a campervan if you prefer to camp only for a few days at a time. Campervans are better suited for boondockers who prefer to keep moving around the country.
Trailers – Get a trailer if you prefer to remain camped in the same place for weeks at a time. Trailers are better suited for boondockers who want to drive less, and camp more.
For Additional Reading