Most tent campers who use a CPAP use a "portable power station" (also referred to as a battery generator) to power their sleep. They also rely on a fold-up solar-panel to recharge the power station. The two together can be expensive, but as of today, this is by-far the most popular, and the most elegant way to take your CPAP off-grid.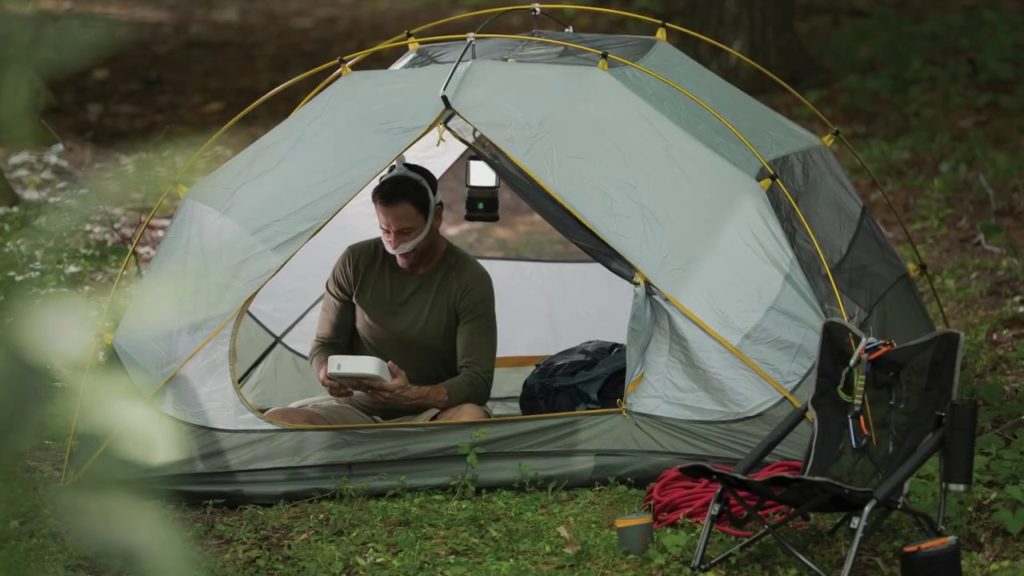 How to Power a CPAP When Tent Camping
Portable power stations are all the rage with tent campers and boondockers. These units have 2 to 4 electrical outlets. They can power your CPAP, a small refrigerator, as well as recharge your electronics, even power travel-sized hair dryers and curling irons. Portable power stations come in various sizes, depending on how many electrical appliances and electronics you have.
To power a CPAP when tent camping, you just plug the CPAP's power cord directly into the power station. All portable power stations come with several types of outlets to fit just about any kind of power cable.
A mid-range portable power station holding 350 to 500 watts of power should be able to power a CPAP for 1 to 2 nights and that's with both humidifier and heated hose turned on. You can get larger power stations, at 1,000 watts, 1,500 watts, up to 2,000 watts. These larger units can hold enough power to run a CPAP for a week or more.

How Do You Recharge a Portable Power Station?
Solar panels – Almost all manufacturers of portable power stations sell solar panels designed to work with their units. These panels can recharge a power station in just one sunny afternoon. A larger power station may require two solar panels. These panels are designed to fold up small for easier storage.
Plug it into your vehicle's cigarette lighter – All portable power stations have a 12v DC cord designed to plug right into a cigarette lighter. You will have to run the engine on your vehicle, however.
Plug it into a wall outlet – If you're tent camping or boondocking, you're not going to have a 110v wall outlet to plug into, but if you're able to find such a thing somewhere else, you can also recharge it that way.
Make Sure to Get "Pure Sine Wave"
Make sure to buy a portable power station that produces "pure sine wave" AC power. This produces electricity about the same quality as, or sometimes better, than the electricity you get from a standard wall outlet.
Some portable power stations produce "modified sine wave", which creates rough peaks and dips in voltage. This type of erratic power can damage sensitive electronics and computers chips found in modern-day CPAP machines.
If a portable power station does not say, "pure sine wave" on it, then you can be certain it's "modified sine wave".
What Kind of Portable Power Station Do We Recommend?
To power a CPAP when tent camping, get a portable power station holding between 500 watts to 1,000 watts. This should get you 2 to 4 nights of CPAP power…
Make Sure to Keep Your Power Station Locked Up
Portable power stations, along with an accompanying solar panel, are expensive, and are targets for easy theft. Make sure you have a way to keep them locked up and out of sight if you plan to leave your camp to go hiking.
What About Using C-PAP Batteries?
CPAP batteries are less expensive, but not that much. A lower end C-PAP battery, that holds enough charge for one night, will cost between $350.00 to $400.00. For the same price, a portable power station can power you for two nights. On top of that, the portable power station can power any other electronic or electrical device, whereas as a C-PAP battery is far more limited in what it can power.
Moreover, CPAP batteries don't normally come with solar panels, you have to buy them separately from other brands. This gets you the difficulty of finding a solar panel that has the same size and type of plug as the CPAP battery. Otherwise, you have recharge a C-PAP battery by plugging it into a wall-outlet, or plugging into your car's cigarette lighter and running the engine anywhere from 5 to 10 hours.
The only advantage to a CPAP battery is its physical size. They are very small and light, which is great if you do all your traveling by foot. However, most CPAP users we know of are not in the physical condition to go on a long hike. They are usually car campers, van dwellers, or motorcycle tourers.
This is why we recommend getting a portable power station instead. It offers the ability to power all of your electronics and electrical appliances, and keep you powered for days at a time. And all manufacturers make solar panels designed to work with their units.
Read More About Camping With Electricity