Boondocking in a fifth wheel is feasible depending on your skill level towing a fifth wheel trailer and where you plan to tow it. Assuming you want a larger trailer for boondocking, a fifth wheel trailer also comes with more maintenance, and a larger pick up truck to tow it. However, if you are only living with yourself and one other person, you will soon start to appreciate smaller trailers.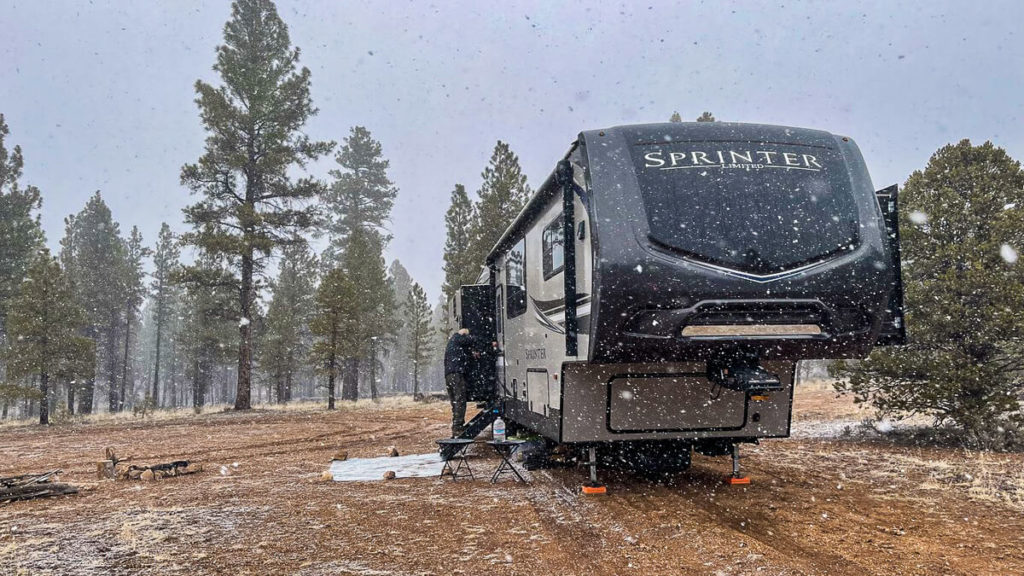 Is Boondocking in a Fifth Wheel Feasible?
Let's assume that money is no object for you.
If you are looking at a fifth wheel trailer anywhere from 36 feet in length or more, you are going to want a one-ton pickup truck with dual rear wheels (DRW). This is because you will find that with more space inside the trailer, you will accumulate a lot more things. All that extra weight will cause a single rear wheel (SRW) pickup truck to sag, thereby making the truck more unstable while towing.
You will also need a pick up truck with a long bed (8 foot bed) so that you have enough room for the front of the trailer to clear the truck cab when turning. If you have a short bed (6.5 feet or less) you will need to also purchase a sliding mechanism that allows the hitch to slide backwards in a turn.
All pickup trucks with dual rear wheels run on diesel, and all new diesel trucks being built these days require diesel exhaust fluid (DEF) in addition to the diesel itself. Both DEF and diesel are becoming more scarce and more expensive.
Diesel pickup trucks require a lot more maintenance because they are more complicated engines. If you are not capable of doing this maintenance, it will mean more appointments with a shop than compared to a gas truck.
Having a longer profile with both the truck and trailer will make it far more difficult to maneuver into tight spaces. This means your choice of boondocking sites will greatly diminish. You will be relegated to popular boondocking areas where there is a plenitude of large sites rather than find secluded, undocumented sites on your own.
Also with such a longer and heavier rig, you will not be able to tow up steep inclines along dirt roads because the mass of your rig will pull your truck backwards. The opposite may happen too, where the mass is pushing your truck downhill despite having stepped on the brakes.
A heavier combination between truck and trailer will also make it impossible to travel over older, weaker bridges with severe weight restrictions.
The taller height of a fifth wheel trailer will also cause problems getting into boondocking sites with low-hanging branches. It will also create more hazards going under low bridges (particularly areas east of the Mississippi River).
Also, because fifth wheel trailers have so much floor-to-ceiling space, it becomes more difficult to heat the interior in cold weather. That is, all heat generated by your heater will rise up to the ceiling instead of staying low where you and your family are.
The higher profile of a fifth wheel trailer makes it more susceptible for tipping over during high winds, especially wind gusts while towing.
Advantages of a Fifth Wheel Trailer
As long as there is not too much weight on the back of the truck, fifth wheel trailers are actually more stable when towing. This is because the hitch weight is closer to the center of the truck than with a bumper pull.
Fifth wheel trailers come with more storage bays than with bumper pull trailers.
You can house more people in a fifth wheel trailer. A family of four or more is perhaps better suited for a fifth wheel trailer.
Fifth wheel trailers almost always come with a built-in generator, standard.
Water tanks and sewage tanks are always larger in a fifth wheel trailer, often offering 100-gallon water tank or more, and 45 gallon or higher black and gray tanks each.
Most fifth wheel trailers come with bays for clothes washer and dryer, along with water and electrical outlets for both.
You typically get a residential sized refrigerator with fifth wheel trailers, plus more kitchen space.
Advantages of a Bumper Pull Trailer
You don't have to drill mounting holes into the bed of your pickup truck for the hitch.
Because the hitch is not located inside the bed of the truck, you have more storage space in the bed.
As long as you have a full size pickup truck of some kind, you can tow a bumper pull trailer; you may have to get a smaller trailer depending on the limitations of your truck.
Most cars and SUVs can tow a bumper pull trailer, again, you may have to downsize the trailer to meet the capabilities of your tow vehicle.
Because bumper pull trailers don't have the high ceiling of a fifth wheel, the interior can be heated more quickly and efficiently in cold weather.
Smaller bumper pull trailers (26 feet in length or less) can be maneuvered into tight boondocking spaces. This opens up more boondocking opportunities.
Small trailers are less likely to get your tow vehicle stuck in sand or mud due to the lighter weight.
The lighter weight of both the trailer and tow vehicle means greater fuel economy.
Having less storage space can be a huge advantage because it forces you to live minimally, and thereby decreases the weight of your trailer.
Some States Will Require Special Driver's Licenses for Heavier Trailers
About half of the states will require that you obtain a "non-commercial class A" license when towing a trailer that exceeds a certain gross vehicular weight rating (GVWR). This means getting medical exam, taking an additional written test, and performing a driving test with an examiner.
Note: GVWR does not mean the actual weight of the trailer. It instead refers to the maximum weight the trailer's axles can bear. You will find the GVWR of your trailer on a sticker placed somewhere on the trailer itself, often on the front-driver's side of the trailer, or inside the door.
California requires a non-commercial class A license for any bumper pull trailer exceeding 10,000 GVWR, or fifth wheel trailer exceeding 15,000 GVWR. This covers all medium to large sized bumper pull and fifth wheel trailers.
Texas requires a non-commercial class A license where the trailer is greater than 10,000 GVWR, and where both the trailer and tow vehicle weigh more than 26,000 pounds.
RV Basic Training addresses this issue across other states (visit website).
Learn More About Best RVs for Boondocking