If you're just getting started in RV boondocking, and you're looking for some free campsites that easy to get into, still offer cell phone coverage, and are mostly safe from "bad guys", we've assembled our Top Ten Free Campsites for Beginner Boondockers below.
In no particular order of preference…
Rufus Landing Recreation Area
Authority: Army Corps of Engineers
State: Oregon
Google Map Link: 45.693570, -120.756142
Maximum Stay: 14 days
Verizon 4G Coverage: 3/5 bars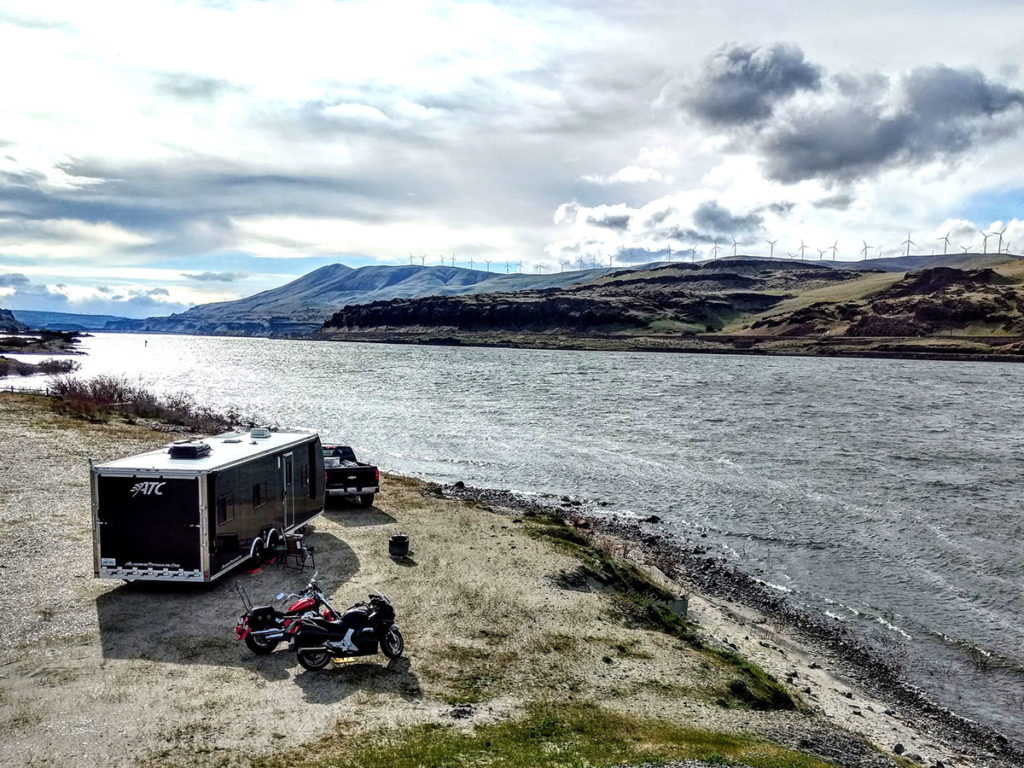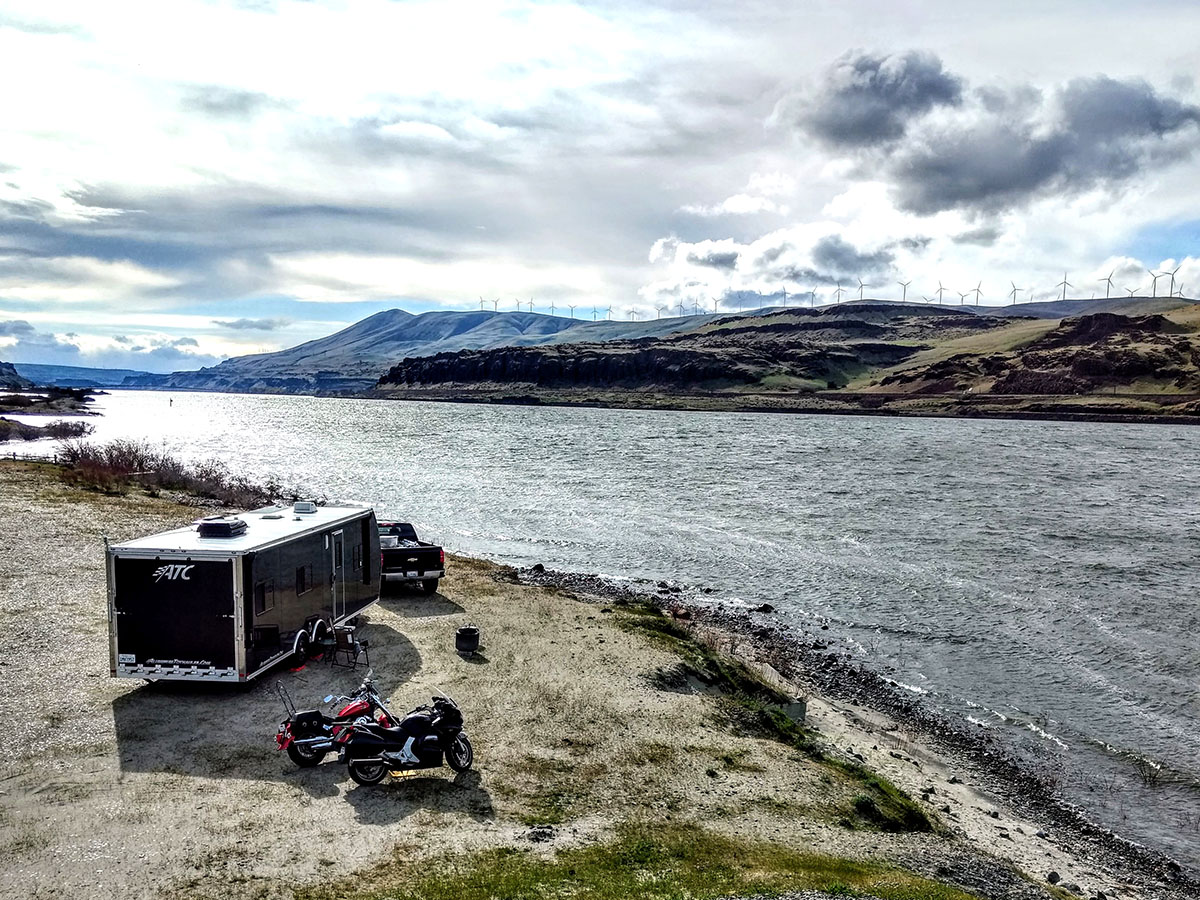 Located on the banks of the Columbia River, you get stunning views of the gorge, windsurfers, and riverboats. The camping area is well-packed gravel, suitable for any size RV. 2WD vehicles won't have any problems getting into here, and there's plenty of room for dozens of RVs. You're located only a mile from the town of Rufus, which has a gas station, a few restaurants, and a general store. But you're also five miles from Bigg's Junction where you'll find more amenities, and only 20 miles from The Dalles, which has all the shopping and services you'll need. Across the river, on the Washington side, is the tourist town of Maryhill, where you can tour the Maryhill museum, and the exact replica of Stonehenge.
The best time to arrive is in Spring before the month of May, and then also after Labor Day Weekend. Note that in summer, the salmon begin swimming upstream, causing this area to become crowded with fishermen. During Labor Day Weekend, Rufus Landing becomes very crowded as well. Day time temperatures during the Summer can get reach 100 degrees F or more. Early to mid Spring, and late summer to mid Fall, day time temperatures become more pleasant, around 60-80 degrees F.
The closest RV dump station is at Le Page Park, about 5 miles east along Interstate 84, costing $5.00, and includes potable water. Note there is also a dump station at the gas station in Rufus, but costs $10.00, but does not have potable water. The same gas station offers propane tank refill.
Sheep Bridge Road
Authority: Bureau of Land Management
State: Utah
Google Map Link: 37.195275, -113.218188
Maximum Stay: 14 days
Verizon 4G Coverage: 3/5 bars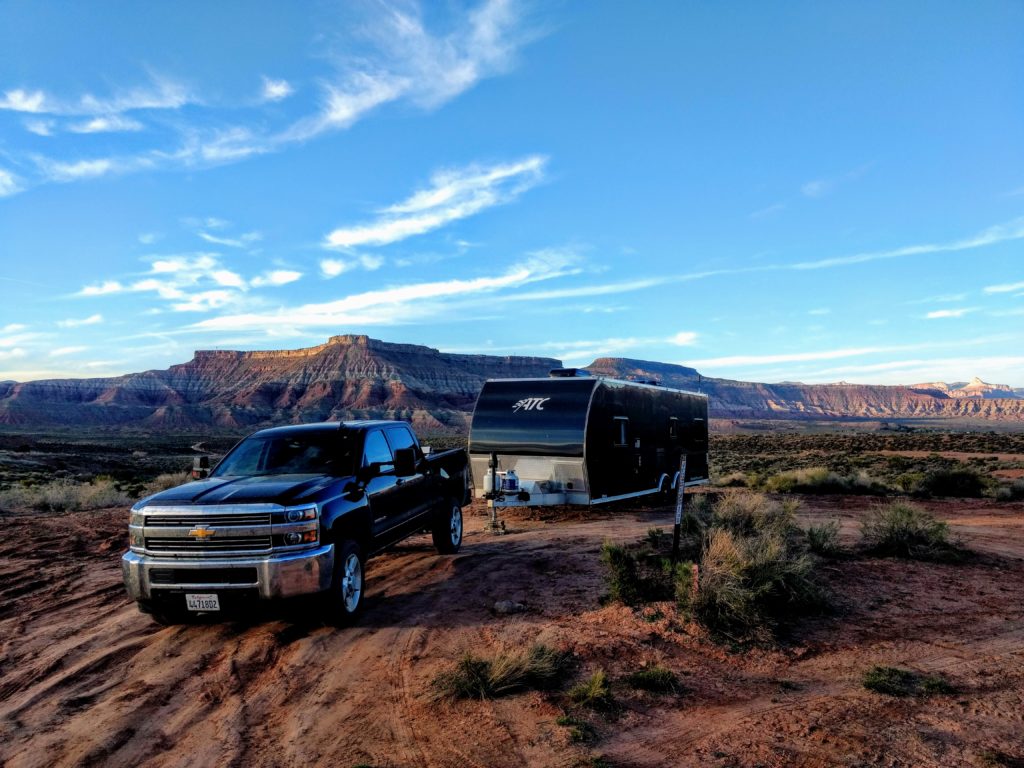 Sheep Bridge Road is part of the greater Hurricane Cliffs Recreation Area, so named for the cliffs that overlook the Virgin River flowing out from Zion National Park into the town of Hurricane, UT. You're only 20 minutes from Zion National Park, and 15 minutes from the towns of Hurricane and La Verkin.
There are 48 designated campsites located along the stretch of Sheep Bridge Road between Highway 9 and Highway 59. Even though this area is part of a BLM developed campground, it's still boondocking with no hookups. The only amenities is a large trash dumpster located about halfway along Sheep Bridge Road, as well as metal fire rings in each official campsite. Most campsites are spaced very far apart, and for the most part you'll enjoy a good deal of privacy.
There are also access roads leading into clearings with signs warning, "No Camping Allowed". However, we found campers setting up in these places. It seems local BLM authorities rarely patrol this area. Also, about halfway down Sheep Bridge Road, the road wanders into private property, a piece of land owned by a local stone quarry. There are several clearings and access roads into this property that RVers pull their rigs into, and remain for days or weeks, seemingly without any trouble from the land owner. It appears many of these RVers don't even realize they're on private property. Hence, despite there being only 48 marked campsites along Sheep Bridge Road, the fact is that as many as 60-70 RVs could find space to camp somewhere along the road.
Sheep Bridge Road is hard packed dirt, and easily accessible by 2WD vehicles with low ground clearance. Many of the access roads branching off Sheep Bridge Road can be rutted and pock marked with holes and boulders. Some of the access roads could be considered steep, hence a 4WD truck may be needed to tow a longer, heavier trailer into some of these sites. Smaller RVs will have no problem anywhere. There are also plenty of pull out spaces where you could unhook a trailer or toad, and then explore the area first before settling on a site.
At both ends of Sheep Bridge Road, between Highways 9 and 59, there are kiosks illustrating where all the official campsites are.
It's best to arrive here before 11:00am in the morning. Many campers have packed up and left by this time. If you arrive in the afternoon or early evening, it's doubtful you'll find an available campsite. It's a popular area for the close proximity to Zion National Park, and the gorgeous red rock views of the area. If significant rain is forecast for this area, prepare for a red, muddy mess.
Nellis Dunes Recreation Area
Authority: Bureau of Land Management
State: Nevada
Google Map Link: 36.308205, -114.950883
Maximum Stay: 14 days
Verizon 4G Coverage: 5/5 bars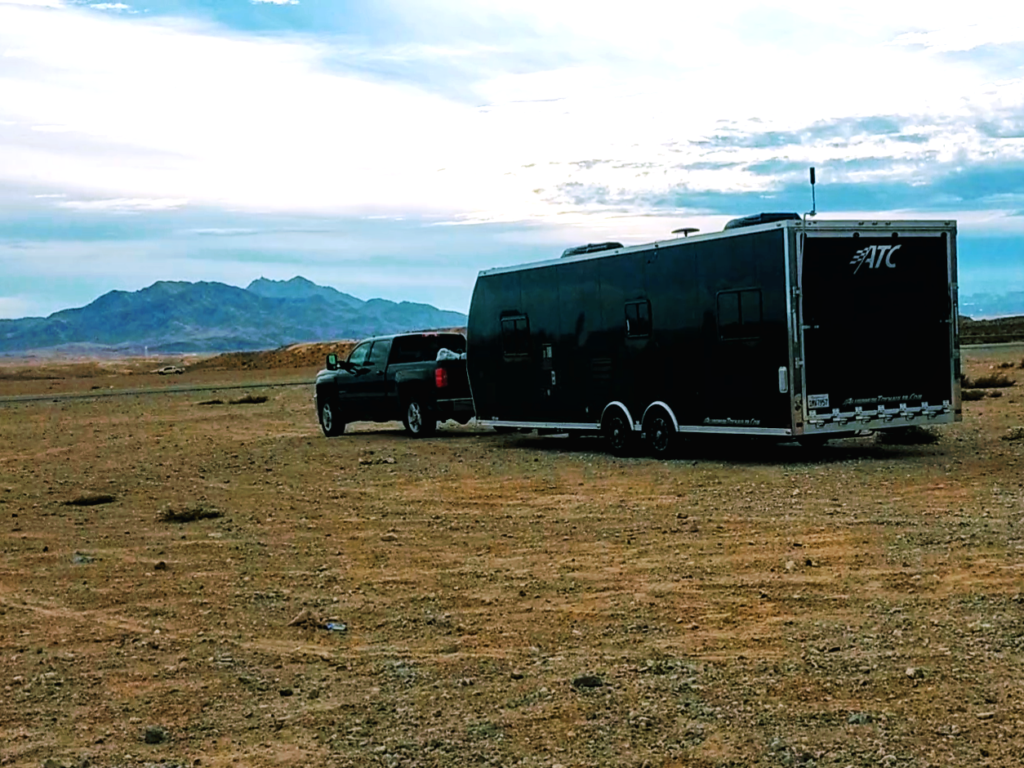 This is a large off-highway vehicle area well-suitable for dirt bikes, quads, and side-by-sides. There are numerous areas where you can park your RV and dig in for a long stay.
Google Maps shows this as, "Apex OHV Area".
We recommend camping at the far north end, along Clark R. Petersen Blvd, right next to the Ritchie Bros. Auction yard. You'll get the most separation from off-roaders here. Technically, you can camp at spaces all the way south along Las Vegas Blvd, until you reach Nellis Air Force Base. But camping anywhere else will subject you to frequent pass-bys from off-roaders.
Verizon 4G coverage is excellent here, however, we noticed that the signal will often drop completely to nothing for 15-30 minutes at a time, and then suddenly come back up to a full 5 bars. We believe it has something to do with Nellis Air Force Base interfering with the signal.
The road into Apex OHV is mostly paved, while the dirt areas for parking RVs is firm-packed dirt and gravel. 2WD vehicles will have no problem here.
Expect a lot of off-roaders flocking to this area on weekends, but also expect peace and quiet during the week with the exception of jet planes flying out of Nellis Air Force Base. The city of Las Vegas is only 20 minutes away either via I-15 or Las Vegas Blvd.
Even though technically there is a maximum stay of 14 days, we found no BLM authorities patrolling this area. We found a few other RVers here that looked as if they've been camped for weeks.
Nelson Creek Recreation Area
Authority: Army Corps of Engineers
State: Montana
Google Map Link: 47.562607, -106.223908
Maximum Stay: 14 days
Verizon 4G Coverage: 4/5 bars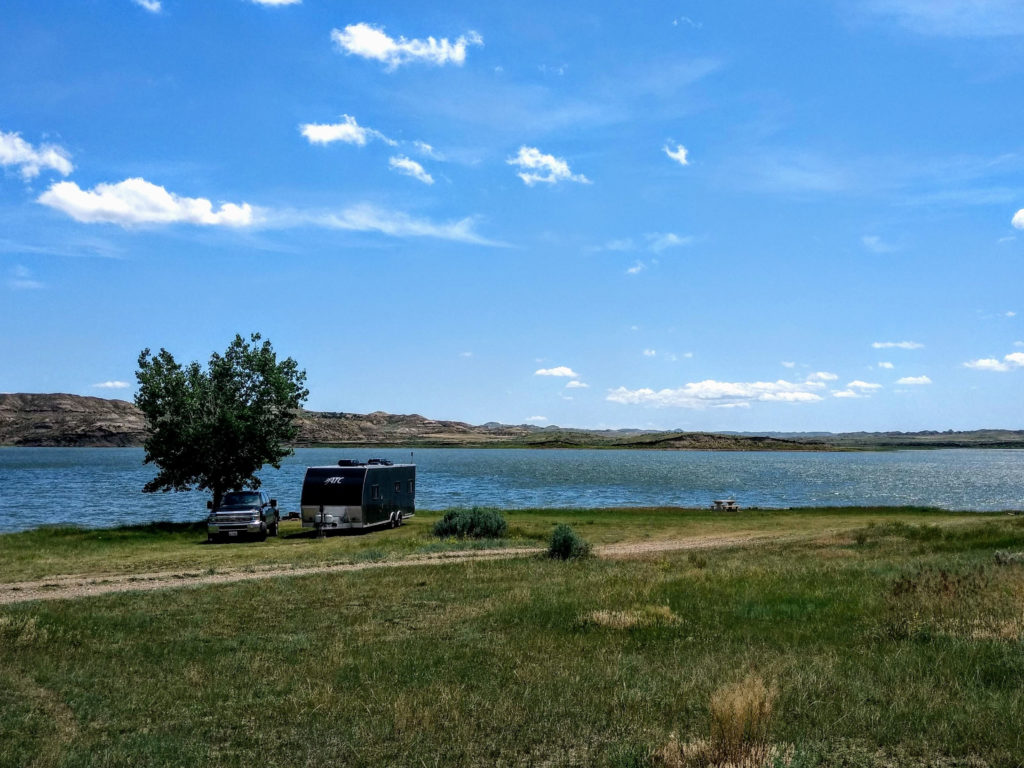 This is one of several recreation areas and campgrounds located at Charles M. Russell National Wildlife Refuge. This particular recreation area is managed by the Army Corps of Engineers.
The road leading into this area is easy to drive, hard-packed dirt, lightly washboarded, but accessible to any RV, car, or truck.
Campsites located furthest east into Nelson Creek Bay have the strongest Verizon 4G signal. Meanwhile, sites located further west by the boat ramp have weaker signal, but have more level pads. Beginner boondockers might want to head to the western campsites, unhitch their trailer or toad, and then explore other areas.
Nelson Creek Recreation Area does get pretty full from Thursday evening into Sunday evening. By Monday morning and into Thursday morning, about half of the campsites remain empty.
Be sure to bring plenty of water, food, and supplies. The nearest town with amenities is Glasgow, about 65 miles to the north. There is an RV dump station with potable water at Downstream Campground, located at the base of Fort Peck Lake dam, and is free.