Free Camping at Bean Lake, Montana
Bean Lake is a small fishing site located about 60 miles west of Great Falls, right up to the edge of the southern Lewis and Clark Mountain Range. The lake is managed by the Montana Department of Fish, Wildlife, and Parks. There are only two campsites here, though other reviews claim to be as many as four. Both sites are developed sites with pit toilets, though it's otherwise primitive camping. You can expect lots of peace and quiet here, perhaps even the opportunity to finish writing that Great American Novel. It's not an easy campsite to get to, but it is well far away from town, people, and congestion.
Camping at Bean Lake, Montana
Camping at Bean Lake, Montana is free. At least, the Montana Department of Fish, Wildlife and Parks doesn't specify camping fees, nor does it offer a self-pay box. In fact, it doesn't even state maximum length of stay, nor any other rules. The lake is small enough, and so far away from civilization, that rules are probably not even needed. If you get here, you'll very likely be only the one here.
Getting there involves a lot of dirt road travel.
DO NOT, however, take SR-434 (Stearns-Augusta Rd) from SR-200. SR-434 has a bridge crossing over Dearborn River. This bridge is rated only for 7 tons (14,000 lbs) or less. If you're towing a trailer, it's very likely you'll be at that limit or more. There is no turn-around on this road, if you choose to drive this road, you must continue through it and hope don't collapse the bridge.
Otherwise, take US-287 to Flat Creek Road, and take this road to the intersection with Chisholm-Barrett Rd. Keep following Flat Creek Road (turn left), and it will take you to Bean Lake.
Bean Lake offers idyllic lake-side camping with an opportunity to cast a line and reel in some dinner. You can set up your grill, serenade your sweetheart with a song, and get drunk and stupid all night long. No one is there to care! By the same token, if you plan to camp there for several days (or weeks), it's a long haul to the nearest town for amenities. Your two closest choices for full amenities is going to be either Great Falls or Helena, both about 60 miles away.
Pests are a big problem though. Bean Lake is swarming with flies, gnats, and mosquitoes. It's a lake, with no stream or dam. The water is stagnant, and teaming with life. Make sure to inject your bloodstream with plenty of repellent before going.
Pros and Cons
Pros: Peace and quiet, free, unlimited stay, no one around to bother you, (you can get away with camping naked for weeks on end), serene views of a pretty lake.
Cons: 60 miles away from closest amenities, a lot of dirt road to get there, Verizon 4G does not come in, tons of flying insects
Amenities
Pit toilet each of the two campsites, that's it.
Cellphone Signal Strength
Verizon 4G is absent here. Even just voice doesn't come in.
Insects, Pests, & Wildlife
Lots of flying insects, and a fair amount of ants too, but the ants never bothered us. No signs of coyotes, wolves, or bears.
Noise
Very peaceful and quiet. Definitely counts as a secluded campsite. You may never see anyone while camped at Bean Lake.
Safe or Sketchy?
Seems pretty safe boondocking here. Being that it's located so far from civilization, you may not ever leave your RV unattended.
How Crowded Is It?
Just never crowded at Bean Lake. Very few people come here.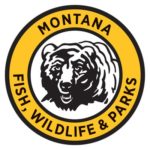 Authority
Montana Department of Fish, Wildlife and Parks
Great Falls Headquarters (Region 4)
Great Falls Headquarters:
Tel: (406) 454-5840
Montana Boondocking Sites