Free Camping Near Grand Junction, CO
Located along Colorado's I-70 corridor between the town of Mack and the Utah State Line, Rabbit Valley is a popular off-road area managed by the BLM. High North Camping Area is just one of several established "free campgrounds" serving this recreation area. It's the only campground, however, located on the north side of I-70, while the others are on the south. It's situated on the edge of a cliff overlooking the Colorado River Valley, offering stunning views of pastel landscapes and the ever-busy Interstate 70.
Rabbit Valley, High North Camping Area
Rabbit Valley, Colorado is part of the greater McInnis Canyon National Conservation Area. Because it's designated for use as an OHV (off-highway vehicle) area, you can expect to hear dirt bikes, quads, and side-by-sides running past your campsite all day long. Weekends are the heaviest times of the week, while weekdays tend to be quieter.
High North Camping Area is located on the north side of I-70, accessed by Rabbit Valley Rd, the first (or last) exit along the freeway just a few miles from the Utah border. A dirt road turns left and runs parallel to I-70 for about a 1/2 mile before it takes a sharp turn up the cliff side. This road becomes narrow with steep grade of about 10%. You will definitely need 4WD to get your rig up there if you're pulling a lot of weight. The road is firm-packed, but gravel, and it's possible you could lose traction.
There is another route, however. You can drive east along I-70 towards the town of Mack, and then take Old US Highway 6 west towards an unmarked dirt road entrance. Follow this dirt road for a few miles, and it will take you straight to High North Camping Area.
Officially, there are only 10 designated campsites at High North, each marked by a numbered post. Most of these sites are large enough to accommodate full sized trailers, fifth-wheels and their associated tow vehicles. The sites are somewhat level, though marked with dips and rocks.
It's best to arrive here between Monday and Thursday because by Friday it's packed full. Even the campgrounds and campsites on the other side of I-70 are packed full too.
Otherwise, you can expect beautiful views of the McInnis Canyon area, with stunning sunsets, and a good breeze picking up by early evening.
Signs posted say you only get a 7-day camping limit here. However, the entire time we camped here, we never saw any BLM officials, so I doubt you'll run into problems if you stay longer.
Pros and Cons
Pros: Gorgeous vistas of the McInnis Canyons area, beautiful sunsets, cool evening breezes
Cons: Access into this camping area can either be difficult or well-out of the way, weak Verizon 4G signal, lots of noise from OHV riders, dusty
Amenities
No amenities at High North Camping Area. The Colorado Welcome Center in Fruita, about 20 miles east, has trash dumpsters and dump station with potable water.
Cellphone Signal Strength
Verizon 4G cellphone signal comes in weak at 1-2 bars.
Insects, Pests, & Wildlife
A fair amount of flying insects were noted, but no mosquitoes. No signs of coyotes, raccoons, mice, or rats.
Noise
Somewhat peaceful during the week, with occasional OHV riders going by. The weekend is much more busy, and you'll hear a lot of noise. This is not a secluded campsite, you won't find much privacy.
Safe or Sketchy?
Seems pretty safe boondocking here. We camped here for a week. A few times we were able to leave our trailer unattended while driving into Fruita for supplies, and experienced no problems.
How Crowded Is It?
It gets pretty crowded during the weekend, but and is still busy during the week too though you will still find a few campsites available. Definitely recommend you get here between Monday and Thursday if you want the best picks of campsites.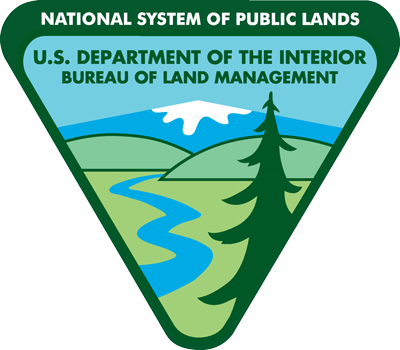 Authority
Bureau of Land Management
McInnis Canyons National Conservation Area
McInnis Canyons NCA:
Tel: (970) 244-3000
E-mail: gjfo_webmail@blm.gov
Colorado Boondocking Sites