Free Long Term Camping in Southern California
Effectively a parking lot with access to the Pacific Crest Trail, Scissors Crossing is a large, flat, dirt area located inside Anza Borrego Desert State Park. Many people use this as an overnight parking site, while others use it for camping. Many campers returning home from Ocotillo Wells will park here for the night and leave the next morning. Full time boondockers wanting relative proximity to San Diego and Temecula may find this area advantageous. It's elevated about 8 to 10 feet up from the road, giving you just enough height to get an extra bar of cellphone signal. It remains relatively peaceful, and just a 30 minute drive from Julian and Borrego Springs.
Scissors Crossing, Anza Borrego Desert State Park
Anza Borrego Desert State Park is perhaps the only park within the California State Parks system to offer free boondocking up to 30 days in a 12 month period. Scissors Crossing happens to be located inside park boundaries, right on a convenient intersection of Highway 78 and County Road S2.
It's most commonly known as a parking lot for day hikers looking for an afternoon along Pacific Crest Trail. But it's also open for camping and overnight parking.
What makes Scissors Crossing advantageous is that it offers proximity to Julian, a popular tourist attraction, as well as Borrego Springs, a destination for desert hikers and bicyclists. But it also offers a relatively close distance (albeit an hour's drive) to San Diego, Temecula, and Riverside. If you need to be close to those big cities, and also need a place to boondock, you probably won't find anything closer than Scissors Crossing.
It's regularly patrolled by State Park rangers most of whom are particularly concerned about enforcing campfire rules. You are required to contain campfires in a metal container, but you are not allowed to gather firewood. You can only bring in firewood from outside.
Verizon 4G signal is generally weak while driving through this area, but somehow this parking lot gets an extra bar of improved signal than compared to the roadway.  It's most likely due to being elevated by about 8 to 10 feet above the pavement.
Scissors Crossing is not necessarily known for privacy. You'll find a number of day hikers parking here on weekends. Many RVers use it for overnight parking. In addition, traffic along County Road S2 will be able to see your campsite.
Still, during the time we camped here, we enjoyed a lot of peace and quiet.
Amenities can be found in the towns of Julian and Borrego Springs. Borrego Springs tend to have better grocery shopping, and a better hardware store. The hardware store has propane tank refill, and there is a dump station at Borrego Palm Canyon Campground.
Pros and Cons
Pros: Super-easy access, plenty of room to park your RV, right next to Pacific Crest Trail, decent Verizon 4G signal, completely free, no flying insects, rats or mice, generally quiet, can hear coyotes howling nearby
Cons: Not much privacy, a fair amount of trash lying around.
Amenities
None at the campsite, but towns of Julian and Borrego Springs just 30 minutes away. The small village of Shelter Valley has an RV park with a small store and dump station.
Cellphone Signal Strength
Verizon 4G comes in decent here. We generally saw between 2 to 3 bars of signal strength, and that's without a booster.
RV Dump Station
There is no dump station here, nor any potable water. The closest dump station is at Stagecoach Trails RV Park in Shelter Valley. They charged $22.00 to dump and refill with water. Borrego Palm Canyon Campground in Borrego Springs charges $10.00 to dump and refill.
Insects, Pests, & Wildlife
Almost no pests here. Flying insects are minimal, no mosquitoes. We experienced no issues with mice or rats. You will hear coyotes howling at night.
Noise
You will hear traffic going along County Road S-2, though you can definitely tune it out after awhile. On weekends, it becomes more busy with toy haulers heading to and from Ocotillo Wells. Other than that, it's remains peaceful here.
Safe or Sketchy?
Camping here seems pretty safe. Other drivers do come up here and park, but they're mostly hikers looking for an afternoon along PCT. It's been reported that this parking lot is used by drug dealers, however, U.S. Border Patrol and San Diego County Sheriff's deputies will often cruise up here at night to patrol.
Our experience camping here showed that we could leave our trailer unattended for much of the day and not have any trouble.
Reservations
There's no reservations, there's not even first-come, first-serve. It's all dispersed camping, you're on your own.
Any Permits Needed?
None required.
How Crowded Is It?
We camped here in December, and noticed a small number of other campers that would stay for a night or two. For the most part, we were the only campers here. Not secluded camping at all due to the traffic along County Road S2 being able to see you.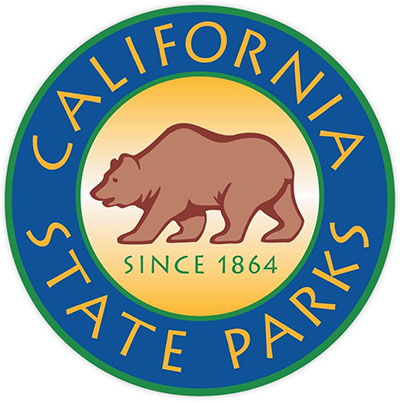 Authority
California State Parks
Anza Borrego Desert State Park
Headquarters:
Tel: (760) 767-4205

California Boondocking Sites