Free Camping Near Bismarck, North Dakota
Throughout the horizons of green and amber hues that pigment the corn fields of North Dakota, there are hundreds of lakes that dot the landscape. Nestled along I-94 is Sweet Briar Lake, a recreation area fed by the trickling waters of Sweet Briar Creek. Popular with fisherman, it's also filled with dozens of dispersed campsites wide enough to accommodate the largest of RVs. Many of these sites come with picnic tables, and some of them are close to pit toilets. Others are just clearings with close access to the water's edge. It's a far-north respite from big city insanity, with all the peace and tranquility of country charm.
Sweet Briar Lake, North Dakota, Camping
Run by Morton County Department of Parks and Campgrounds, Sweet Briar Lake offers primitive camping with all the amenities of a developed campground. You can find six vault toilets, two boat ramps with docks, two floating fishing piers, six earthen fishing piers, dozens of campsites with picnic tables, and even a basic playground for the kiddies. While it's technically not boondocking, it's there is still dispersed camping inside an area set aside and developed for RVs, vans, cars, and tents.
North Dakota may not be an area where folks would typically look into for free, secluded camping. But, Sweet Briar Lake still offers that nexus between boondocking and light amenities. In a state known for miles and miles of flat, unremarkable corn fields, there are actually some places in North Dakota where boondockers can check off on their list of states and still collect likes and comments on Facebook.
An even mix of grassy sites and dirt sites dot the shores of Sweet Briar Lake. Most sites are level, though some seem tilted with the slopes of hillsides. Surprisingly, there are plenty of trees here offering partial shade. The better sites can be found on the eastern shore, while sites on the west end tend to be more soft and muddy.
Sweet Briar Lake is only 20 minutes away from the big city of Bismarck, ND, where all of the modern accoutrements of groceries, fuel, and hardware can be found.
Peace and tranquility can be found here during week. Almost every campsite is empty. But by the weekend, this place fills up. Cars, vans, and RVs file into Sweet Briar Lake, with dozens upon dozens of fishermen hoping to hook a Walleye or Bass.
The lake is also a destination for bird watchers. Pelicans, geese, ducks, cranes, egrets, all make their summer home here. Deer can be seen passing through.
If you plan to camp here, we recommend finding a place to unhitch your trailer or toad, and explore the full perimeter of the lake to find the best sites.
Pros and Cons
Pros: Idyllic lakeside camping with views of migratory birds, partial shade from a multitude of trees, about 20 minutes from Bismarck, ND
Cons: Gets crowded on weekends, mosquitoes and ticks
Amenities
Pit toilets, picnic tables, boat ramp, childrens playground. No dump station here.
Cellphone Signal Strength
Verizon 4G cellphone signal comes in moderate at 2-3 bars.
Insects, Pests, & Wildlife
A fair amount of flying insects were noted, along with mosquitoes. Ticks are everywhere here. No signs of coyotes or raccoons, but mice are also everywhere and will get into your RV. Deer can be spotted wandering about.
Noise
Mostly peaceful, even during the weekend. Cars and trucks often drive by along the road, but they don't make a lot of noise here. There is a light bit of noise from I-94, but easily tuned out. There are a few secluded campsites dispersed about.
Safe or Sketchy?
Seems pretty safe boondocking here. We camped here for a couple of weeks. We left our camp to go into Bismarck numerous times for shopping and dining, and never encountered a problem.
How Crowded Is It?
Not crowded during the week, and is mostly empty. But by the weekend it gets full. Best to arrive here between Monday and Thursday if you want the best picks of campsites.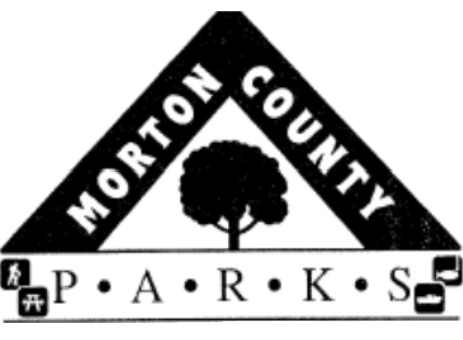 Authority
Morton County Parks Department
Mandan, ND
Morton County Parks Department:
Tel: (701) 667-3363
North Dakota Boondocking Sites