Free Camping Near Idyllwild, CA
Yellow Post Campsites are unique to San Bernardino National Forest. These are single campsites intended to be used by just one party of campers. They are primitive sites that come with a fire ring and picnic table. There's no cost to camp here, and they are open for cars, vans, and RVs. Most Yellow Post campsites are located in difficult-to-reach places, but a handful of them, including this one, are easy to get to. The one we're covering here, is the most popular free camping site among them.
Thomas Mountain Yellow Post Site #1
Yellow Post Campsites offer boondockers offer up to 14-days of continuous free camping with the closest proximity to the greater Southern California metropolitan area. This particular site is one of the easier Yellow Post sites to get into with a medium to large RV or trailer. Most Yellow Post sites tend to require 4WD, high clearance vehicles, but this site requires only a 1,000 feet of dirt road, though bumpy and rutted. Still, many RVs have been able to get into this with little effort.
Probably the biggest challenge with this particular campsite is that it's very popular. Because only one party of campers can camp at a Yellow Post Site at a time, it's almost always taken. Despite this, some campers have managed to create their own clearings close by, and you will often hear other boondockers setting up camp there.
There are several more Yellow Post campsites located along Thomas Mountain Road (FR 6S13), but these sites are further up Thomas Mountain and definitely require a higher clearance, four-wheel drive vehicle.
Elevation at Yellow Post Campsite #1 is at 4,400 feet, offering you cooler temperatures than in the valleys below. Where the weather is 100 degrees F in Hemet, you can usually feel 85 up here. It's still rather warm to camp during the middle of summer, but it's great during Fall, Winter, and Spring.
You will definitely get some light snow fall in the Winter, and you may find temperatures dipping into the teens at night. But for the most part, it's still very much easy camping throughout the coldest part of the year.
The biggest draw to camping here is the close proximity to Idyllwild. You'll find shopping, dining, and entertainment there. Pretty much all fuel stations throughout San Bernardino National Forest offer propane tank refill.
Nearest RV dump station is at Lake Hemet Campground, costing $10.00 to dump and refill.
Pros and Cons
Pros: Peace and quiet, a rich scent of fresh pine, sounds of song birds  and howling coyotes. It's totally free to camp here with a 14-day limit, and there are hiking trails throughout. Verizon 4G comes in strong here.
Cons: Tends to get dusty here during dry weather, access road into this site can be tricky, but doable for most RVs, forest rangers do patrol this site often.
Amenities
Fire ring and picnic table provided. Trash dumpster available at the forest's section of Lake Hemet. Propane tank refill, along with RV dump station, at Lake Hemet RV park.
Cellphone Signal Strength
Verizon 4G comes in good here, usually at 4/5 bars.
Insects, Pests, & Wildlife
Seemingly very little in the way of gnats and common houseflies can be found here. Bees may bother you if you're eating outside. No mice or rats, though raccoons are out and about. Mule deer is everywhere here.
Noise
Mostly peaceful and quiet. Forest Road 6S13 is popular among 4×4 drivers, and you may hear a dirt bike rider go by. OHV is illegal here, though you will still see them go by.
Safe or Sketchy?
Other campers will pitch a tent about 200 feet away, but we've never encountered problems with them. We did one time have a vandweller decide to park right next to us, about 20 feet away. But these are often overnighters who will be gone by sunrise. Overall, it feels safe to boondock here.
How Crowded Is It?
It's not crowded being that this site is intended for a single party of campers. However, it's a very popular site and as a result is difficult to find available.
It's not quite secluded camping here because there will be a number of campers trying to get in here, though at times it can seem private.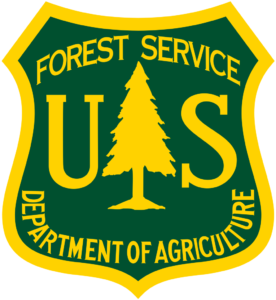 Authority
U.S. Forest Service
San Jacinto Ranger District
San Jacinto Ranger District:
Tel: (909) 382-2921
California Boondocking Sites