No, generators are not banned in California. What the Golden State did was ban the sale of gas-powered generators starting on January 1, 2028. It's still totally legal to possess a gas-powered generator and operate it within the State of California.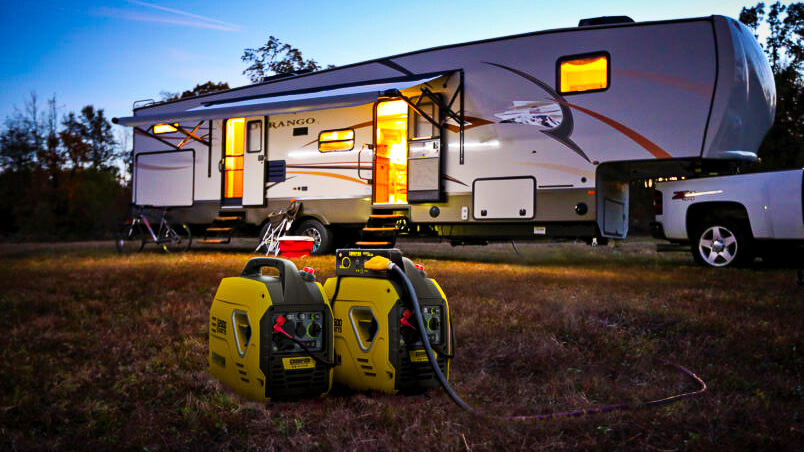 Are Generators Banned in California?
On December 9, 2021, the California Air Resources Board announced new rules that will ban the sales of gas-powered generators. However, the rules do not ban the possession or operation of these generators.
The law did not ban the import of these generators either. That means, it is still perfectly legal for California residents to travel to Arizona, Oregon, or Nevada, buy a generator, and bring it back.
You can read the full announcement from the California Air Resources Board here.
The Ban on Generator Sales Does Not Take Effect Until 2028
The ban on the sale of gas-powered generators does not take into effect until January 1, 2028. You may have heard that this ban actually begins in 2024, but that date applies to gas-powered lawn equipment.
The Ban Does Not Stop You From Owning or Operating a Generator
You are still allowed to possess a gas-powered generator, and still operate it in California. Even if you have an old generator that does not meet the current California emissions standards, you are still allowed to operate that too.
The Ban Applies Only to Gas-Powered Generators
Sales of diesel-powered generators and propane-powered generators are not affected by this new ban.
What about Duel-Fuel Generators? The California Air Resources Board has not clarified if generators capable of running on either gasoline or propane are excluded from this ban. However, it is our opinion that they are also banned. That is, any generator capable of running on gasoline is banned.
What About Buying a Used Generator?
Used generators are still legal to buy. The ban applies only to "newly manufactured" gas-powered generators. Thus, even after the ban takes effect, you can still buy a used generator, or sell a used generator yourself, in California.
What About Generators Built-into an RV at the Factory?
These are banned too, at least so far. The RVIA (Recreational Vehicle Industry Association) along with Cummins (the manufacturer of most frame-mounted generators) is trying to get the California Air Resources Board to make an exception for this. However, considering that California's goal also includes banning the sales of all gas-powered cars and trucks by 2035, it's highly unlikely any exceptions will be made.
If I Buy an Out-of-State RV With a Built-in Generator, Can I Register it in California?
Yes, but it depends…
If you buy a motorhome (Class A, Class B, or Class C), you may experience problems. California will not allow you to register an out-of-state-purchased vehicle unless it has at least 7,500 miles on the odometer, and is over 2 years old.
However, if the motorhome is already compliant with California Air Resources Board rules, then you can register it with no problems.
Trailers intended for human habitation (like what all RV trailers are) can be registered with no problem.
The California DMV has an article about this, "How to Register an Out-of-State Vehicle".
How Will People Be Able to Boondock in California Without a Generator?
The same as you do now…
The new rules do not stop you from owning or operating a gas-powered generator. You will just have to purchase it out-of-state.
If your goal is to boondock with a motorhome, and you have not yet purchased one, you have until 2028 to do so, otherwise you will have to register it in another state.
Install solar panels and a bigger battery bank. Full time boondockers already have this installed on their rigs.
Purchase a solar generator. While these generators do not produce enough power to run your air conditioning units, or other high-draw appliances, they can still power your CPAP, all of your electronics, your television, and even jump-start your vehicle.
Boondock in places where the weather stays cool. Head to high elevation so that you don't have to run air conditioning.
Use propane appliances. Set your refrigerator to propane. Cook with propane, or on your campfire. Heat with propane too.
More About Boondocking in California