Camping is permitted on all Alaska State Trust lands, but only through the purchase of a "Land Permit". Permits are issued for single day, week, month, or an entire year. Note that camping is limited to just 14 days per site, even if you purchased a month or year permit. You must move your camp at least 2 miles from your previous site.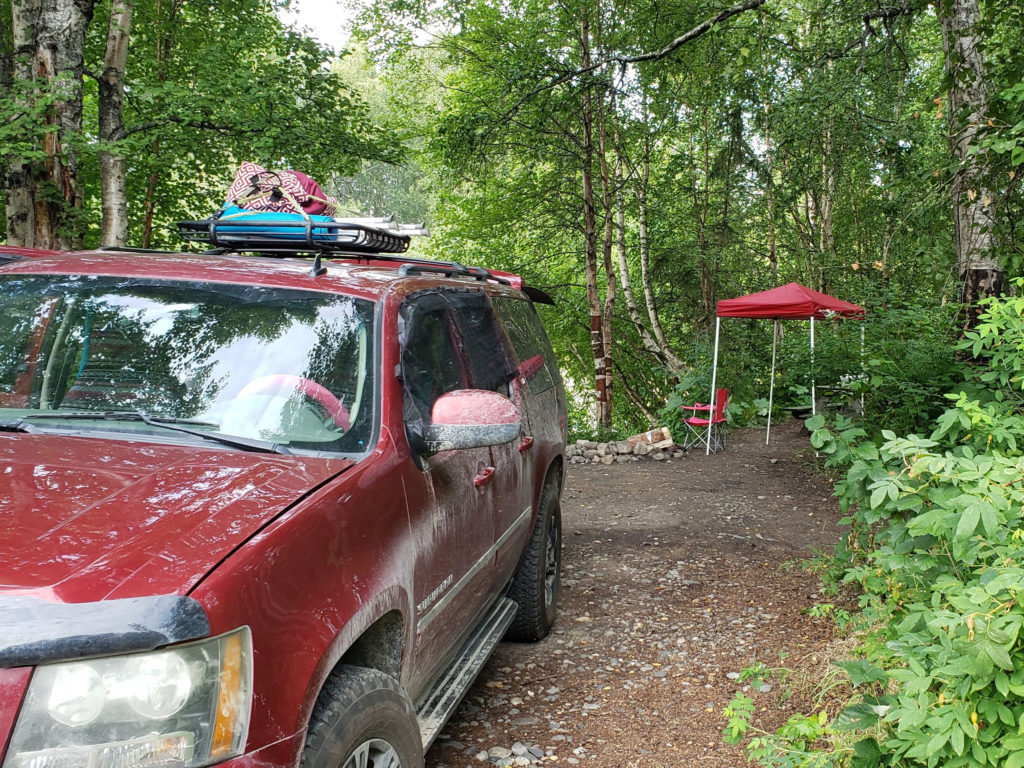 Camping on Alaska State Trust Land
The State of Alaska owns one million acres of trust land that it uses exclusively to generate funds to provide mental health care for its residents. Among the many ways it generates funds is to sell "Land Permits".
A Land Permit must be purchased in order to camp on Alaska State Trust Land. Land Permits may be purchased online from the Alaska Mental Health Trust Authority…
Single Day Pass $10.00
One Week Pass $20.00
One Month Pass $40.00
One Year Pass $400.00
Once you have a Land Pass in hand, you are free to camp anywhere on state trust land, as long as your vehicle remains on established roads, trails, and clearings.
Rules for Camping on Alaska State Trust Land
You may camp on the same campsite for no more than 14 days. The entire camp must be moved at least two miles before the end of the 14-day period. A cabin or other permanent improvement is not allowed.
Use of dead and down timber may be used for personal use at the camp site. Timber less than six inches in diameter, brush, and slash shall be disposed of to minimize the risk of fire and disease.
The total combined fuel stored shall not exceed 55 gallons. All containers must be clearly marked with the contents and the permittee's name. Drip pans and absorbent pads must be available to contain and clean up spills from any transfer or handling of fuel.
Site disturbance shall be kept to a minimum amount of ground necessary to protect local habitats. All activities shall be conducted in a manner that will minimize the disturbance of soil and vegetation and changes in the character of natural drainage systems. Particular attention must be paid to prevent pollution and siltation of streams, lakes, ponds, seeps and marshes, and to prevent disturbances to fish and wildlife populations and habitats
Trails may be brushed or cut provided the trail less than five feet wide using only hand-held tools such as a chainsaw; making a trail does not create a property right or interest in the trail.
Trails, campsites, and work areas must be kept clean. Prior to removal, all garbage and debris will be stored so it does not attract wildlife. All solid waste including incinerator residue shall be backhauled to a solid waste disposal site approved by DEC. On-site refuse disposal is prohibited
All greywater or human waste must be disposed of in a pit, or containment (port-a-potty) that can be transported to allow for disposal at a DEC approved disposal site. If a pit is used, it must be located at least 100 feet from the ordinary highwater mark of the nearest waterbody, and back-filled prior to leaving the site.
All components of camps, personal property (e.g. camp gear, fuel storage containers, etc.), hazardous substances and solid waste must be removed from Trust owned land on or before the end of the authorized term of use.
Where to Find Alaska State Trust Land
More About Camping on State Trust Lands
More About Boondocking in Alaska