The Illinois Department of Transportation adopted a series of rules concerning the use of its highway rest areas. These rules are found in the state's Administrative Code under Title 92, Chapter I, Subchapter f, Part 533, "Use and Enjoyment of Rest Areas". These rules are summarized below…
Illinois Rest Area Rules
There is a three (3) hour maximum stay
Camping is prohibited, including erection of tents or other shelters
Wood and charcoal fires are prohibited
Sleeping overnight on the grounds, benches, or buildings is prohibited
Selling, merchandising, panhandling, and soliciting of any kind is prohibited
Disorderly conduct, intoxication, obscene or indecent acts, oration or other public demonstration is prohibited
Loitering and hitchhiking in the area is prohibited
Pets must be kept on a leash. Pets are prohibited in rest area buildings
Trailers cannot be detached from their tow vehicle, except in case of a mechanical breakdown
You cannot change the oil in your vehicle, nor perform any other automotive service
You are required to comply with orders from rest area personnel
Note: There are more details, and more rules. The above is only a synopsis, and only those rules more likely to impact RVers and boondockers. Read, "Rules for Using Illinois Rest Areas" for the full text of these rules.
Roadside Tables and Scenic Overlooks
Roadside Tables are smaller versions of rest areas located along secondary highways throughout Illinois. Some may be too small for RVs and suitable only for cars and vans. Scenic Overlooks may also have restroom facilities and picnic tables, just like rest areas. The State of Illinois treats roadside tables and scenic overlooks the same as rest areas with respect to overnight parking. This is based on the state's definition of a rest area…
"Rest Area" − A roadside area or park designed for rest and relaxation of motorists in the interest of highway safety.

Section 533.30 Definitions
Note: Some of the roadside tables have signs posted saying, "No Overnight Parking". However, roadside tables are open 24 hours a day. You are still allowed to arrive well after dark and remain for as long you need to resume driving safely.
How Long Can You Stay at an Illinois Rest Area?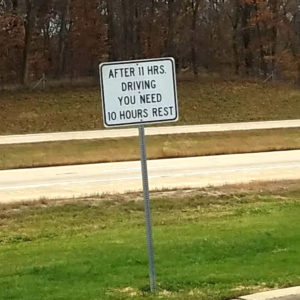 There is a maximum three (3) hours time limit for staying at a rest area. But note that IDOT doesn't seem to mind you staying longer if you need more rest or sleep.
Many rest areas in Illinois have signs posted saying, "After 11 Hrs. Driving, You Need 10 Hours Rest". This suggests that IDOT will allow you to rest up to 10 hours or more, if you've been driving for a long time.
If you need to stay at a rest for more than three hours, it's recommended you behave like someone in great need of rest. Otherwise, you may draw the attention of a law enforcement officer.
Is Overnight Parking Allowed at Illinois Rest Areas?
Yes, overnight parking is allowed. Nothing in its rules does it state that they prohibit staying overnight at a rest area. While it does say that they limit you to three hours of stay, you can still arrive in the evening and stay for as long as you need to resume driving safely. Law enforcement officers will not force you to leave if you are still too sleepy to drive.
Is Sleeping In Your Vehicle Allowed at an Illinois Rest Area?
Yes, sleeping in your vehicle is allowed. There are no rules saying you cannot sleep in your vehicle at a rest area. However, there are rules against sleeping on the grass, or on a picnic table, or inside a rest area building. There are also rules against pitching a tent at a rest area, or erecting other shelters. As long you sleep inside your vehicle, you'll be fine.
Is Camping Allowed at an Illinois Rest Area?
No, camping is not allowed. The State of Illinois does not permit any kind of "recreational camping" at its rest areas. While they do allow you to sleep in your vehicle, and park overnight, they only do so to help drowsy drivers get the rest they need. They will allow some recreation, as long as you keep it brief and discreet. Otherwise, they want you inside your vehicle, resting, and getting back on the road ASAP.
Where is a List of Rest Areas in Illinois?
You can access a map of all rest areas and roadside tables in Illinois (click here)
More About Overnighting at Rest Areas & Truck Stops
Available at Amazon.com...
Note: the above list of books are not endorsed by Boondocker's Bible, but are recommended because they provide information relevant to this article. Boondocker's Bible will earn a commission on the sales of these books to help support our goal of providing free boondocking education to the public.