Is overnight parking allowed at Iowa rest areas? How long can you stay at an Iowa rest area? Is camping permitted at Iowa rest areas? What are the full Iowa rest area rules?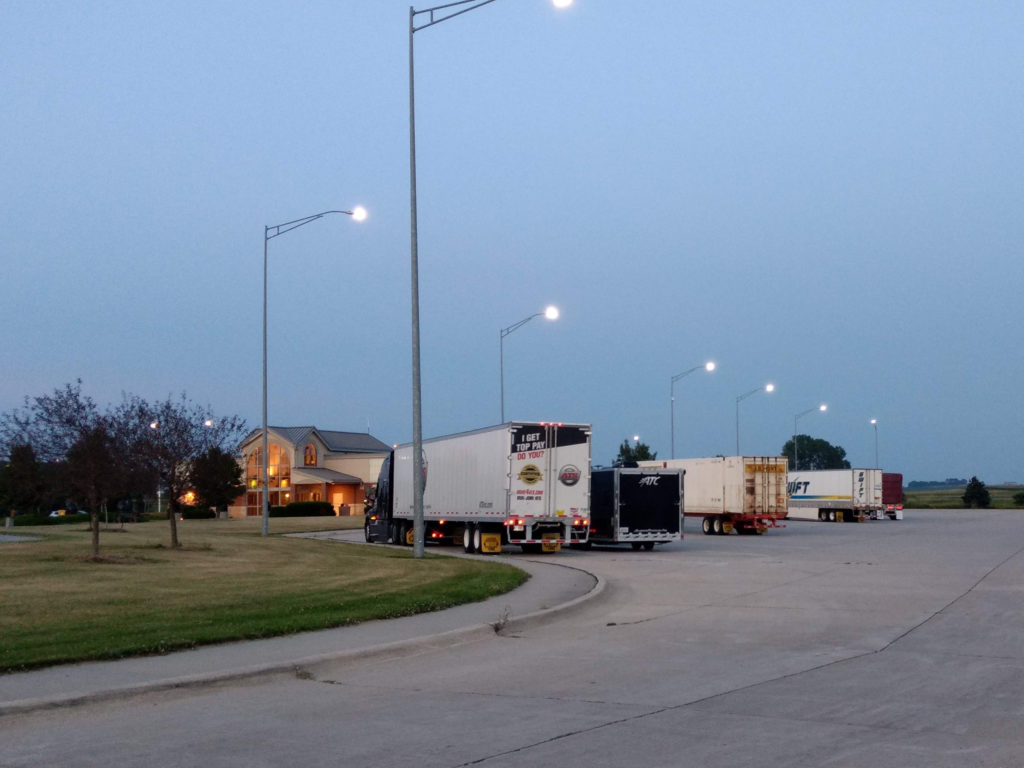 Iowa Rest Area Rules
The State of Iowa has not adopted any laws specifically about use of its highway rest areas. However, the Iowa Department of Transportation (Iowa DOT) has posted signs at many of its rest areas containing the following rules…
Rest Area Regulations
Rest areas are provided for the safety, recreation, convenience of the traveling public.
The following activities are prohibited at the rest area.
Loitering or lingering in or about the restroom facilities
Overnight camping
Remaining at the rest area for more than twenty-four (24) hours without reasonable justification, poor weather or need for rest.
Moving, removing, defacing, destroying or altering any state property
Consuming alcoholic beverages
Littering (trash should be placed in appropriate containers)
Parking vehicles on the grass
All pets should be leashed and kept in designated areas or confined to a vehicle.
Fires are permitted in grills only and must be put out after use.
Failure to comply with these regulations may result in the removal of the offending person from the rest area and/or criminal prosecution.
How Long Can You Stay at an Iowa Rest Area?
24 hours seems to be longest you can stay at an Iowa rest area. However, Iowa DOT seems to suggest you can stay longer if you have "reasonable justification". Just be sure you can provide evidence of that justification.
Is Overnight Parking Permitted at Iowa Rest Areas?
Yes. Because Iowa rest areas are open 24 hours a day, you can arrive at a rest area during night time hours and park overnight. With a 24 hour maximum time limit, overnight parking at an Iowa rest area seems to be permitted.
Can You Sleep Overnight at an Iowa Rest Area?
Yes. There are no rules or laws against sleeping in your vehicle while at an Iowa rest area. And because you have up to 24 hours to stay there, that would also include overnight sleeping.
Is Camping Allowed at an Iowa Rest Area?
Yes, camping is allowed as long as it does not extend through the evening into the following morning. Most all Iowa rest areas have facilities that could be used as part of recreational camping. These include picnic tables, cooking grills, children's play areas, pet exercise areas, scenic viewing areas, and kiosks with historical information. Many rest areas also include RV dump stations as well.
Iowa DOT also goes on to state in the regulations posted above, that "recreation" is part of their goal for rest areas. You just cannot extend that recreation through the evening and into the following day.
If you plan to stay overnight at an Iowa rest area, then you should instead limit your activities to inside your vehicle. Do not put your camping equipment outside, do not roll out your awning, and try to look like someone who is too tired to do much of anything. You can then demonstrate to a law enforcement officer that you're here only to rest long enough to continue driving safely.
Listing of Iowa Rest Areas
Iowa DOT publishes a map showing all of its rest areas (click here)
More About Overnighting at Rest Areas & Truck Stops
Available at Amazon.com...
Note: the above list of books are not endorsed by Boondocker's Bible, but are recommended because they provide information relevant to this article. Boondocker's Bible will earn a commission on the sales of these books to help support our goal of providing free boondocking education to the public.