Yes, boondocking is allowed in Yellowstone National Park. However, boondocking is limited to just tent camping only, and only in specific areas of the park. Yellowstone also requires campers to obtain permits. These boondocking permits require advance reservations.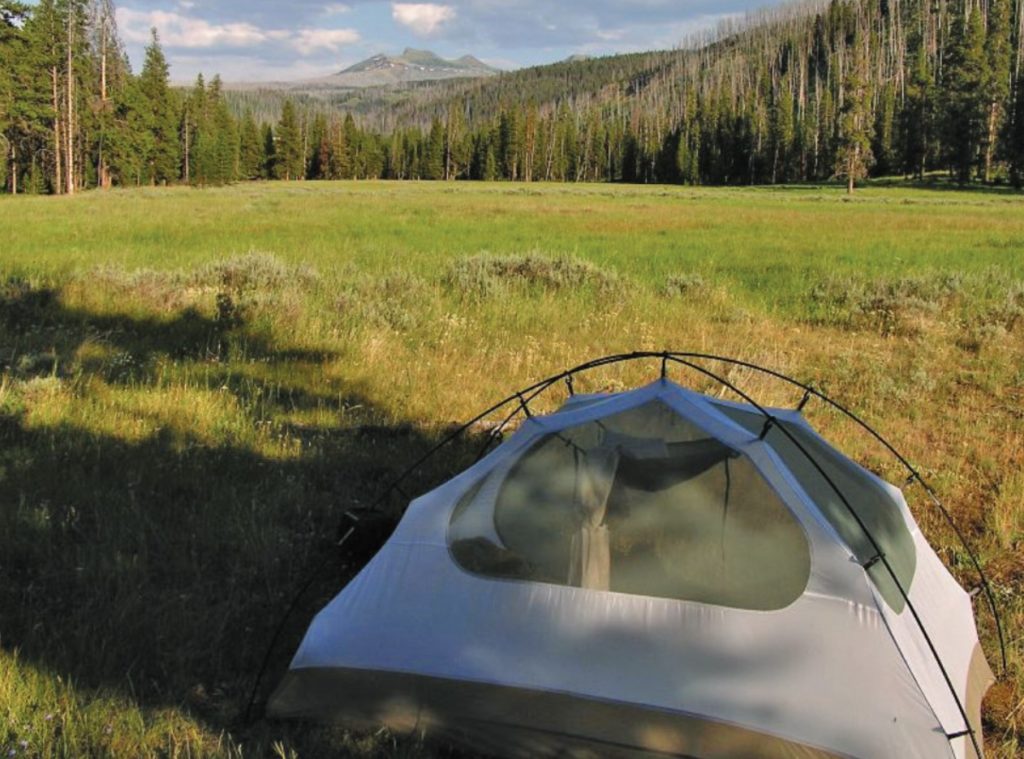 Is Boondocking Allowed in Yellowstone?
Yellowstone National Park uses the term, "backcountry camping" to describe boondocking or dispersed camping.
They actually have over 300 designated backcountry campsites. These campsites are generally just single use sites. That is, sites are intended for a single party of campers. Because these are designated sites, they are not technically "boondocking" or "dispersed camping". However, they are in fact miles away from any developed areas. These backcountry campsites place you deep inside the park, in total seclusion.
Backcountry camping is generally limited to just 3 days at any particular site.
These backcountry campsites are not free. You will have to obtain a "backcountry camping permit", which costs $25.00, but covers the entire length of time you're hiking through the backcountry.
Yellowstone Has a Dedicated Backcountry Office
For specific questions related to backcountry camping, call Yellowstone's Backcountry Office…
Backcountry Office
P.O. Box 168
Yellowstone National Park, WY 82190
307-344-2160 (phone)
307-344-2166 (fax)
Additional Resources for Yellowstone Backcountry Camping
Yellowstone Does Not Allow Motor Vehicles at any Backcountry Campsites
All of their 300+ backcountry campsites require you to hike in, and carry your gear with you.
Some of the campsites are situated along the banks of rivers and creeks, and may be approached by canoe or raft (no motorized boats). Some campsites can be reached on horseback or with packmules.
Those wanting to boondock in their cars, vans, or RVs, are restricted to developed campgrounds.
Boondocking is Allowed Outside of Yellowstone National Park
Yellowstone is surrounded by other national forests, and these forests permit boondocking.
Bridger-Teton National Forest, Shoshone National Forest, Caribou-Targhee National Forest, and Custer Gallatin National Forest, surround Yellowstone's boundaries. These forests have hundreds of sites located off of dirt roads where boondocking is permitted. You will need to study the Motor Vehicle Use Map in that forest to find what roads permit boondocking. Read our article, "How to Use Motor Vehicle Use Maps to Find Free Camping"
There are also many websites and apps that list boondocking sites in these national forests. Check out Free Roam, Campendium, and FreeCampsites.net.
Read More About Camping in Yellowstone
Available at Amazon.com...
Whether you're camping in a tent or a 40-foot motorhome this guide will help find the right camping experience for you. Descriptions for all the park's drive-in campgrounds, and listings for the Forest Service and private campgrounds located near the park.
Note: the above book is not endorsed by Boondocker's Bible, but is recommended because it provides information relevant to this article. Boondocker's Bible will earn a commission on the sale of this book to help support our goal of providing free boondocking education to the public.