Dispersed camping is allowed in the New York state forest system if you're a hiker with a tent. But if your goal is to boondock in your vehicle on state forest lands, it's practically impossible to do while adhering to laws and regulations. We'll explain below…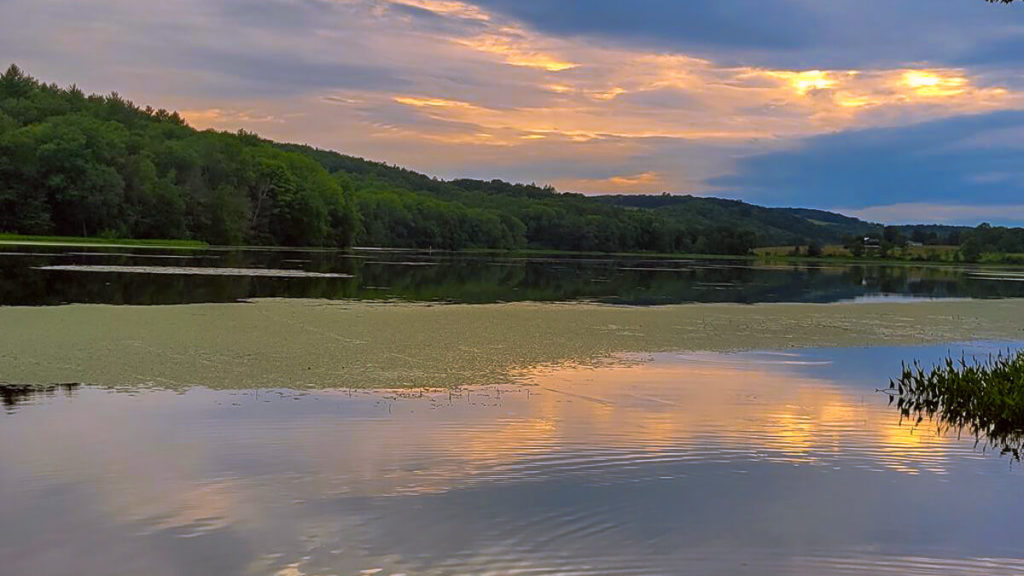 Is Dispersed Camping Allowed in the New York State Forest System?
Yes – if your plan is to go hiking and tent camping
No – if your plan is to go boondocking in your RV, van, or car.
About the New York State Forest System
New York's system of state forests falls under the jurisdiction of the state's Department of Environmental Conservation (DEC), and is managed by Division of Lands and Forests. It encompasses more than 450 forest units which are broken down into three primary categories: State Forests, Unique Areas, and Multiple Use Areas. Altogether, there are about 787,000 acres of state forest lands as of 2016.
It's important to note that the State Forest System does not include the DEC managed lands within the Adirondack and Catskill Mountain areas. These areas are designated as "forest preserves" and come with similar, though different, camping rules.
You can access a list of all forest units with the New York State Forest System here.
Understanding How Camping Is Done in the State Forest System
The DEC offers three (3) types of camping accommodations within its network of state forests..

Developed Campgrounds – all of which require advance reservations with fees. These include tent sites, RV sites, and cabins. Most of the RV sites have hookups.
Marked Primitive Sites – Many state forests have designated primitive camping areas. All of these sites are first-come-first-serve, and are free. Each area can include anywhere from one to several marked campsites. Each campsite will be marked with a yellow and black "Camp Here" disc. The bulk of these marked primitive sites can only be accessed via foot, limiting you to tent camping only. However, there are a minority of sites accessible from a road or trail where vehicle-based camping is allowed. Most of these vehicle-accessible areas are well documented on Campendium.
At Large Backcountry Camping – This is the terminology the DEC uses to describe "true" boondocking and dispersed camping. This is allowed all throughout the state forest system with the exception of certain areas where posted signs prohibit camping. However, you are required to set up camp at least 150 feet away from a road or trail, and you are not allowed to drive your vehicle away from a road or trail. This means, you will have to find a place to park your vehicle, and then hike your camping gear to a desired location.
Because of the DEC's rules for "At Large Backcountry Camping" require you to set up camp at least 150 feet away from a road or trail, and because vehicles are required to remain on roads and trails, it makes it difficult to disperse camp with a vehicle. The best you can do is with the minority of Marked Primitive Sites accessible via road, or try your luck reserving a space at a developed campground.
Rules for At Large Backcountry Camping