Are you allowed to park overnight at a Nebraska rest area? How many hours are you permitted at a Nebraska rest area? Is camping allowed at a Nebraska rest area? What are the full Nebraska rest area rules?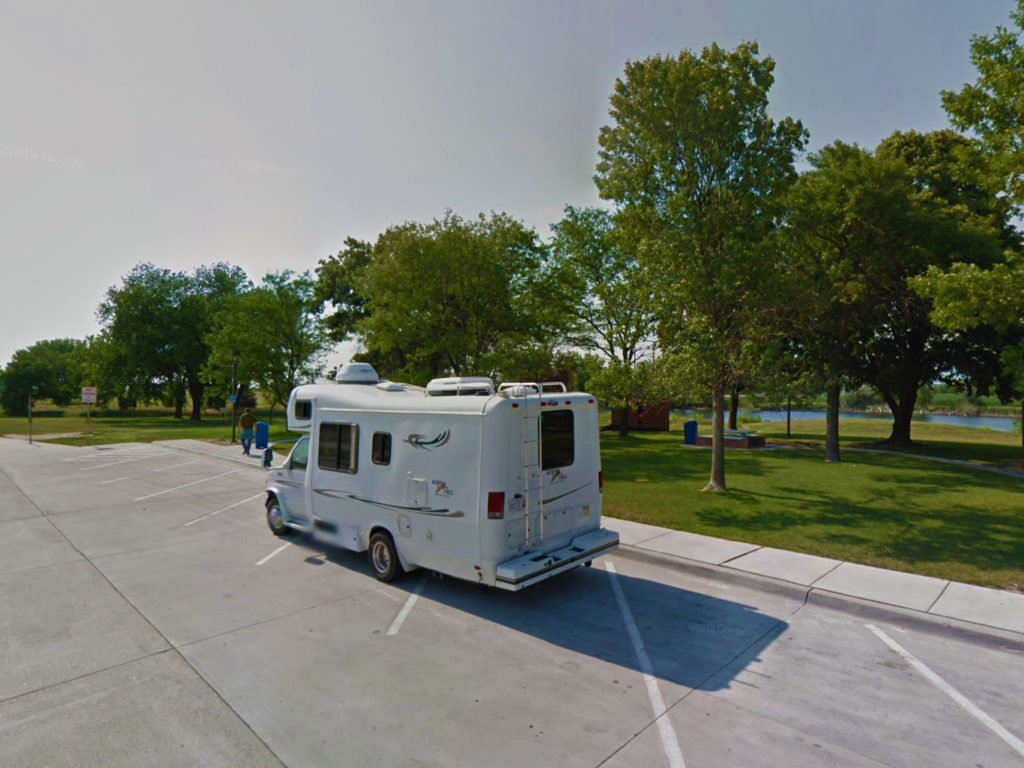 Nebraska Rest Area Rules
The Nebraska Department of Transportation (NDOT) has issued a "guidance document" containing a list of rules for use of its rest areas…
A. Rest Area Usage
1. Overnight camping or parking is prohibited. Maximum length of stay permitted is ten (10) hours. If vehicles remain longer than the permitted time, contact the NDOR Area Supervisor. Parking along ramps extending onto the mainline shoulder is strictly prohibited.
2. The littering and disposal of garbage or trash is prohibited except in containers provided for this purpose. Disposal of waste other than travel trash by vehicles in transit is prohibited at all times. Disposal of garbage or trash from other sources is prohibited.
3. The parking of vehicles on grass is prohibited.
4. Fires are permitted only in grills and must be extinguished after use.
5. Consumption of alcoholic beverages of any kind or the possession of open containers of such beverages is prohibited by State law.
6. Loitering or loafing within or around rest room facilities or other buildings is prohibited. Suspicious activities, panhandling and propositioning should be reported to the NDOR Area Supervisor as soon as possible.
7. The moving, removing, destruction, defacing, or alteration of any State property is prohibited and must be reported to the NDOR Area Supervisor immediately.
8. Smoking is prohibited within the rest area building and 10 feet from any entrance. Maintain "No Smoking" signs at every door of public entry. Place ash trays outside. Only approved containers may be used for cigarette butts.
9. All common pets (i.e., dogs) shall be leashed at all times within the rest area site and designated areas shall be used for pet exercise. All other animals shall be confined to a vehicle or appropriate carrier.
10. All commercial selling or advertising of any nature within or through the fence of the roadside rest area site is prohibited. Advertisement of products in vending machines is also prohibited. Only generic signs are allowed on the machines.
11. Only vending machines maintained by the visually impaired are allowed at state facilities. The machines that dispense snack foods and soft drinks require written contracts.
B. Miscellaneous
1. Exhibiting or discharge of firearms, pellet guns, B-B guns or other weapons is prohibited by State law and the State Patrol is to be contacted immediately of any incidents.
2. Rest area personnel shall not bring any weapon to the rest area facility.
Is Overnight Parking Permitted at Nebraska Rest Areas?
Yes and no. The NDOT says that that overnight parking is not allowed. However, because Nebraska rest areas are open 24 hours a day, you are allowed to arrive during evening hours. And because you are allowed to stay a maximum of 10 hours, you could certainly remain until after sunrise.
Keep in mind that the list of rules above was issued as a "guidance document". In Nebraska, guidance documents do not have the power of authority, nor do they have any legal power. They are simply meant to provide "guidance" to residents and state employees on various matters. It's still up to a law enforcement officer to decide if you should continue resting or move along. For more about guidance documents, refer to Nebraska Revised Statute, 84-901.
Can You Sleep Overnight at a Nebraska Rest Area?
Yes, in effect. NDOT has no rules against sleeping in your vehicle while at a rest area. And because Nebraska rest areas are open 24 hours a day, you are welcome to arrive in the evening and stay up to 10 hours maximum. That could very well take you into the following day. So yes, you can actually sleep overnight at a Nebraska rest area. Just make sure you sleep inside your vehicle, and not pitch a tent, or sleep on a picnic table. Try not to make any noise too.
Can You Camp at a Nebraska Rest Area?
No, at least not overnight.
NDOT's rules state that "overnight camping" is not allowed. However, many of Nebraska's rest areas have facilities that could be intended for recreation. For example most rest areas include picnic shelters , observation areas, and children's play areas. The rest areas at Kearney, Brady, and Grand Island include lakes for public fishing. It seems you are well within your rights to use Nebraska rest areas for recreational camping as long as you don't extend your stay overnight.
If your goal is to remain overnight, then you're advised to refrain from recreation and act as if you're trying to recuperate from a long travel. Stay in your vehicle, don't put out any camping equipment, and don't attract attention. It's highly unlikely anyone will bother you.
List of Nebraska Rest Areas
The Nebraska Department of Transportation publishes a list of its rest areas at the following webpage (click here)
More About Overnighting at Rest Areas & Truck Stops
Available at Amazon.com...
Note: the above list of books are not endorsed by Boondocker's Bible, but are recommended because they provide information relevant to this article. Boondocker's Bible will earn a commission on the sales of these books to help support our goal of providing free boondocking education to the public.