The State of Arizona permits camping on most of its 9.4 million acres of State Trust Lands. Camping is not free, however. On the other hand, boondocking (dispersed camping) is allowed at a very reasonable cost. See "Recreational Permits" below.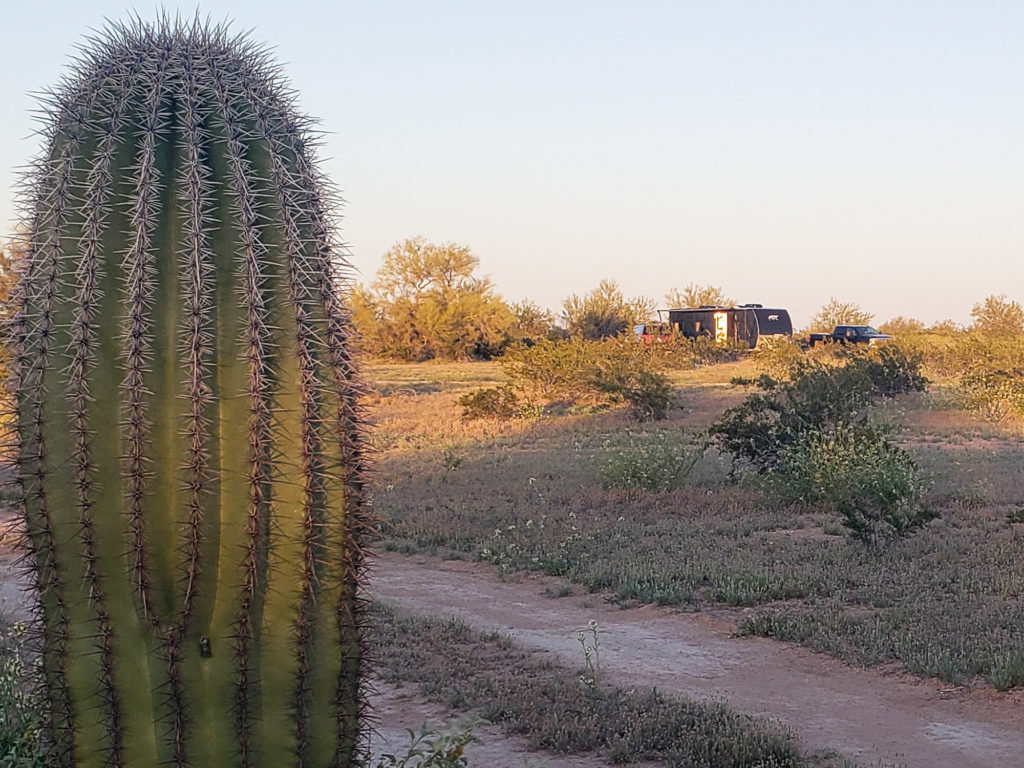 Camping on Arizona State Trust Lands
The State of Arizona owns 9.4 million acres of trust land. A lot of this is open for camping. The only trust land not open for camping are those currently leased for other uses (agriculture, mining).
To camp on Arizona State Trust Land, you first have to obtain a "Recreational Permit". Once you have that permit in hand, you can set up camp anywhere on those 8.0 million acres.
All Arizona State Trust Lands are managed by the Arizona State Land Department. The Department has not built any developed campgrounds on its own. However, the Department has partnered with other state agencies to develop recreational areas on trust land. Those recreational areas, however, are managed by those other agencies, and their own rules would apply.
Arizona State Trust Land Maps
Rules for Camping on Arizona State Trust Lands
Camping is limited to no more than 14 days per year.

All travel is restricted to existing roads and trails. A one-time use or single set of tracks does not constitute a road or trail.

Motor vehicles can not be operated within 1/4 mile of any building (occupied or not) or stock tanks (wet or dry), or where otherwise prohibited by State, County or local ordinance.

You must leave gates either open or closed as they are found. No fences can be cut or laid down.

You can not harass livestock or wildlife nor damage, destroy or remove any livestock or wildlife improvements or facilities (i.e., windmills, stock tanks, fences, corrals, wildlife watering facilities, etc.)

You must completely remove all litter and refuse.

Human waste shall be confined to a portable toilet or slit trench which will be covered to ground level upon closing camp. Waste from portable toilets shall be removed from site and disposed of properly.

A campsite must be at least 1/4 mile from any livestock or wildlife water catchments, tanks, drinkers, etc. Abandoned campsites are to be left clean.

Campfires are to be thoroughly extinguished. You are required to comply with any campfire restrictions that may be in effect.
Only 14-Days Per Year?
Yes, the actual rule from the AZ State Land Department is that "...overnight camping is limited to a total of 14 cumulative days per calendar year."
However, we also know that the Department is incapable of enforcing this rule. If you were to use up all of your 14 days in one campsite, they will never know that you've set up camp on trust land in another part of the State.
There are also several popular camping areas on trust land where campers routinely get away with camping for months at a time.
Recreational Permits
To camp on Arizona State Trust Lands you must obtain a "Recreational Permit". The Arizona State Land Department offers four types of permits…
Individual Permit ($15.00 for 12 months)
Family Permit ($20.00 for 12 months, covers 2 parents & all children under 18 years)
Small Group Permit ($15.00 for 5 days, 20 people or less)
Large Group Permit ($300.00 per event, 20 people or more)
You can get a permit from Arizona's State Land Department website at this link: https://asld.secure.force.com/recreationalpermit/
Note: Each person in your group must be covered by a permit, regardless of age, either as a family permit, group permit, or individual permit.
OHV Permits
If you plan to use your Off Highway Vehicles while camping, you must obtain a separate OHV permit, per vehicle.
If you are an Arizona resident, you can obtain an OHV permit from the Arizona Department of Transportation's Motor Vehicle Division (MVD) offices statewide, an authorized third-party MVD service provider or online at www.servicearizona.com.
If you are not an Arizona resident, you can obtain an OHV permit online through an Arizona Game and Fish Department portal account. The decal is not be sold at Arizona Game and Fish Department offices.
What is Arizona State Trust Land?
State Trust Lands are lands that the federal government gave to a state when it was admitted into the Union.
Before a territory became a state, its land was almost all owned by the federal government. Once the territory entered statehood, Congress gave land to that state for purposes of generating revenue. Many states sold off much of their trust lands for quick cash. Other states, however, chose to hold on to those lands to create recurring revenue.
Arizona holds more trust land than any other state. Much of that land is leased to agricultural businesses, including farms and ranches. About 80% of its trust lands are leased for grazing. Grazing lands are still available for camping. Meanwhile, lands leased for "Agricultural", "Commercial", "Concession", or "Institutional", are off-limits to camping. The State of Arizona uses this revenue to pay for public institutions such as schools, hospitals, prisons, etc.
More About Camping on State Trust Lands
More About Boondocking in Arizona