Motor Vehicle Use Maps (MVUM) are published by the U.S. Forest Service and apply only to national forests and national grasslands. These maps are meant to illustrate where visitors are allowed to drive their vehicles, both street legal and OHV, and they also illustrate where inholding boundaries (private property) lie.
They also tell you where dispersed camping (free camping) is allowed.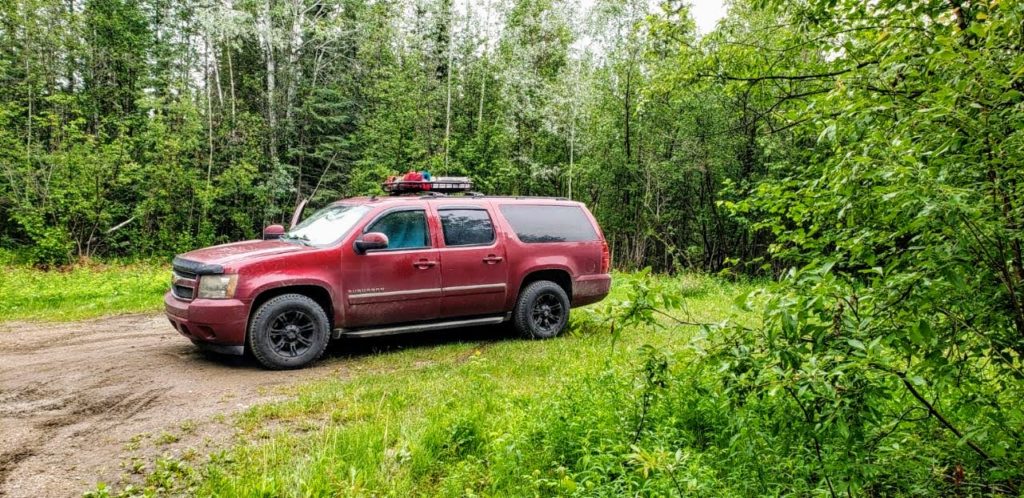 Some Facts About Motor Vehicle Use Maps
MVUMs are considered "legal documents" by the USFS.
MVUMs are highly accurate, and highly detailed maps that depict each and every plot of USFS land, along with "inholdings" (private property inside USFS boundaries).
Each national forest and national grassland publishes its own MVUM.
MVUMs have a consistent look and feel across every forest and grassland, however each forest and grassland will incorporate their own subtle differences.
Some national forests and grasslands are so large that they publish several MVUMs.
MVUMs are supposed to be published each year, but often a national forest or grassland will authorize a previous year's MVUM if no changes are needed.
MVUMs can be obtained at any national forest or grassland visitor center, but can also be downloaded from the USFS website in PDF format.
Where to Find Motor Vehicle Use Maps (MVUM)
The visitor centers and ranger stations at national forests and national grasslands have printed MVUMs available.
You can also download them from the USFS website here.
You can also view them through the FreeRoam app for both Android and iPhone devices (see below).
How to Use Motor Vehicle Use Maps (MVUM) to Find Free Camping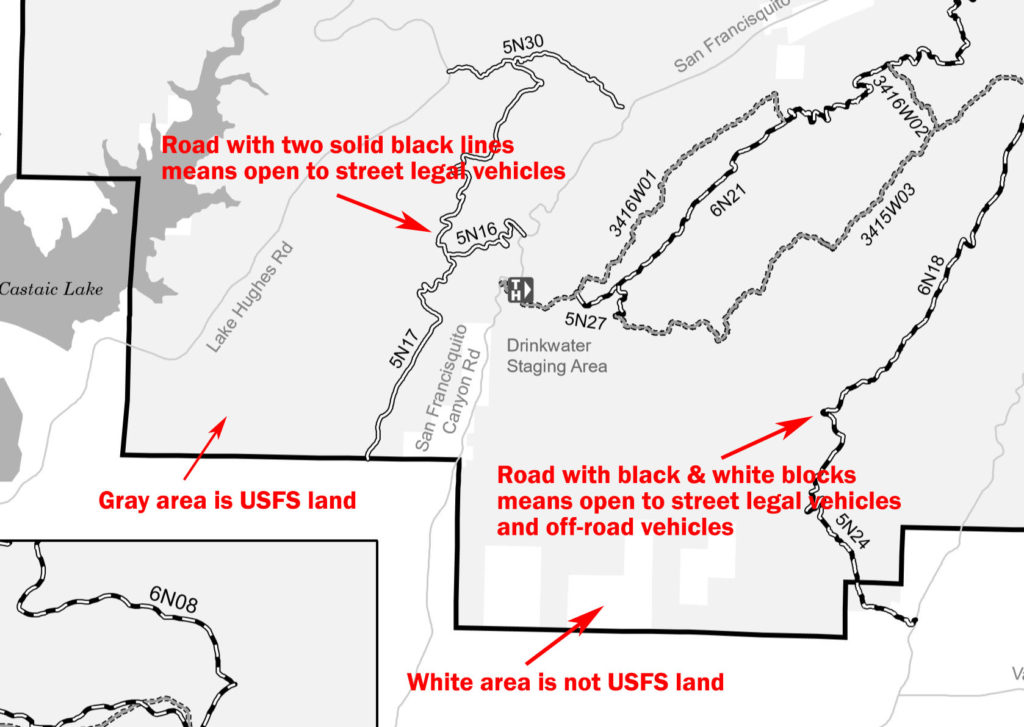 Areas in gray are USFS land, which is open to the public.
Areas is white are not USFS land, and is usually private property, or other government agency.
Roads with two solid black lines (see above) are open to street legal vehicles only. RVs are allowed to travel on these roads.
Road with black & white blocks (see above) are open to both street legal vehicles and off-road vehicles. These roads are generally more narrow and more difficult for RV travel.
Dispersed camping is generally allowed anywhere on the gray areas, as long as you drive only on roads indicated on the map. Most MVUMs will publish a statement of where dispersed camping is allowed or restricted to. If there is no statement published, it's assumed that dispersed camping is allowed anywhere on the gray areas.

Using FreeRoam to View Motor Vehicle Use Maps
FreeRoam is a mobile app for Android and iPhone devices that helps boondockers find free campsites. It has embedded Motor Vehicle Use Maps as overlays against a road map or satellite map.
(For more about FreeRoam see our other article, "Using FreeRoam to Find New Boondocking Sites".)
When used as an overlay against a satellite map, it allows you to see what a forest or grassland road looks like along with potential campsites.
Download the FreeRoam app from the Android app store or iPhone app store. You can also visit FreeRoam online at https://freeroam.app
Tap the Overlay Icon (upper right inside map, see figure 3)
Tap on "USFS Land" and "Satellite" (see figure 4)
You should see an info box appear, with an MVUM on/off button (see figure 5)
Tap the on/off button to toggle the MVUM overlay (see figure 6)
When the MVUM overlay appears, you can see which roads are open for highway legal vehicles, and be able to see that forest or grassland's policies on dispersed camping (boondocking).