Yes and no. If you are a camper or RVer, it is illegal to live in a national forest or grassland. The U.S. Forest Service has rules prohibiting using forests as a residence. However, it is possible, and legal, to move to another area, or to move to another Forest or Grassland altogether, and continue camping. As long as you respect each Forest or Grassland's rules on "occupancy", you can actually live continuously on USFS lands.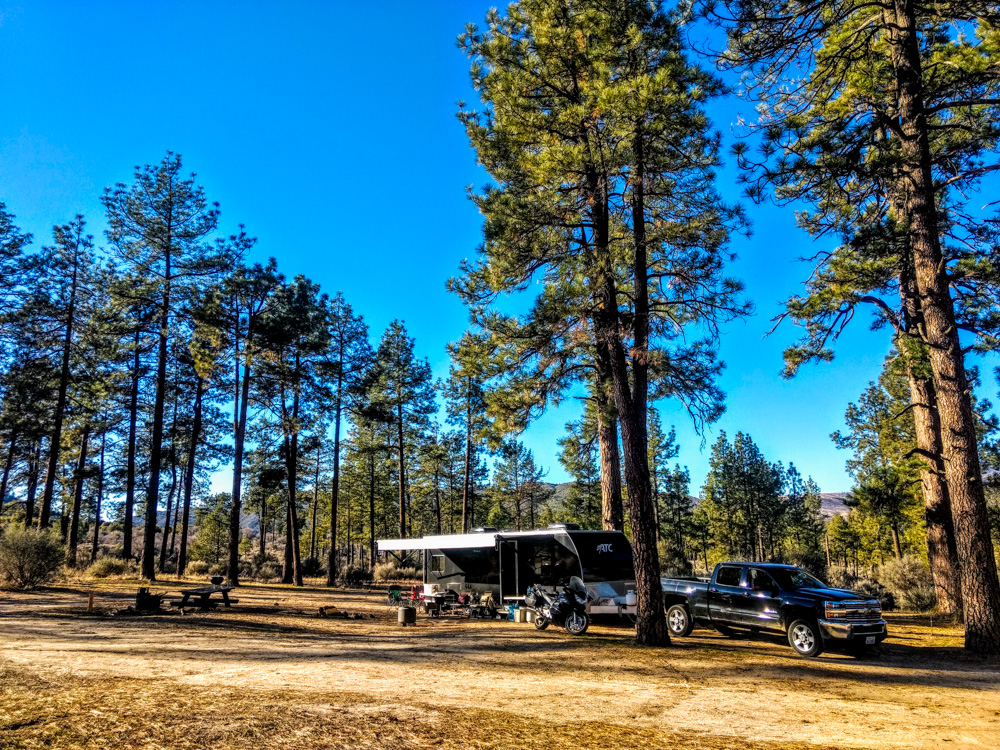 Is It Illegal to Live in a National Forest?
With respect to camping permanently in the same site forever, yes it is illegal to do so. But with respect to living "continuously" in the national forest system, yes you can. Many boondockers do so.
It's not illegal to keep moving from forest to forest, or even to just a different part of the same forest. The U.S. Forest Service has rules making it illegal to establish residency in a national forest. But as long you keep moving around, you're not breaking the rules.
In regards to owning land inside a national forest, no that's not illegal either. In fact, many people own land that is either completely surrounded by national forest, or is adjacent to a national forest. For more information on this read, "Why is there Private Property Inside National Forests and Parks?"
How to Camp Forever Inside National Forests
You are well within your rights to move camp to another part of the Forest, or to an entirely different Forest, and continue camping. Many full time boondockers do this. They know the "occupancy rules" of each forest, and know when and how far away they have to relocate, to continue camping on USFS lands indefinitely.
Each National Forest and Grassland establishes its own rules on how many days one can camp in a National Forest. Most of these forests and grasslands adopt the "14 day" maximum limit. However, some forests have adopted 16 day limits, while a few go as high as 30 days. As long as you don't extend your welcome, and keep moving from one forest to another, then it's very much legal to live in the National Forest System permanently.
You don't have to move to another forest. You can often just move to another ranger district within the same forest. It's best not to return to the same ranger district until at least a year has passed. Many boondockers create a circuit that takes them into higher elevations in the summer and lower elevations in the winter. They often return to the same campsites every year.
How Long Can You Camp in a National Forest?
Most Forests and Grasslands enforce a 14-day maximum stay per site. But some go as a low as 5-days, while others go as high as 30-days. They also have rules on how far away you have to relocate from your previous camp, and how long you have to wait until you can camp in the same place again…
Download Our Full List of National Forest Dispersed Camping Limits, (PDF) compiled by Boondocker's Bible from actual published Forest Orders.
Rules of Occupancy at National Forests
The U.S. Forest Service has a short list of rules on what you cannot do while camping, or occupying space in a national forest…
Constructing a road, trail, permanent structure, or making other improvements to the land
Using the land for business purposes (selling products or services)
Parking your vehicle, or placing large objects, that impede the flow of traffic along roads
Posting signs, notices, flyers, or other printed material
Playing loud music, or making other loud noises
Operating a public address system
Camping in areas that require special authorization
Lighting off fireworks, firecrackers, explosives
Read the full set of rules relating to "§ 261.10 Occupancy and Use" in national forests or grasslands. You will also want to read rules on "§ 261.11 Sanitation" and "§ 261.4 Disorderly Conduct".
You will also need to check the rules for the specific forest or grassland you are staying in, to make sure you don't become a "red flag" to the rangers in that district.
Some National Forests are Very Diligent at Enforcing Limits
Usually the national forests located near high density population areas, such as Angeles National Forest and San Bernardino National Forest tend to enforce their maximum camping limits more diligently. The reason why is because they know there are a lot of city-based vehicle dwellers who need a free place to live. The same is true with national forests that are popular with full-time RVers, such as Coconino National Forest and Bridger-Teton National Forest.
But Forests and Grasslands located well away from big cities often remain lax at enforcing occupancy limits. They seem more concerned about illegal hunting, illegal campfires, tree cutting, or off-road vehicles.
It's very common for boondockers to get away with camping in the same place for one or two months, even though that specific Forest or Grassland has a 14-day limit.