Generally speaking, yes it is legal to camp anywhere in a national forest. However, there are certain exceptions. Some of these exceptions apply to all national forests across the United States, and others apply to specific forests. Moreover, each national forest and grassland is free to issue temporary exceptions from time to time.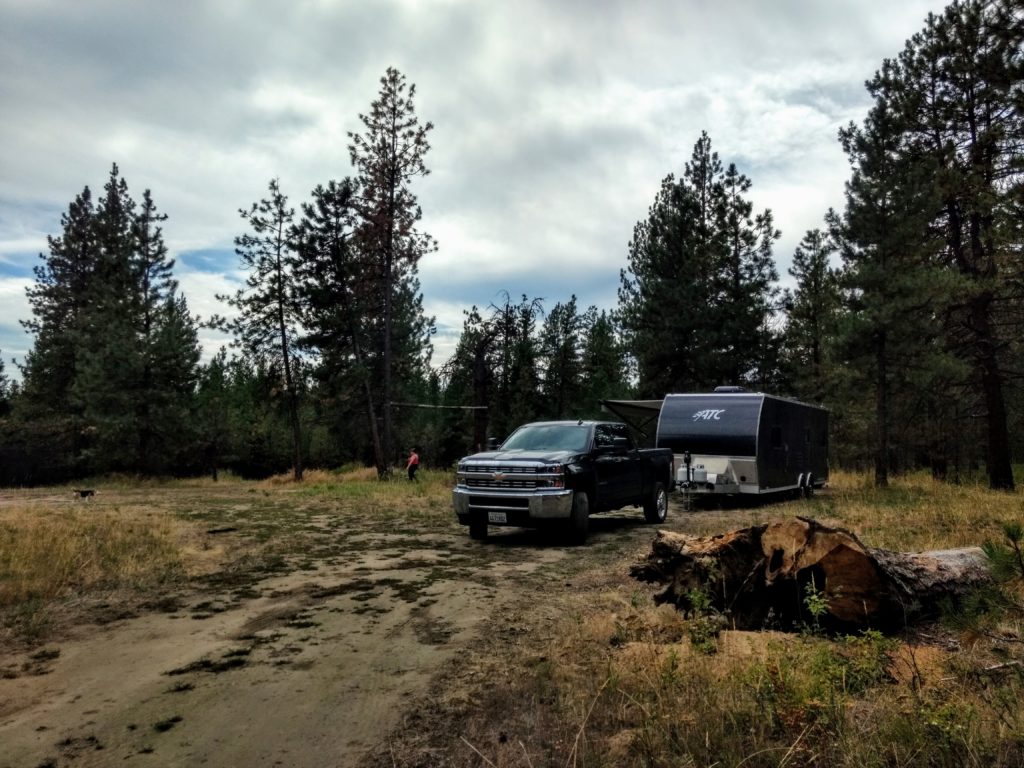 Is it Legal to Camp Anywhere in a National Forest?
The U.S. Forest Service allows people to camp anywhere they want in a national forest or grassland in most situations…
For the most part, every square foot of land in a national forest or grassland is open for camping. However, your vehicle must remain on roads and clearings. Thus, you must either hike your gear to a desired site, or remain with your vehicle and camp there.
You are not allowed to camp in an area that is off-limits to camping. Most of the time these areas do not have posted signs. You instead have to check with the Visitor Center or Ranger Station ahead of time to find out what areas have been closed off for camping, or closed-off entirely to the public.
Many national forests and grasslands have designated areas as "by authorization only", in which you have to obtain a permit or prior-authorization to enter. You will have to check with a Visitor Center or Ranger Station to find out where these areas are.
Many U.S. Forest Service roads will close for the winter, which prohibits people from vehicle-camping. However, you are still free to hike into these areas and tent-camp.
Read the full rules for camping in a national forest.
Vehicle-Based Camping
When camping with a motorized-vehicle in a national forest…
Overnight Parking in a National Forest
The U.S. Forest Service treats overnight parking the same as camping with your vehicle. However, if you park your vehicle in a national forest, and you are not inside that vehicle, different rules may apply.
Sleeping overnight in your car is permitted, however each national forest or grassland is free to designate certain areas as off-limits. For example, visitor centers, viewing areas, picnic areas, and tire-chain areas, are generally off-limits to overnight parking.
Many national forests have Snowmobile Parking Lots, which are usually available for sleeping overnight in your car, or overnight parking.
If you park your vehicle overnight in a national forest, but do not stay inside the vehicle, you are required to return to that vehicle periodically. If you allow too much time or too many days to elapse without returning, it could be construed as abandonment. Each national forest and grassland applies its own criteria to determine if and when to have the vehicle towed away.
Developed Campgrounds
While developed campgrounds are available for public use, many require a fee. Some will require reservations…
Within a developed campground, you can only camp in designated campsites.
You are generally not allowed to overnight in a campground parking lot or other common areas.
Be Aware of Inholdings
An inholding is a plot of privately owned land within, or adjacent to, U.S. Forest Service land. There are often inholdings located deep within Forest Service boundaries. You are not allowed to trespass in to an inholding. To learn more about the issues with inholdings read, "Why is there Private Property Inside National Forests and Parks?"