How long can you stay at an Ohio rest area? Is overnight parking allowed at rest areas in Ohio? Is camping permitted at Ohio rest areas? What are the full Ohio rest area rules?
Ohio Rest Area Rules
The Ohio Department of Transportation (ODOT) has adopted rules into the Ohio Administrative Code concerning use of its highway rest areas. The following is a synopsis of these rules…
Drinking alcohol, and the possession of open containers, is prohibited.
Destructing state property is prohibited.
Commercial selling and advertising without prior authorization is prohibited.
Dispensing free coffee to drivers without prior authorization is prohibited.
Household pets must be kept on a leash or confined to vehicles.
Trash must be disposed in trash containers.
Fires are permitted but only in designated areas and containers.
Discharging, or exhibiting use, of firearms is prohibited.
Loitering around toilet facilities is prohibited.
Vehicles left unattended for more than three hours may be towed away.
Camping is prohibited.
Lewd acts and indecent exposure is prohibited.
If the State of Ohio can inflict damage to your property or person in the act of enforcing the above rules and not be held liable.
To read the full, actual word-for-word text of the above rules, see, "Rules for Using Rest Areas in Ohio".
The above set of rules are the only rules that exist for Ohio rest areas. There are no other rules or laws on the books.
Note that the State of Ohio also operates the Ohio Turnpike, which includes its own series of service plazas. Service plazas are not subject to the above rest area rules, but have their own rules instead. See, "Ohio Turnpike Service Plaza Rules" below.
How Long Can You Stay at an Ohio Rest Area?
There is no rule on how long you can stay at a rest area in Ohio. The closest the State comes to this is a 3-hour maximum for leaving your vehicle unattended. But, as long as you are with your vehicle, you are allowed to stay for as long as it takes to get rested up enough to resume driving safely.
Note that other RVing websites have erroneously reported that the 3-hour maximum applies to parking in general. This is not true. It only applies to vehicles left unattended. Also, some of these other RVing websites claim that overnight parking is not allowed at Ohio rest areas. This is also not true.
Is Overnight Parking Allowed at Ohio Rest Areas?
Yes, overnight parking is allowed. There are no rules prohibiting staying at an Ohio rest area overnight. Moreover, there are no signs posted at rest areas limiting your stay. Because these rest areas are open 24 hours a day, you are permitted to arrive in the evening and remain long enough to resume driving safely. That could include staying overnight.
The State does have a rule, however, against camping. But, camping is more of a recreational activity. As long as you can demonstrate that you are here only to get some badly needed rest, and not for recreation, then it's unlikely you'll be cited for camping.
Is Sleeping in a Vehicle Allowed at Ohio Rest Areas?
Yes, sleeping is permitted. There are no rules against sleeping in your vehicle. The State expects that you use a rest area for getting enough sleep to resume driving safely.
Is Camping Allowed at an Ohio Rest Area?
No, camping is not allowed. There is a rule (see at the top) that specifically lists camping as a prohibited activity.
However, note that the State has many recreational facilities installed at its rest areas. Picnic tables, cooking grills, scenic walkways, viewing areas, children's play areas, pet areas, informational kiosks… It can be construed that the State welcomes you to enjoy their rest areas for some degree of fun. Hence, camping is in fact permitted. We believe that the State doesn't want drivers enjoying these activities through the night and into the following morning. If you can restrict these activities during daylight hours only, and then pack your equipment into your vehicle by nightfall, and remain in your vehicle, you'll be fine.
Where Can I Get a List of All Ohio Rest Areas?
The Ohio Department of Transportation publishes a map of their rest areas online (click here)
Ohio Turnpike Service Plaza Rules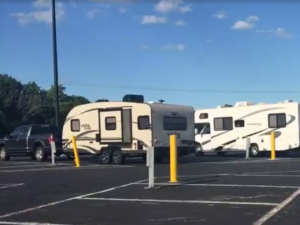 The Ohio Turnpike runs along the northern part of the State along I-90, I-80, and I-76. There are fourteen (14) service plazas, each of which offers fuel stations, fast food, and convenience stores.
Eight (8) of these plazas have overnight parking areas for RVs. Overnight parking is permitted only in these areas. It is not free, however. Entrance into the overnight parking area requires getting through a self-pay gate. These overnight parking areas have electrical and water hookups along with RV dump stations. The fee for a single night stay is $20.00. You can only stay for one night, however. If you do not complete your travel along the Ohio Turnpike within 24 hours, you will be charged the full Turnpike fee.
Below are the rules adopted by Ohio Turnpike and Infrastructure Commission with respect to overnight parking areas…
RV Lot includes the paved areas only. The adjacent lawns, mounds, and/ or wooded areas are not for camping. Do not trespass beyond fenced areas, which is private property.
One RV unit and one vehicle are permitted per RV space.
A distance of 15 feet should be maintained between units.
Customers must keep their site neat and orderly.
Black and gray water tanks must be discharged at dump stations only.
Pets are permitted on a leash, but are not permitted inside the service plazas. Guests are responsible for their pets and cleaning up after them.
No temporary animal pens are permitted.
All visitors are required to comply with any applicable federal, state or local laws.
Anyone under 18 years of age must be accompanied by a parent or guardian.
You can get a list of service plazas with overnight parking areas at the following webpage (click here)
More About Overnighting at Rest Areas & Truck Stops
Available at Amazon.com...
Note: the above list of books are not endorsed by Boondocker's Bible, but are recommended because they provide information relevant to this article. Boondocker's Bible will earn a commission on the sales of these books to help support our goal of providing free boondocking education to the public.