(Cover photo by Dave Hensley)
My plan to camp at (or by) Grand Teton National Park was something I thought I'd realize this Spring. The photo from Campendium (see example) looked all so inspiring and idyllic. I was sold on the romanticism of the American West and the idea of free camping. Could I actually find boondocking with such an amazing view of the Tetons, for free?
It proved to be really tough to do. Practically impossible.
In fact, I've come to learn that Campendium chooses really amazing user-submitted photos to help sell itself. Though, it's hard to make the Grand Tetons look plain. The two Airstream trailers in the example photo I linked above make boondocking look so glamorous and effortless. When I visited that same campsite yesterday, it was packed in tight with about a dozen trailers and motorhomes in the same space. It was worse than being at a KOA in Orlando.
Albeit, the Coronavirus closures may have had an impact on the available free camping options, but I tend to doubt that. And, there were also several forest roads still closed due to muddy conditions. I thought I was a seasoned boondocker, yet I left the Tetons feeling defeated.
Finding Free Camping at the Grand Tetons
I arrived in Grand Teton National National Park on June 3, 2020, a Wednesday. I figured starting my search mid-week would be ideal in securing a boondocking site before the weekend rush hit. It didn't seem to make any difference.
To be clear, you cannot actually boondock inside Grand Teton National Park. You have to instead find it in Bridger-Teton National Forest. The Forest shares a border with the Park, so all you have to do is stay just inside the forest boundaries, and you're good. You still get amazing views, nonetheless.
I explored eight different boondocking areas in the Forest. All of these areas were documented on Campendium. All came with dozens of great reviews, beautiful photography, and camping memories to die for. I also explored a few forest roads not documented on Campendium, just to try my luck at finding something new.
Everywhere I went to was completely filled with campers.
I mean filled.
Some areas had motorhomes and trailers packed in tight like sardines. Their owners had all maneuvered them carefully and closely together to maximize their view of the Tetons. They all must have been friends in order to get their rigs fitted together like Tetris blocks. And what about those other forest roads not documented on Campendium? Yup, completely filled too. Even campsites with no view of the Tetons were taken.
It felt like I had been had. Campendium sold me on such amazing photography, and made it all sound easy in their user reviews. Yet, when I got there, it was like a Las Vegas buffet, right when they bring out the lobster tray.
My First Day Into This Area
I actually spent the night before at a snowmobile parking lot along US-26 near the summit by Pinnacle Buttes. I had already made a plan to explore several boondocking areas close to the Grand Tetons. I picked out my favorite options, pinned them all on my Google Maps, and set out pulling my 28 foot ATC Toy Hauler.
Google's turn-by-turn driving directions, of course, led me down the worst possible route towards my first destination. It was a circular campground (all free camping) called, "Antelope Flat". The directions took me down Antelope Flats Rd, a dirt road filled with rocks, ruts, and dips. I drove for 4 miles moving an average of 3 miles per hour. I was thoroughly frustrated. I kept telling myself, "It had better be worth this shit!"
So when I get there, every campsite was taken. On a Wednesday even! There were trailers there, some as long as mine. Did they all come down the same horrible road? No. It turns out there was another route, mostly paved, which Google decided not tell me about.
I was pissed.
I chose to instead try another dirt road leading up to more dispersed camping up along Shadow Mountain. It supposedly had killer views of the Tetons as well. About a 1/4 mile up the road, I saw a sign that read…
"Warning! 4WD High Clearance Vehicles Only"
Damn.
My trailer is low clearance, and my truck is 2WD. I shook my head, but really considered braving the road. On the other hand, that little voice of reason in my brain kept gnawing at me not to chance it. All I kept thinking about were the photos and reviews on Campendium. Instead, I had to put the truck in reverse and push the trailer backwards down the 1/4 mile of dirt road, curves and all.
I went on to explore other boondocking areas like Upper Teton View, Lower Teton View, Spread Creek, Spread Creek Meadow, Toppings, Curtis Canyon, along with a few other forest roads not mentioned elsewhere. All of them either completely full, road closed, or road requires 4WD high clearance.
By the end of the afternoon, I was defeated. I drove back up US-26 and returned to the snowmobile parking lot to lick my wounds for the night.
Second Day Into the Area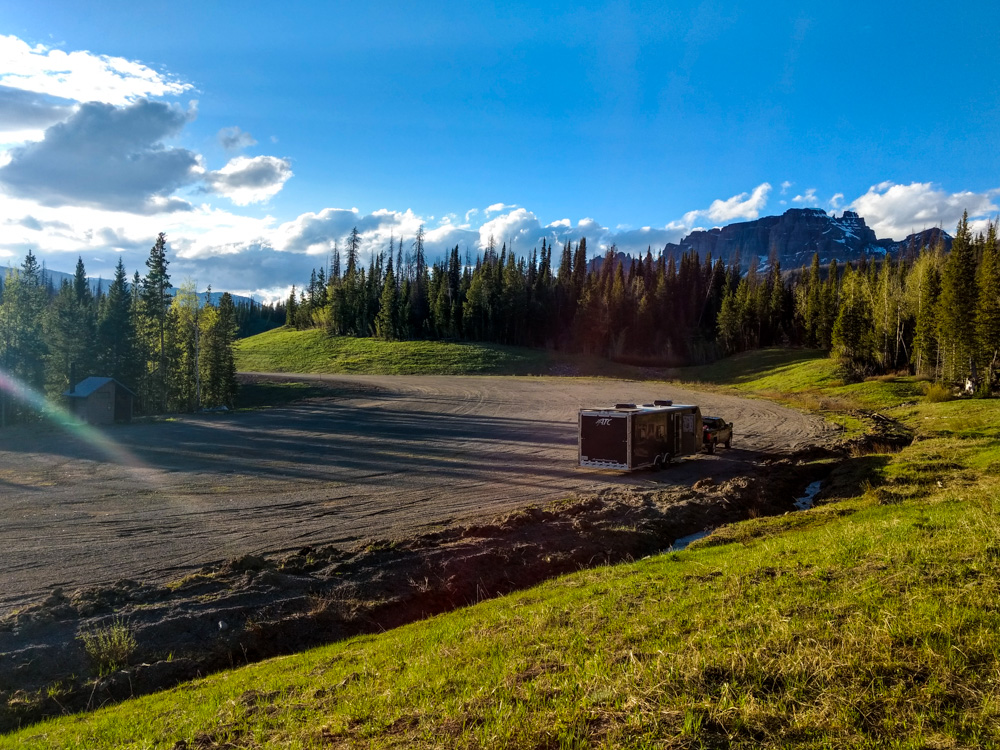 I had managed to find a couple more forest roads that I thought for certain would have open campsites. These roads were a little further away from the Tetons, though still offered some view.
Forest Road 30160 starts at a place called "Hatchet Campground", a Forest Service campground along US-26, just a few miles from Moran. It goes past the campground, ascending elevation towards a handful of remote campsites, according to imagery on Google Satellite Maps. I chose to check it out.
Hatchet Campground has an overflow lot where I unhitched the trailer so that I could explore freely without the burden of length and weight on my truck. The first four campsites I had tucked away in my mind were all taken! Moreover, the road was closed up ahead due to muddy conditions.
That was it!
I was done. I gave up on camping by the Tetons.
"Why did I even think that such a storied and amazing place like the Grand Tetons actually had plenty of open camping available? Why did I let myself be convinced by Campendium reviewers that this was such an effortless area to find free camping?
It's kind of like that feeling you get when you spend three hours with a time-share salesman, only to end up with a couple of gift certificates for Denny's. I felt tricked. I burned a lot of gasoline to get here, only to come up empty-handed.
I shook my head and starting talking to myself; the same thing I do when I get upset. I put my hands on the steering wheel, stepped on the gas, and headed into Jackson with the intent of turning west into Idaho. I was going to move on to "Plan B", exploring sites on the other side of the Tetons.
Finding Places to Camp on the Other Side of the Tetons
The drive up and over Teton Pass was grueling. My Chevy 2500 HD (with the gas engine) was just barely towing the 28 foot toy hauler at a slothly 20 MPH in 1st gear, up a 10% grade, and the engine growling at 4,000 RPMs. That was all it could do, and there was 5.5 miles of this stuff uphill. I had a line of cars behind me, and there were only a few pull outs.
I figured the drive down the mountain on the other side would be better, but the curves were rated at 25MPH and the roads were wet. I was able to put the truck into 2nd gear, but still had to vary between 25 and 35 MPH. I had a still a line of cars behind me.
"No more am I going to do this Teton shit again!" I said to myself.
If I was going to find a place to set up camp, it would have to be on this side, because I wasn't going to go back over the Pass.
Targhee National Forest on the Idaho side of the Tetons is much less crowded than Bridger-Teton on the Wyoming side. Except, you don't get the awesome views of the Tetons. "That's OK," I figured. I already saw enough of the Tetons.
I checked out three dispersed camping areas I found on Google Satellite Maps, including Forest Road 239 (Mike Harris Creek), Hungry Creek Road, and Forest Road 253, (Rainey Creek). Many had spaces open, but none of them had any Verizon 4G data. One of them didn't even have Verizon voice signal. That just wasn't going to do. I needed Internet access while camping to work my website development projects.
I had one more plan up my sleeve before I was gonna call it quits. If this didn't pan out either, I would have to have find a place to overnight, and drive further away the next day.
Forest Road 276, dubbed, "Moose Creek", is an obscure little path that branches off of State Highway 33, right at the town limits of Victor, ID, and extends to the very edge of Targhee National Forest, right at the border of Idaho and Wyoming. There are 3 official campsites there, along with about 3 or 4 unofficial sites.
To my surprise, every one of them was open!
At the end of Forest Road 276 is a trailhead, "Moose Creek Trail". It's full of cars, most likely locals. My guess is that this set of campsites and trailhead is something only townsfolk know about.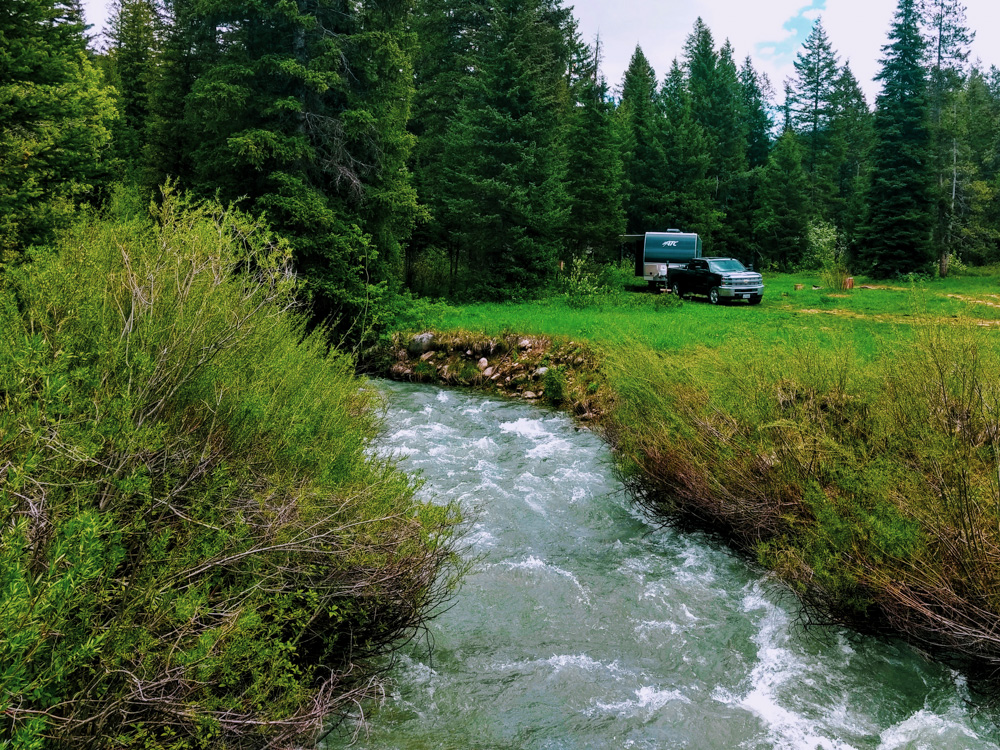 However, Verizon 4G data came in at only 1 bar, with an average upload speed of about 1.5 MBPS. That's pretty slow if you're not counting. But, I'm at least able to upload and download files to the server with relative convenience, and even compose this blog post.
"Fuck it" I said to myself. "I'm taking it."
I found the best campsite, located right along Moose Creek itself. It was very unlevel, but I made it work. Signs warning of grizzly bear, along with the bear-safe food locker at my site, concerned me. But, this was the best I was going to get.
Looking Back on it All
I still love Campendium. I use it all the time to at least give me some reference through the photos, cell phone strengths, road conditions. But, I've come to accept that it's still trying to sell me through overly-glamorized photography, much in the way any other travel publications would do. Moving forward, I'm not going to let myself be sold on the hype.
Albeit, the recent COVID pandemic has shut down all of the campgrounds in Grand Teton National Park, while the wet weather kept many forest roads closed. That could be a reason why all of the boondocking is full. But no. I've come to learn that people who camp in developed campgrounds and RV parks don't boondock. So, I tend to doubt it's the COVID.
I suppose if I didn't need Internet access, I would have more choices. In fact, if I had higher clearance and 4WD, I would have more choices. But, there's always going to be excuses on how things could have been better. On the other hand, I can get a lot from my truck and trailer, along with what skills I've gained over the past 2 1/2 years boondocking. If I can't find anywhere to boondock, then I can't find it.
I guess I don't "need" to boondock at glamor sites like the Grand Tetons, or the Grand Canyon, or other glamping sites. I don't want to feel like a Johnny-come-lately at an Oklahoma land rush. I like boondocking where there is solitude and quiet. I'm only in this for the camping.