Boondocking in national parks starts out as the goal of most would-be boondockers, but ends up becoming the biggest disappointment due to the lack of available space. The National Park Service (NPS) generally does not allow boondocking in any of its parks, though it does offer designated dispersed camping areas in most of its national recreation areas (NRAs).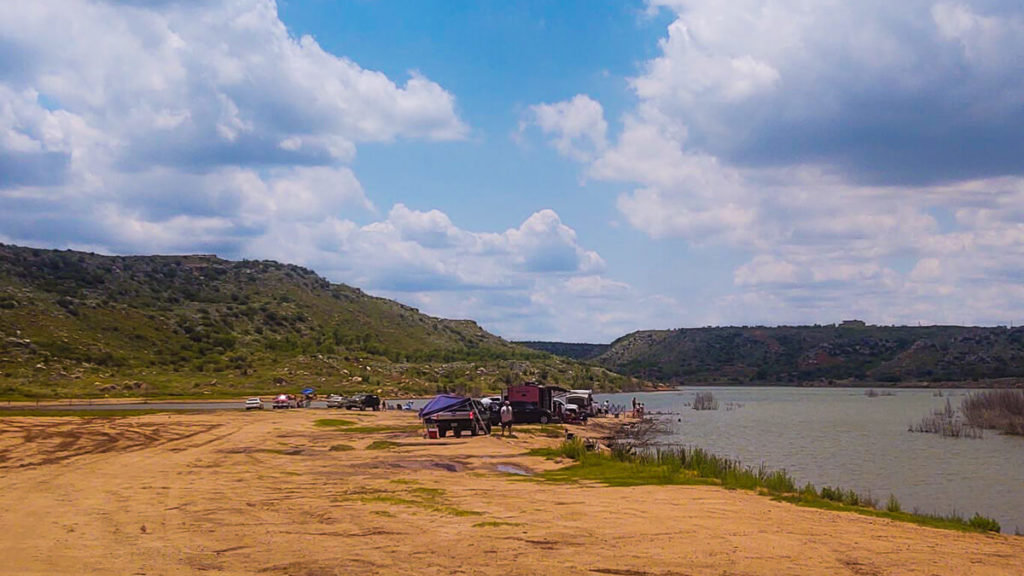 Boondocking in National Parks
First of all, the National Park Service uses the term, "backcountry camping" to describe boondocking, dispersed camping, wild camping, or any other camping outside of developed areas.
Second of all, most national parks don't allow backcountry camping using vehicles such as RVs. They instead permit backcountry camping via hiking, meaning you have to carry your camping gear by foot and walk it out to a site. However, it depends on the national park. Some actually do allow backcountry camping by way of off-road vehicles.
Third, all national parks require you to obtain a backcountry permit for overnight use. These permits will cost money, generally in the neighborhood of $10.00 to $40.00, depending on the national park. The fee is per permit, not per number of days. So, once you obtain a permit, you can stay up to the maximum number of days permitted by each national park. Most national parks, that allow backcountry camping, allow up to 14 days.
Four, of those national parks that allow backcountry camping, most will limit you to designated backcountry campgrounds. These are just areas marked by a post where you can set up a tent, and these will be the only areas where backcountry camping is allowed.
You will have to inquire at the visitor center inside the national park to find out if backcountry camping is permitted, and if it's also permitted by vehicle. You can also visit each national park's website, and look up, "backcountry camping".
National Parks that Offer Backcountry Camping with Vehicle
Most of the backcountry camping areas listed below will require either 4×4 vehicle or high clearance…
Big Bend National Park (TX) – backcountry camping with vehicle is available from several small roads throughout the park, but limited to 34 marked sites. Read, "Map of Roadside Campsites at Big Bend National Park"
Death Valley National Park (CA) – backcountry camping with vehicle is allowed along any dirt road, at least one mile away from a paved road. (see full details).
National Recreation Areas (NRAs) Offer More Boondocking Opportunities
The NPS operates several national recreation areas, many of which have designated boondocking areas, large enough to accommodate hundreds of vehicles each. National recreation areas is a federal designation for an area set aside specifically for purposes of recreation (boating, off-roading, hang-gliding, fishing…). It differs from a national park in that parks are intended to be enjoyed for its beauty and wonders.
Glen Canyon NRA (UT) – Lone Rock Beach Campground is a large boondocking area where you can park your vehicle right on the beach itself. There are no marked campsites, just park wherever you can fit in. (see full details).
Lake Mead NRA (NV) – Stewart's Point and Government Wash are two very large, and very popular boondocking areas. (see full details).
Lake Meredith NRA (TX) – Bugbee Wash, Blue Creek, Cedar Canyon, and Rosita Flats, support dispersed camping (see full details)
Boondocking Just Outside of Park Boundaries
Many RV boondockers who claim to have boondocked inside a national park actually camped just outside of its boundaries. For example, someone who claimed to have boondocked at Grand Canyon National Park, actually boondocked inside Kaibab National Forest. Otherwise, Grand Canyon National Park does not permit backcountry camping via RV or other vehicle, they only allow it for hikers with tent camps. The same is true when someone claimed to have boondocked at Joshua Tree National Park; they actually boondocked on BLM land just south or just north of park boundaries.
If you know someone who boondocked inside Grand Canyon National Park, or other national park that doesn't allow RV backcountry camping, then they broke the rules and got away with it.
Most National Parks have BLM or Forest Service Buffers
Almost all national parks are surrounded by a buffer of public land owned by the Bureau of Land Management (BLM) or U.S. Forest Service (USFS). This is done largely to prevent private parties from buying land right on a national park boundary. You can often boondock in these areas, provided there is an access road for your RV to drive on.
However, some national parks were established in recent years and thereby have "inholders", people who owned property in the area before the park was there.
Keywords
camp national forest, camping national forest, national forest camping