The National Parks Pass may not be worth buying if you're a boondocker, mostly because the National Park Service offers few boondocking opportunities. However, it may still be useful for purposes of visiting parks and using their dump stations.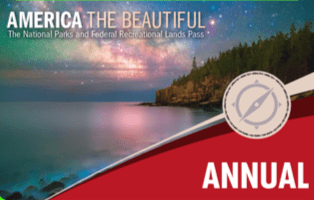 Is a National Parks Pass Worth Buying for a Boondocker?
Of all the "full time boondockers" we've met, probably less than half actually hold an active National Parks Pass in their hand. It's probably close to 40% do, and 60% do not.
The primary reason why boondockers still purchase these passes is because national parks have RV dump stations with potable water. These dump stations are free to use, however in order to get to them you have to pay an entrance fee at the park entrance. The National Parks Pass lets you enter without paying a fee.
Other boondockers still make a habit of camping outside of a park boundary, but will go into the park to visit, hike, or take in the sights.
Are There Other Reasons to Getting a National Parks Pass?
Yes. First of all, they are called "America the Beautiful" passes, or also known as "Interagency Passes". They are good for all federal agencies that operate campgrounds, including the National Park Service, the U.S. Forest Service, the Bureau of Land Management, Bureau of Reclamation, Army Corps of Engineers, U.S. Fish & Wildlife Service, and even the Tennessee Valley Authority.
This pass costs $80.00 a year…
The pass gets you free access into all such areas. Keep in mind however, that the vast majority of these areas are already free to get into. It's largely the national parks that charge entrance fees. There are a handful of National Wildlife Refuges that charge access fees.
The pass gets you 50% off on all camping in developed campgrounds. But if you're a full time boondocker, you're not going to camp in a developed campground. However, even full time boondockers still splurge for picnic tables and fire rings every now and then.
Like we said above, almost all national parks have RV dump stations with potable water, and this pass will get you access to those dump stations.
There are a handful of national parks where dispersed camping is available for vehicles. Medano Pass Primitive Campsites inside Great Sand Dunes National Park in Colorado is one of them. But, you cannot get to this area without first paying at the park entrance. The National Parks Pass eliminates that fee.
So, Is the Pass Worth Buying?
Yes, if you want access to more RV dump stations, it may be worth buying a National Parks Pass. Some national parks can cost up to $40.00 per vehicle to get in, which makes for an expensive dump.
Yes, even though you consider yourself a full time boondocker, but you still want to enjoy the national parks, the National Parks Pass will reduce your overall costs throughout the year.
No, because you're a full time boondocker and you're already paying more than your fair share of taxes to Uncle Sam. You're already at professional at finding RV dump stations and potable water, and you have no desire to visit crowded places.