In most cases, no. It is illegal to remove small plants from Arizona State Trust Lands without a permit. The State of Arizona has a long list of native plant species they've designated as protected. If you happen to see a pretty plant you want to dig up and take home, chances are that it's a protected species that requires obtaining a removal permit.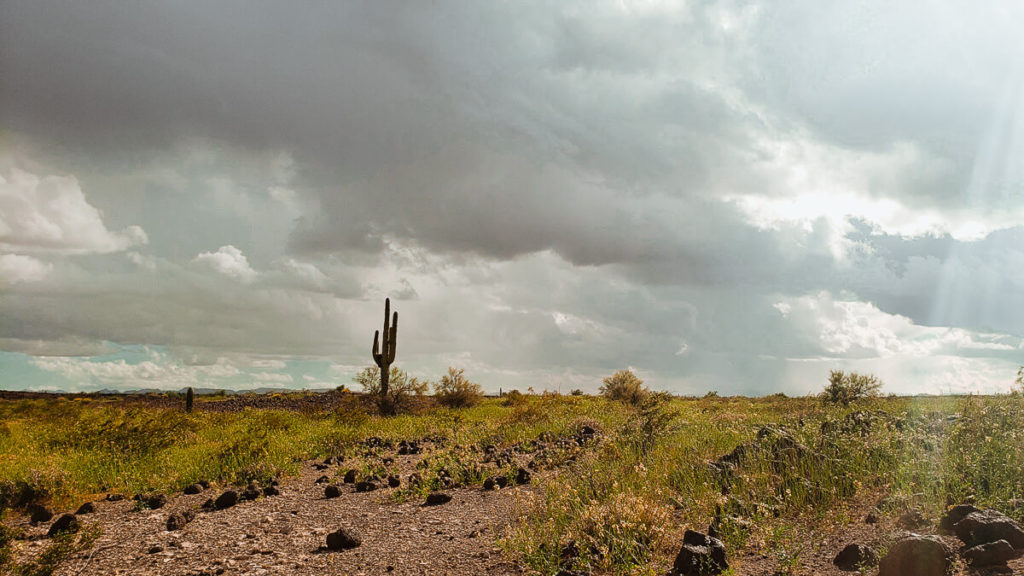 Can You Remove Small Plants from Arizona State Trust Land?
From a legal standpoint, no you cannot remove any "protected native plants" without a permit, anywhere in Arizona, whether it is on Arizona State Trust Land or not. Getting a permit to do so may be rather difficult for the general public.
The State of Arizona has a long list of native plants considered to be protected species. The list is long enough that it very likely covers the pretty little flower or cactus you want to take home.
The Arizona Department of Agriculture is the agency that issues the removal permits. There are several different types of permits depending on what classification of protected plant species you are interested in. Obtaining a permit requires filling out a lengthy application explaining why you want to dig up one or more of these plants, where you plan on taking them to, and what you plan to do with them later.
Suffice it to say, if you want to do this legally, you will have to jump through some hoops, pay some money, and wait for an answer from the Department.
To read more about this process, the Arizona Department of Agriculture has a webpage dedicated to this subject.
Where All This is Codified Under Law
The Actual List of Protected Native Plant Species
The actual list of protected native plant species is published under Arizona Administrative Code (3 AAC 3 Appendix A). Click here to see the full list.
You Still Need Separate Permission From the Land Owner
Even if you're able to get a removal permit from the Arizona Department of Agriculture, you still have to get permission from the owner of the land.
Even if its State Trust Land, you still have to get the permission from the Arizona State Land Department. This is particularly important because much of their lands are leased out for agricultural uses, including free-range cattle ranchers.
The same goes for lands owned by city, county, state, and federal agencies. The U.S. Forest Service, the National Park Service, the Bureau of Land Management, Arizona State Parks, the U.S. Fish & Wildlife Service, all have regulations in place prohibiting the removal and/or destruction of plants.
What if a Plant is Not on the List of Protected Native Plants?
Then you are allowed to remove it without a removal permit from the Arizona Department of Agriculture. However…
You still have to get permission from the land owner. See above.
But What if it's Just One Tiny Plant?
If it's a small plant, no one will ever know. Campers and boondockers are often picking flowers, collecting seeds and nuts, or taking a tiny little cactus home with them. Technically, this is still illegal, yet almost always done without incident. Law enforcement officers will generally look the other way if they catch you.
However, if you make a habit of digging up dozens or hundreds of plants, particularly if you're running a business by selling them, you are now committing a felony and looking at prison time. If you dig up a tall, large cactus, namely a Saguaro Cactus, you're also looking at prison time.
More About Boondocking in Arizona
More About Camping on State Trust Lands