Yes, you can camp on BLM wilderness areas. However, vehicles are not allowed. This means you must park your vehicle outside of wilderness boundaries and hike your camping gear in.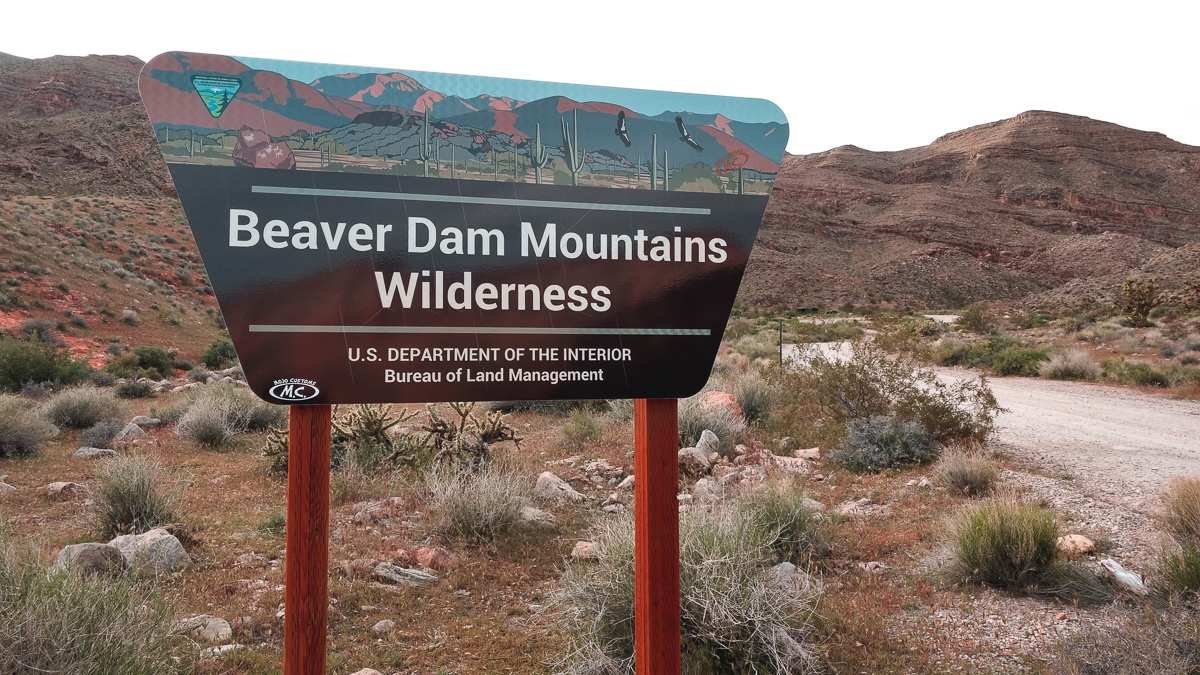 Can You Camp on BLM Wilderness Areas?
Camping is definitely allowed on BLM wilderness areas. It's perhaps the most pristine form of camping you can find on BLM land. The primary difference between camping on BLM wilderness versus camping on open BLM land, is that you cannot drive a vehicle into BLM wilderness.
What Vehicles Are Allowed Inside BLM Wilderness?
None. This includes all motorized vehicles and all non-motorized vehicles. Hence, you cannot even ride a bicycle on wilderness areas. You cannot even pull a cart or wagon. You cannot hang-glide either. (see § 6302.20 What is prohibited in wilderness?)
The only exception is a wheelchair, and it's only allowed if you are physically required to use one. (see § 6302.17 When may I use a wheelchair in BLM wilderness?)
This takes away a lot of camping opportunities for RVers, van-dwellers, and car campers. But not all is lost. Most BLM wilderness is surrounded by open, BLM land. You can still park your RV just outside wilderness boundaries, as long as you can find a suitable spot to camp in.
Many wilderness areas are actually divided into two or more parts with a public access road splitting them in the middle. The public access road remains open BLM land. This allows the public to vehicle-camp inside a wilderness area without technically being on wilderness land.
How to Camp on BLM Wilderness Areas
In its simplest terms, you park your vehicle outside of wilderness boundaries and hike your camping gear in. You then set up camp wherever you like. That's really all there is to it. It's possible the BLM has identified some areas as off-limits to camping or even off-limits to public use, depending on how environmentally sensitive the area is. But for the most part, there are very few restrictions.
Are Permits Required for Camping on BLM Wilderness?
Not normally. Most all BLM wilderness do not require permits for day use or for camping. However, there are few that do. Generally, the more environmentally sensitive the area, the greater the likelihood that permits are required. You will have to check with the local BLM field office to find out.
However, group events will require a permit. Each BLM field office will determine how large of a group will warrant a permit. This usually comes up when Boy Scout troops want to camp in a wilderness.
What About Campfires and Gathering Firewood?
Campfires are allowed on BLM wilderness. This is dependent on current fire restrictions issued by the local BLM field office or BLM state office.
The only caveat is that campfires must be primitive, using a rock-ring. You are not allowed to hike in a barbecue grill, gas stove, or other man-made campfire implement. You can use a frying pan, dutch oven, or simple coffee pot. You just cannot bring in a Mr. Coffee, a Keurig, or Instant Pot.
You are allowed to gather dead-and-down firewood, but only for your own campfire use. You cannot collect wood and take it out of the wilderness. You cannot collect more wood than is reasonably needed. You cannot cut down any trees, dead or alive. Moreover, you cannot use motorized tools for cutting wood. You can only use hand-tools (axe, handsaw, pruners, et al). (see § 6302.15 When and how may I collect or disturb natural resources such as rocks and plants in wilderness areas?)
How Long Can You Camp in a BLM Wilderness?
Occupancy rules for BLM wilderness are the same for all BLM lands. Each BLM state office or field office is allowed to set their own occupancy rules. Most BLM areas use the "14-days in a 28-day period in a 25-mile radius" rule. (see "BLM 14-day Rule Explained).
However, it is possible for a wilderness area to have a shorter occupancy limit. For example, in Arizona, the Aravaipa Canyon Wilderness has a 3-day (2 night) limit, whereas BLM areas just outside its boundaries has the usual 14-day limit.
What is Prohibited in a BLM Wilderness Area?
As per (§ 6302.20 What is prohibited in wilderness?)…
Operate a commercial enterprise;
Build temporary or permanent roads;
Build aircraft landing strips, heliports, or helispots;
Use motorized equipment; or motor vehicles, motorboats, or other forms of mechanical transport;
Land aircraft, or drop or pick up any material, supplies or person by means of aircraft, including a helicopter, hang-glider, hot air balloon, parasail, or parachute;
Build, install, or erect structures or installations, including transmission lines, motels, vacation homes, sheds, stores, resorts, organization camps, hunting and fishing lodges, electronic installations, and similar structures, other than tents, tarpaulins, temporary corrals, and similar devices for overnight camping;
Cut trees;
Enter or use wilderness areas without authorization, where BLM requires authorization under § 6302.12;
Engage or participate in competitive use as defined in section 2932.5 of this chapter, including those activities involving physical endurance of a person or animal, foot races, water craft races, survival exercises, war games, or other similar exercises;
Violate any BLM regulation, authorization, or order.
What is a BLM Wilderness Area?
Wilderness areas were created by the Wilderness Act of 1964. It's not limited to just BLM lands. The National Park Service, the U.S. Forest Service, and the U.S. Department of Fish & Wildlife all have wilderness areas too.
Wilderness areas were created to preserve America's natural environments. People are allowed into wilderness areas as long as they use these areas in primitive fashion. You have to walk through them, use hand tools, and leave the land with no trace that you had ever been there.
As such, the "7 Principles of Leave no Trace" are embraced by the BLM, the NPS, the USFS, and the USFWS. Even though the 7 Principles are not law and are not necessarily regulation either, each of these land management agencies make efforts to preach them to visitors.
What About Wilderness Study Areas?
Wilderness Study Areas are areas being proposed for inclusion as Wilderness Areas. In order to become designated as a Wilderness Area, a Wilderness Study Area must have approval by either Congress or the President. In most cases, Wilderness Study Areas are simply just waiting on approval.
Wilderness Study Areas have all the same rules and restrictions that Wilderness Areas have. The BLM keeps them in the same pristine state just in case one of them gets formally designated as a Wilderness.
More About BLM Wilderness Areas