Yes, for the most part, it is legal to camp anywhere on BLM land. However, there are certain places where it is either illegal by federal law, state law, or simply closed to the general public. As long as there is an established road, and there is no gate preventing access, and you're camping on a clearing void of vegetation, you're pretty much safe to park your vehicle there and camp.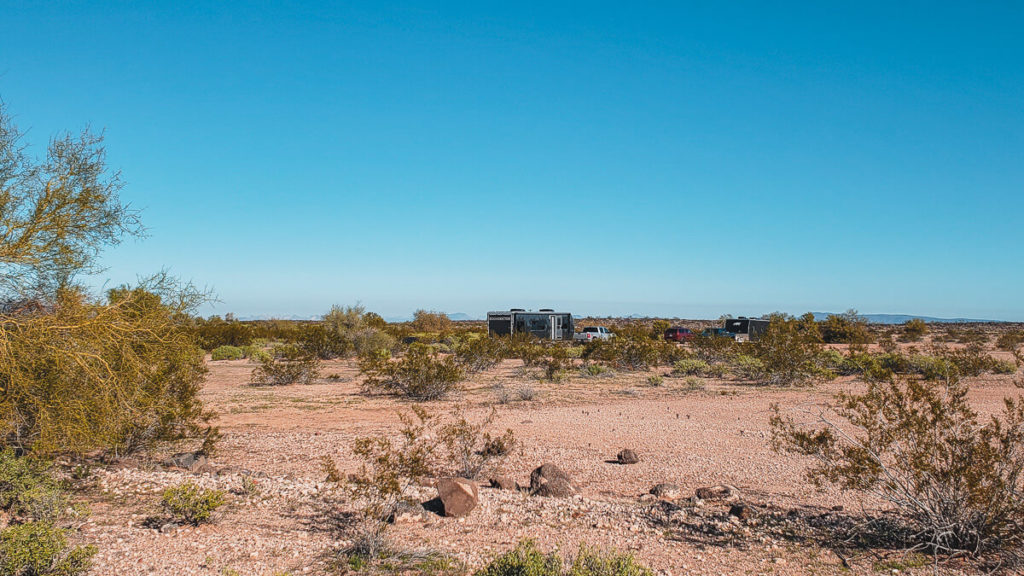 Is it Legal to Camp Anywhere on BLM Land?
Much of the land administered by the Bureau of Land Management (BLM) is free and open to camp on. As long as there is an established road (particularly those officially numbered by the BLM) are you free to drive along that road and camp. All you have to do is make sure your vehicle is parked away from the road so that it does not block the flow of traffic, and that you are not driving over and destroying plants and animal habitats.
Where it is Prohibited to Camp on BLM Land
There are certain areas where camping is not allowed…
Any area identified as "day use only". These are typically visitor centers, viewing areas, picnic areas, trail heads, and boat launches.
Any area where there are signs posted prohibiting camping.
In developed campgrounds, you can only camp in marked campsites.
If a road has a gate, and the gate is closed or locked, you cannot enter.
Areas marked as "Wilderness" are limited to hikers and tent campers only. No vehicles allowed.
Any BLM land existing within the boundaries of an incorporated city conform to city ordinances, and nearly all cities ban camping except for lands zoned for RV Parks and campgrounds.
Any land the BLM has leased to other organizations, usually oil-drilling companies and mining companies.
And land that is adjacent to a military base usually has a buffer ranging anywhere from one mile to three miles where the general public is not allowed to camp.
Certain States May Add to These Restrictions
The BLM has a rule that requires its officials to respect state and local laws, and to allow state and local officials to enforce law. Even though you are on federal land, state and local laws still apply. This may affect where you are not allowed to camp.
In Arizona, there is a law against camping within 1/4 mile of a body of water or a livestock watering container. (Reference, ARS § 17-308 Unlawful camping).
Your Vehicle Must Remain on Established Roads
If you happen to spot a really nice spot on BLM land for camping, except there is no road to get there, you are not allowed to make your own road.
The BLM has a rule against "willfully" destroying plants, rocks, and soil, which your vehicle will do if your drive your vehicle off of the road. (Reference, § 8365.1-5 Property and resources).
Thus if you want to camp with your vehicle, you are limited to camping on clearings and previously-used campsites, accessible from a road. Otherwise, you'll have to hike your camping gear to wherever you want.
Off-Road Driving Is Limited to OHV Recreation Areas
The BLM has set up hundreds of OHV Areas. These areas allow you to drive your vehicle willy-nilly anywhere you want, and tear stuff up. Read more about these at, "Can I Drive Anywhere on BLM Land?"