The BLM 14-day rule for camping refers to the maximum number of days for camping on BLM land. It's a common rule found on most BLM lands. However, it's also confusing and a source for much discussion. Here is the full clarification of this rule…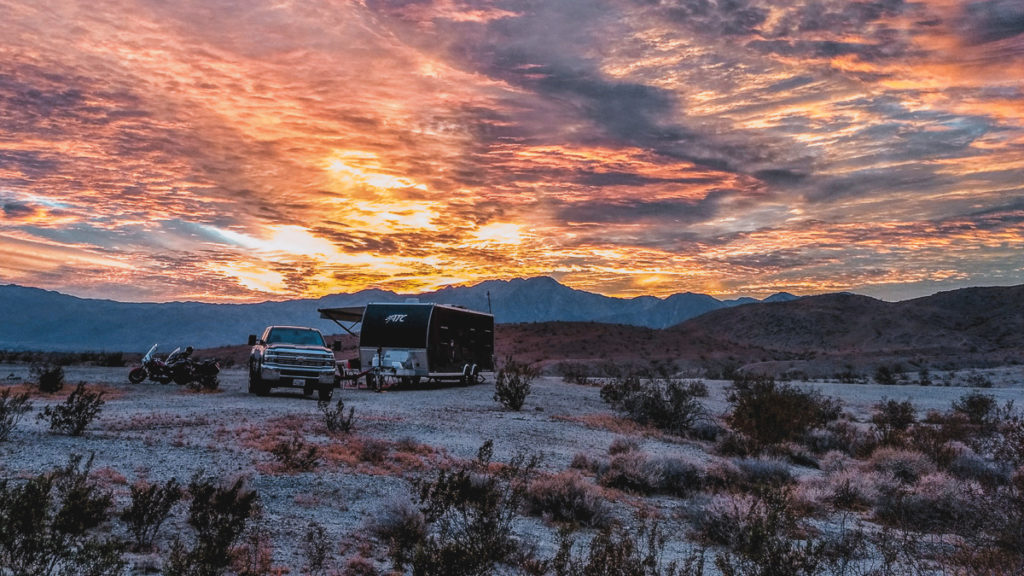 The BLM 14-Day Rule for Camping
You can stay a maximum of 14-days in a 28-day period within a 25-mile radius…
The 28-day period begins once you set up camp.
You can stay a maximum of 14-days within that 28 day period.
Once you've exhausted those 14-days, you cannot return to that same area until after the 28 day period expires.
"Same area" is defined as a 25-mile radius (air miles) from your campsite.
Q: After the 14-days has exhausted, where do I go?
A: You must pack up camp and move at least 25 miles from your campsite.
Q: How do I get another 14-day maximum?
A: You can get another 14-day maximum once the 28 day period has expired, or by moving to a new campsite at least 25 miles away.
Q: If I've only used a portion of my 14-day maximum, and I decide to pack up camp and leave, do I still have to move 25 miles away?
A: No. You only have to move 25 miles away if you've exhausted the full 14-days.
Q: If I've only used a portion of my 14-day maximum, and I decided to pack up camp and leave, and I choose a new site 10 miles away, does my new campsite get a fresh 14-day maximum and 28 day period?
A: No. If your new site is less than 25 miles from your old site, the new site will carry whatever days you have remaining on that 14-day maximum.
Q: If I camped for just 1 day, and then decided to move to a new site 10 miles away, and then exhausted the remaining 13 days there, do I have to move 25 miles from my new site, or my old site?
A: The BLM has not addressed this specific question, but it is our understanding you must move 25 miles from whichever site you had established as your primary campsite. If you were to spend 7 days at one site, and 7 days at another site, you now have your choice to decide which site to move 25 miles away from.
Q: What if I camped for 3 days, then packed up and left to go somewhere more than 25 miles away. But then 3 days after that, I decide to return to my original site. Will moving outside of the 25-mile radius reset my 14-days?
A: No. The only way your 14-day maximum can reset is after the 28-day period expires on the original site.
Q: What if various people in my party arrive and leave at varying lengths of stay?
A: The BLM 14-day rule is enforced per "camper". The BLM has not defined "camper" for this purpose, but it is generally assumed by most boondockers to mean "per person". Thus, each person in the campsite has his/her own 14-day rule.
Q: If the 14-day rule is assessed per person, then can a group of people leave an RV parked at the same site indefinitely, then have different people coming and going using that RV?
A: The BLM has not addressed this specifically, but it is our understanding they cannot. The BLM also forbids people using public lands for "occupancy" purposes, meaning permanent residential uses. If a BLM officer sees the same RV parked there for months at a time, with different people using it, he or she could declare that as being used for occupancy purposes, and will compel someone to remove it.
Does the 14-Day Rule Apply on All BLM Lands?
It applies on BLM "open lands". Open lands are those that have no other specific designation. These lands have no signage, no kiosks, and no improvements of any kind. These are the lands that most boondockers think of when camping on BLM areas.
All other designated lands will have some kind of maximum time limit as well, and it's often the same 14-day limit. However, we have seen some specific BLM areas with different limits.
Developed Campgrounds– Most BLM developed campgrounds will post their maximum camping limits on a kiosk located at entrances. Quite often, they will use the same 14-Day rule, but will have much longer periods, such as a 60-day period, or a 90-day period, depending on how popular the campground is.
Conservation Lands– BLM National Monuments are free to established their own maximum length of stay. However, most still end up adopting the standard the 14-Day rule. All BLM Wilderness Areas that we've visited to date use the same 14-Day rule.
Specific BLM Areas with Different 14-day Rules
Each BLM state office, field office, or national monument will modify the 14-day rule as they see fit…
Leaving Personal Property Unattended
You do not have to be in-attendance with your personal property while camping on BLM public lands. You are allowed to set up camp and then leave your personal property unattended up to 10-days (or 12-months in the State of Alaska). This is in accordance to § 8365.1-2 Occupancy and use.
The above rules applies only to BLM open lands. It does not apply to BLM developed recreation areas or BLM conservation lands. Read more about this at, "Is it Legal to Leave Your RV Unattended While Boondocking?"
How Strictly Does the BLM Enforce the 14-Day Rule?
Hardly ever. In our years of boondocking on BLM lands, we have never witnessed a BLM officer citing us or another boondocker for exceeding maximum length of stay. We have never heard of a BLM officer even reminding campers of what the maximum length of stay is.
Even much less… it is unheard of for a BLM officer to charge someone for not leaving the 25 mile radius, or having returned before the 28-day period expired.
This is not to say that campers should feel encouraged to stay as long they want. Right now, the public gets to enjoy a very lenient BLM because most of us do follow the rules, and you should too. It should also be noted that the BLM is pretty understanding when a boondocker needs to stay some extra days beyond their 14-day maximum.
The worst that could happen if you stayed longer than the rules allow is that a BLM officer will knock on your camper door and remind you it's time to leave. The only time when you may be cited with a fine is if you were already asked to leave but refused to comply.
For Further Reading