Camping and stargazing go hand-in-hand. We've accumulated some stargazing tips while camping over the years. Most of these we've just figured out on our own as full time boondockers. You don't need a telescope or a set of binoculars, though they do help…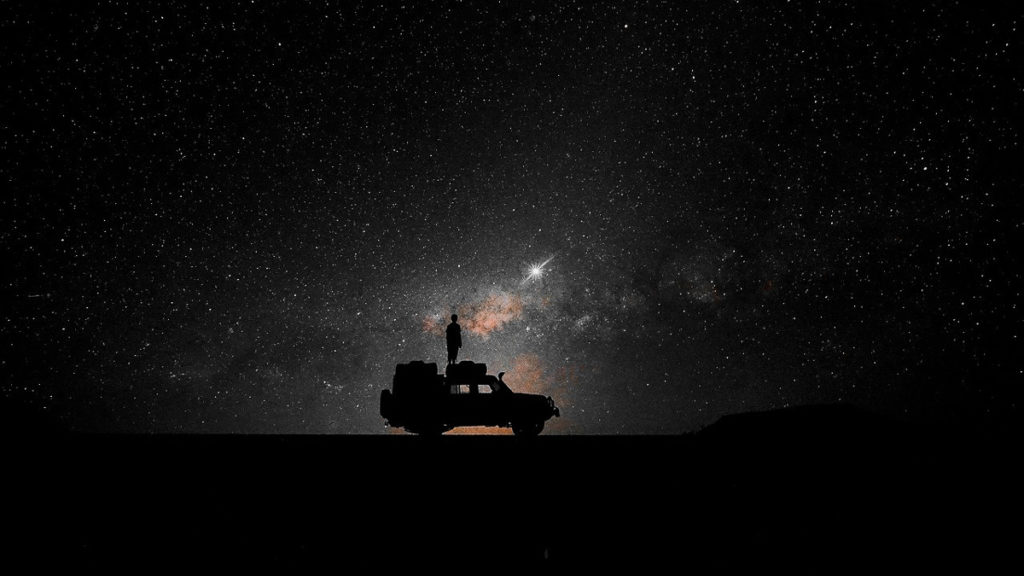 Get Away From Light Sources
Getting away from light pollution should be a no-brainer, but you might be surprised at how much light is coming from your campsite…
Douse that campfire! Once you've finished making smores and burned up enough wood for the night, put out the fire and set up chairs a few yards away.
Turn off the lights in your RV, van, or car.
Keep a good flashlight with you to help you navigate around.
Stargaze During a New Moon
A new moon is when you don't see any moon, it's the opposite of a full moon. In this case, a new moon makes the stars more visible. It also makes it possible to get some beautiful photos of the Milky Way Galaxy.
You'll have to monitor your calendar on when the next new moon swings around, and then plan on being set up in camp somewhere to stargaze. You can also Google, "When is the next new moon?"
Use Mosquito Repellent
There's nothing like a night of stargazing to cover you in mosquito bumps the next morning! When stargazing, you don't notice them because it's dark and you can't see them, nor feel them. But they are there, they are sucking your blood! Make sure to bring your trusty mosquito repellent with you.
You'll Start Shivering in the Cold!
Bring a coat, or wear layers. The longer you stay up at night stargazing, the colder you will feel. Covering up will also help protect you from mosquitoes.
Filling up a Thermos bottle with hot tea or coffee works pretty well too.
Charge Up Your Electronics Ahead of Time
By the time night falls, your cellphone is probably running low on battery power. You'll want it handy for running your favorite stargazing and astronomy apps.
Don't Forget to charge the battery in your DSLR camera,
And if you happened to bring your night-vision goggles, don't forget that too.
Download a Stargazing App
This is not the 20th Century! We now use apps to help us identify what we're looking at.
If you haven't used one of these apps, they're pretty cool! You just point your cellphone like you would when taking a photo, except the screen displays labels of stars, planets, and constellations. If you find something on your cellphone that intrigues you, you can point your telescope or binoculars at it.
Many astronomy apps will teach you the best times of the night and month to see specific stars, planets, and constellations. They can teach you how to tell the difference between a star and a planet.
This article outlines some of the most popular apps that you can explore.
Become Familiar With Astrophotography
Stargazing is fun with a partner, but when you're by yourself, you'll feel like testing your photography skills.
Astrophotography is simply taking photos of the night sky. It's an entire field of photographic study. The photograph you see at the top of this article is an example.
There are many articles that explore the subject of Astrophotography, but this article is pretty good at getting you started.
Buy a Good Telescope or Pair of Binoculars
Once you get bit by the stargazing bug, you'll want to invest in a good telescope.
Binoculars are still pretty good for stargazing too, but if you want to see really cool stuff, way the heck out there, you're going to need a telescope.
This guide to budget telescopes talks you through some excellent low-cost options.
Related to Stargazing While Camping