No, most RV boondockers are not poor. If anything, they're frugal. Boondockers don't "need" to save money, they just "want" to save money. They prefer to live with less, repurpose things, and leave a lighter footprint on the world. Many boondockers have more than enough funds to get by with. For them, it's not about how much money they can make, but how little they can get by on.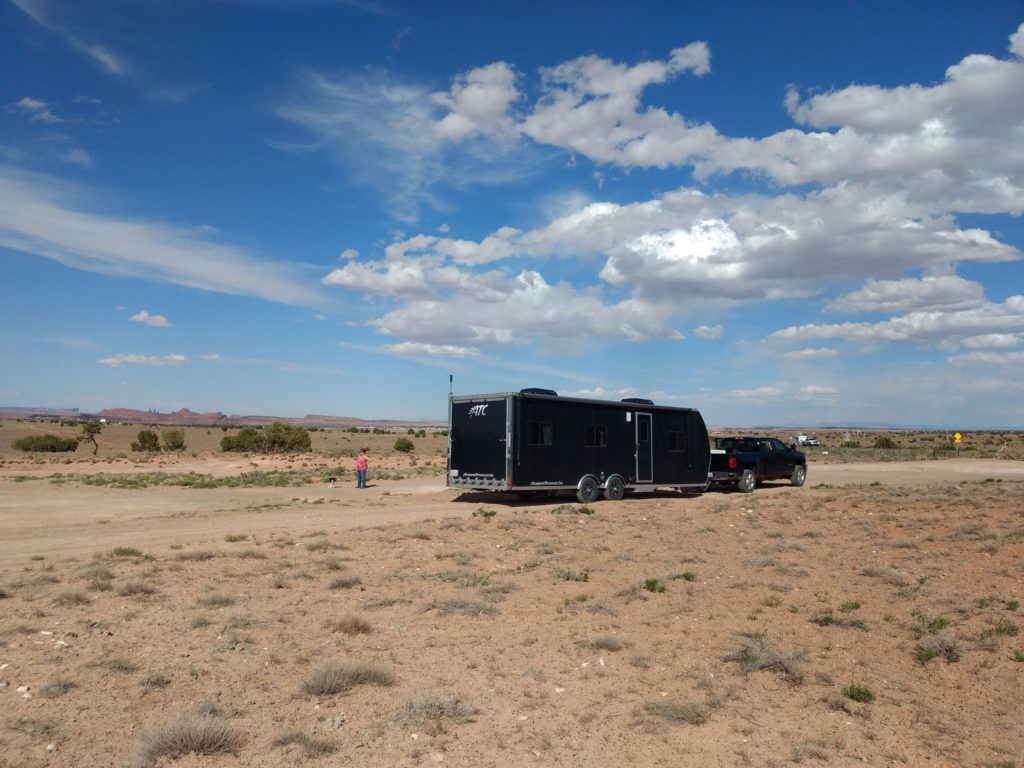 Are RV Boondockers Generally Poor People?
People who live a lifestyle of driving their RV, van, or car into forests and deserts, miles away from town, are not poor at all. "Financially comfortable" is perhaps the term that best describes 90% of boondockers. The reasons why they choose to live this way are many.
RV Boondockers Prefer to Get Away
Most boondockers love getting away from crowds and being out in nature. They love being self-reliant and learning how to get by with less. They enjoy doing more of their own fixes and improvements. Knowing they don't have neighbors to tolerate, or an apartment manager to worry about, helps them feel relaxed.
It's Not About Saving Money, But Not Having to Make Money
Full time boondockers are more interested in freeing themselves from having to earn a living. It's a lot different than feeling as if you have to earn more and spend less just to stay out of debt. By living on public lands, in a tiny house on wheels, with fewer belongings to manage, boondockers are not required to earn as much money. It's one less thing to worry about.
By contrast, many people feel forced to charge up their credit cards, take out loans, or refinance their house, just to achieve personal goals in life. Boondockers, on the other hand, don't want to achieve any more goals other than to free themselves from financial burden.
May boondockers see it as a source of pride in being able to live happily on less income. They love finding new ways to repurpose old things, dual-purpose existing things, and seeing how many days they can last without having to go into town for supplies.
Boondockers Hate Paying for a Site
Just about all boondockers started out by staying in RV parks and paid campgrounds. That's how they realized how much they hate them.
The idea that they have to reserve an RV space weeks or months in advance becomes a headache. They hate being put on hold, having to leave a message, and not ever getting a call back. They hate the idea that they paid $40.00 a night for tiny space surrounded by other RVers with kids trampling on their sewer hose. They hate learning that the RV park sold their space to someone else because they arrived too late.
Paying for 50 amp service and only getting 30 amp, park Wi-Fi too weak, a water faucet that requires a 50 foot hose, discovering the park hot tub was closed down for repair, are among the frustrations that convert RVers into boondockers.
It's Less About Money, and More About Lifestyle
While the cost of RV boondocking can be cheaper than the cost of living in a bricks-and-sticks home, boondockers are not really cash-strapped.
For starters, it costs a lot of money to buy an RV. Most boondockers use a trailer, which means it also costs them a lot of money to buy a truck. They continued to pay more for modifications like solar panels, lithium batteries, a bigger inverter, et al.
They have the money to get what they want, they just prefer the boondocking lifestyle.
Leaving a Smaller Footprint on the World
There is also a sub-culture of boondocking consisting of people who just love Nature above everything else. They don't like consumerism and commercialism. They like owning fewer things, traveling in smaller cars, or even traveling by foot and sleeping in tents.
Having to produce trash is a big issue for these people. They see it as a source of pride to produce as little or no trash at all.
For them, the housing industry is antithesis. The cutting of trees for lumber, the clearing of land for pads and streets, the waste of water for lawns… It's the exact opposite of how they see the world should be. It's a big part of why they became boondockers.
Urban Dwellers Versus RV Boondockers
There's another sub-culture of boondockers who still hold down full time jobs. They set up their RVs, vans, or cars on public land, usually on the outskirts of town, and commute to work each day.
These people do it for a variety of reasons too. Many do it to save money from buying a home, but many others are also living this way temporarily until they can afford to buy a home. Some are just waiting until the housing market improves.
But others are also transitory and are working in town temporarily. Many are traveling nurses who work out of a hospital for just a few weeks or a few months.
Most RV Boondockers Are Motivated
Boondockers are generally highly motivated people because it requires a lot of energy and commitment to live off-grid and manage an RV entirely yourself. Instead of putting all that motivation into working a job at an organization, they put it into their own day-to-day survival.
While saving money by boondocking is often a source of pride for most RVers, it's often not what motivates them.