Yes, there actually are campgrounds with showers and electricity where you can pitch a wall tent and live for a few months! However, they are not free. You will be expected to pay a monthly rate for the space. You will very likely have to pay for the electricity too. But these campgrounds do exist.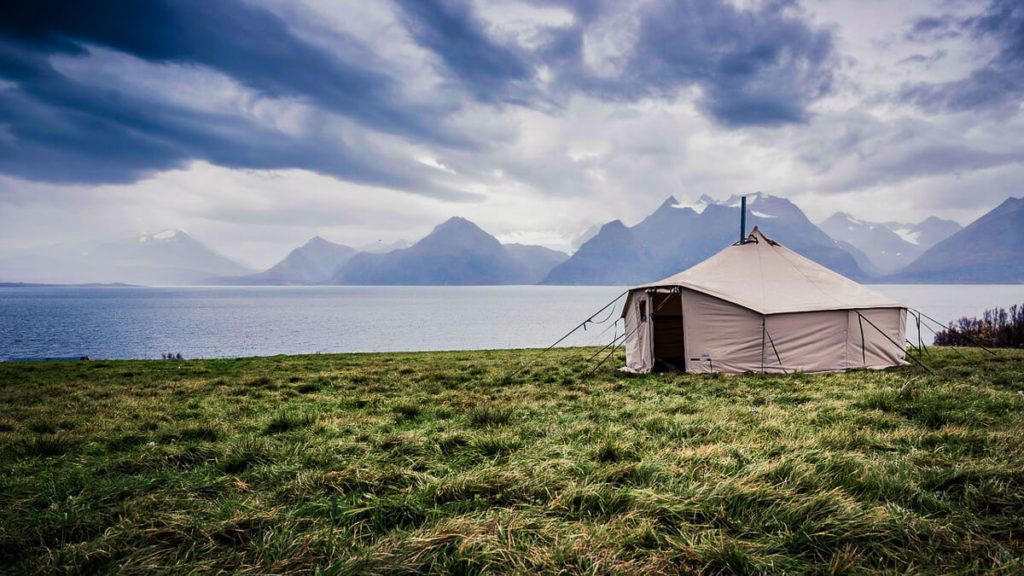 Are There Campgrounds With Showers and Electricity Where I Can Pitch a Wall Tent and Live for a Few Months?
Yes, there are many campgrounds that offer tent camping with showers and electricity, but they will cost you money. Moreover, they are all privately owned campgrounds. The best way to find these campgrounds is to start with a website that offers campground reviews. Here are a few you can try…
At this point, start looking at a state or area that you want to camp in, and start calling campgrounds to see if they have what you're looking for.
Many RV parks also offer tent camping.
Are Any of These Campgrounds for Free?
No. If you want electricity and water with your campsite, you'll have to pay.
Otherwise, yes, there are many campgrounds that will let you stay for free and pitch a wall tent, or any sized tent. But, they don't offer free electricity. However, some will offer free water, but usually at a single faucet, not at each campsite. On top of that, most of these campgrounds will limit your stay anywhere from a few days to a few weeks. We've not found any that will let you tent camp for free for months at a time.
If You Want to Tent Camp Free For a Few Months, Try Boondocking
Camping on open lands managed by the Bureau of Land Management (BLM) is your best option for tent camping months at a time.
Even though you're technically not allowed to remained camped in the same place for months at a time, it's rare that BLM officials enforce occupancy rules on open, public lands. In fact, it's common to find a tent camper in the middle of BLM land, staying for months at a time, without being bothered by officials. On the other hand, if your camp appears messy, with stuff strewn about, and you're gone for days at a time, you will get kicked out for sure.
Providing Your Own Electricity and Water
Electricity and water is something you'll have to provide yourself when tent camping on BLM lands.