Yes, for the most part, you can park on the street overnight. As long as there are no signs posted against parking, you are permitted to park a vehicle overnight. Sleeping inside that vehicle is a different matter, however. Still, it's easy to get away with doing so if you take some few precautions.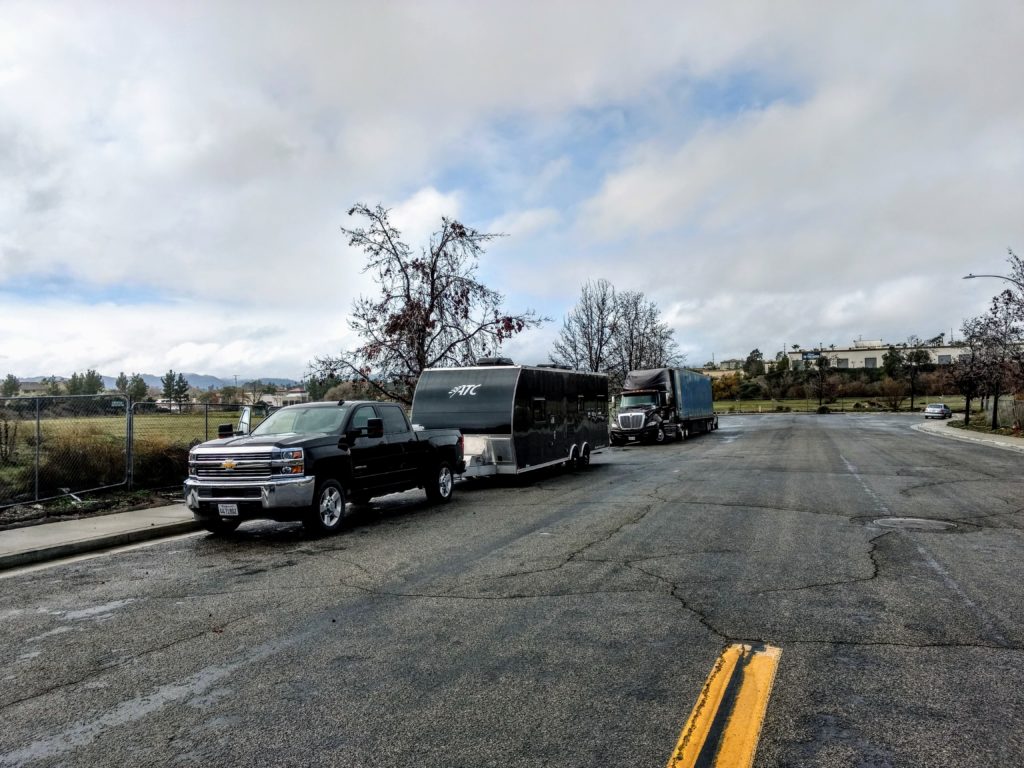 Can I Park on the Street Overnight?
Most cities don't have laws against parking overnight on the street with the exception of certain streets where signs are posted. However, they do have laws against sleeping in vehicles and camping within city limits.
If a law enforcement officer can see that you are inside your vehicle during night time hours, they will most likely make you leave. Therefore, the trick is to make sure they can't see you…
Look for wide streets where other semi-trucks park. This usually means the city has allowed large vehicles to park there and will patrol these streets less often.
Make sure you are not parking overnight along a street with limited hours. Look for no parking signs, or signs that prohibit parking within certain hours.
Keep all windows blocked off with Reflectix or black-out curtains, If cops can't see light coming out of your vehicle, they'll keep driving.
Keep the noise down. Don't run your generator. Don't play loud music or TV.
Don't unhitch your trailer. An unhitched trailer often means someone plans to park there long term.
Don't put chairs and tables outside. Don't roll out your awning. Don't keep your door open. Make it look like your vehicle is parked, not camped.
Most Cities Have Made it Illegal to Camp
Just about every city has a law on the books making it illegal to camp within their limits. These laws apply on both public and private property. RV parks and campgrounds are exempted from these laws. Police officers generally consider you a "camper" if you're sleeping in an RV.
Even though most cities have these laws, they often enforce them selectively. They will ignore campers on certain streets, while enforcing the law on others. Campers often go ignored in blighted neighborhoods, where homeless tend to congregate.
Most Cities Make it Illegal to Sleep in a Vehicle
Almost all medium to large cities have laws making it illegal to sleep in your car while parked on the street. This is basically the same law as above, "illegal to camp", but because it's more difficult to define camping with a car or van, they came up with this law. This law also applies to private property. This is why many Walmarts and Home Depots post signs against overnight parking. They don't want cops in their parking lot with red & blue lights flashing.
Tips For Finding Overnight Parking
Drivin & Vibin has an article, "Is it Legal to Sleep in Your RV on a Neighborhood Street?"
More Reading on Overnight Parking
Read More About Living in Your Vehicle
Available at Amazon.com...
Note: the above list of books are not endorsed by Boondocker's Bible, but are recommended because they provide information relevant to this article. Boondocker's Bible will earn a commission on the sales of these books to help support our goal of providing free boondocking education to the public.
Keyphrases
parking overnight for free