There are many ways to receive mail when boondocking full time. Full time RVers still receive their mail all throughout the year despite constantly moving across the country. It's not that hard to do.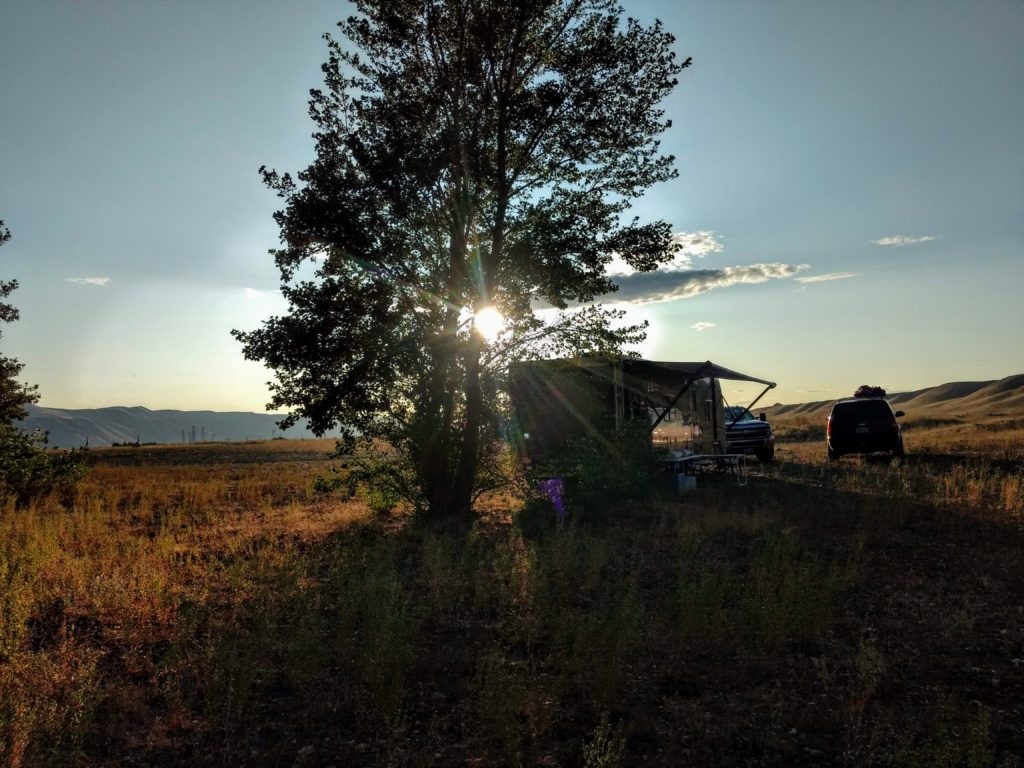 How Can I Receive Mail When Boondocking Full Time
Boondockers still maintain a "home base" even though they don't physically live there. It's just a place that is officially associated with them for purposes of declaring residency to satisfy requirements for taxes, auto registration, voter registration, health insurance, and other.
Pick a place where you want to be officially associated with as a resident. Think about which states have no state income taxes, lower vehicle registration fees, and no state sales taxes.
Find a person or service willing to retrieve your mail (see below)…
Finding a Person Willing to Retrieve Your Mail
Most full time RVers and nomads hire a friend or relative to handle this for them. Most of them change their mailing address to their friend or relative's residence. That person is then responsible for sending you a batch of mail every week or two weeks to the FedEx, UPS, or Post Office location near you.
Doing this also means that your official state of residence changes to their state. Hence, it's best to find someone in a state where you already maintain official residency.
If you don't want your mail and packages going to someone else's residence, you can set up a PO Box and have that person routinely pick up your mail. Many medium to large sized cities also have "co-working" businesses, which are office buildings that lease out space by the day, week or month. They often offer mailboxes too.
Mail Forwarding Services for RVers
There are many mail forwarding services designed specifically for RVers. These services all give you a mailbox where you can have mail delivered to. Someone at the service gets your mail and usually throws out the junk mail. Then they create photographic scans of your remaining mail which you can view online. You decide which pieces to have forwarded to you, and which to throw out. MyRVmail.com, Escapees, Good Sam, St. Brendan's Isle, all offer these services. There are many others too.
Some Bookkeepers Will Receive Your Bills
There are bookkeeping services that will allow you to have your bills mailed directly to them. They will open the bills, pay them, and adjust your books accordingly. You will have to notify every company that is sending you a regular billing statement and have them change your mailing address to your bookkeeper.
Set up a Post Office Box
If you plan to boondock in the same general area for a month or more, get a PO Box at the closest U.S. Post Office. PO Boxes are very cheap, usually about $30.00 for a three-month period. You don't have to stay camped nearby for the entire three-months; you can leave earlier anytime you want. The US Postal Service now has a mobile app that let's you monitor your box.
What about package delivery? Even if you get the smallest box available at a post office, they will always set aside larger items and leave a note inside your box that you have other items waiting. The only reason why you might want to get a larger box is if you don't want to stand in line and ask for your larger items.
When you pack up camp and leave town, it's up to you to notify anyone who has your PO Box address and change that address. For this reason, it's best to use a PO Box for package delivery or other temporary uses. Don't give out your PO Box address to friends, relatives, or other on-going services.
Using Post Office General Delivery
All U.S. Post Offices offer "general delivery", which is a way for travelers to receive to mail. Mail is addressed to you in the following format…
NAME
GENERAL DELIVERY
CITY STATE ZIP
You pick up the mail at the post office for that Zip Code.
General Delivery is free to receive mail, and you do not need to apply. Just have the sender send it to you using the format above.
General Delivery is meant to be temporary (usually one or two mailings), not an address for you to use for any length of time. If you need to receive mail for an extended period, you must rent a P.O. Box (which are very cheap)
To retrieve mail that was sent to you, you must show Identification. Hence, make sure the person sending you mail uses the same name that appears on your Identification.
Mail is held at the Post Office for about 10 days. After which, it is returned to sender.
Receiving Mail at FedEx or UPS Stores
All FedEx and UPS Stores will accept mail addressed to you. Most accept it free of charge, but a handful will charge a small fee, of about $5.00 to hold mail and packages.
To have mail sent to you, simply have the sender send it to that store's address with your name on it. You will be asked to show Identification to prove who you are, so make sure sender uses the same name that's on your Identification.
Warning About Buying Products Online
When buying products online, make sure to review the retailer's shipping policies first. Many will use only one shipper, FedEx, UPS, or USPS, and not anything else. For example, UPS will not deliver to PO Boxes, nor will they deliver to FedEx offices. FedEx does not deliver to UPS offices, but will deliver to Post Offices.
When buying from Amazon.com, particular when an item is sold by a third-party, make sure to review the third-party's shipping policies for the same reasons above.
Advantages of Buying Online from Walmart
Walmart.com offers some unique advantages for RVers that Amazon.com does not offer. When buying online from Walmart…
You can have Walmart deliver the items to a Walmart store close to you.
Walmart does not charge you shipping if delivered to a Walmart store, and often times will waive shipping fees to other destinations depending on what and where it is.
You don't have to be concerned with the seller's shipping policy because it's all done through Walmart.
At the time of picking up your package, they allow you to inspect it, and refuse it with no additional fee, if it's damaged or not what you ordered.
If you accept the package, but later on decide to return it, you still can take it to any Walmart, and they will accept it, repackage it for you, and return it, without additional cost. Most of the time you don't even need the receipt.
Walmart.com has thousands of third-party retailers, which means just about anything you find on Amazon you will also find on Walmart.
Buying from Walmart.com has some disadvantages…
Shipping to a Walmart generally takes a few days longer than Amazon Prime.
Walmart shipping often gets delayed. Hence, an item that was supposed to arrive at a Walmart store near you in 5 days, often will extend another 2 or 3 days.
Walmart's online prices are often higher than Amazon's.