There are many ways to make money while living full time boondocking. But the three primary ways most boondockers earn an income is through some kind of online advertising or affiliate marketing, managing investments or properties, or earning some kind of retirement or disability income.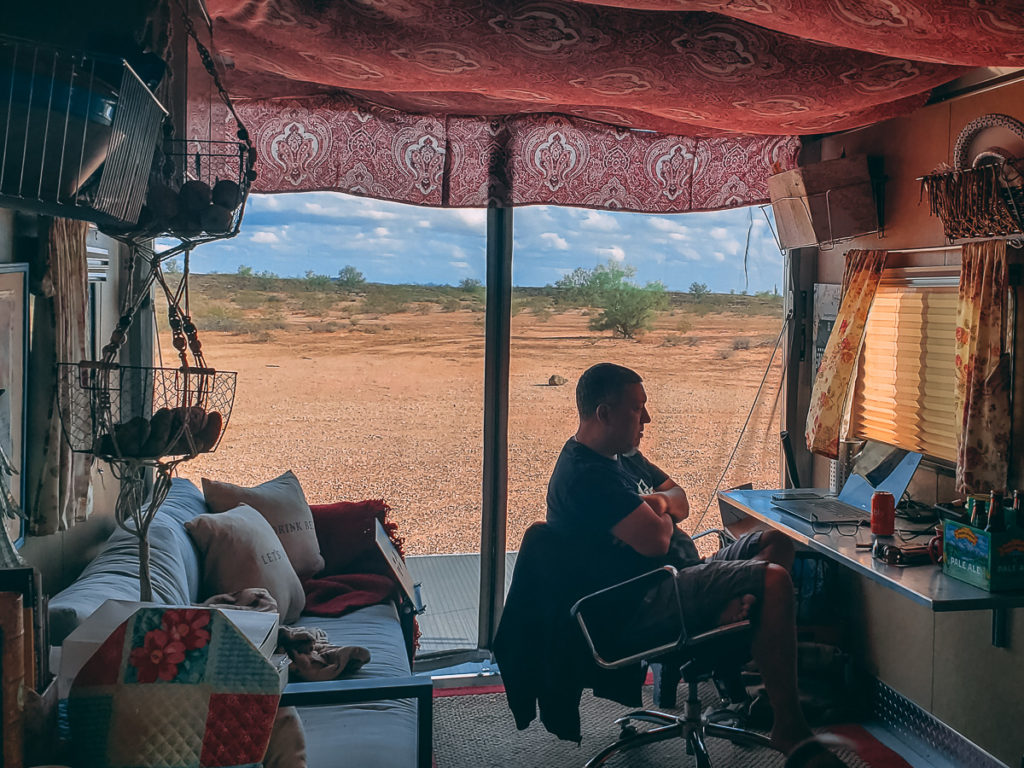 How Do You Make Money on Boondocking?
Most full time boondockers we've met focus on work that let's them stay with their RV or vehicle. But you can still consider yourself a full time boondocker even if you have to leave your camp to earn a living.
Become an Online Publisher – That's how we do it here on Boondocker's Bible. We run this website (along with others), and monetize it with advertising placements. There are many ways to get these placements. Most do it through Google AdSense and Amazon's Affiliate Program. But we also land deals by contacting businesses directly via phone, e-mail, and through social media. You don't have focus on publishing a website, you can put most of your effort into running a newsletter, doing a podcast, creating online courses, or creating YouTube videos.
Manage Investments – Playing the stock market does not mean having to live in a house with three computer screens on your desk. As it turns out, the majority of full time boondockers maintain some kind of investment portfolio. A smaller minority are avid investors who make it their full time job.
Collect Retirement, Disability, or Inheritance – While this might not be something within your control, collecting some kind of monthly entitlement is what allowed many people to live full time boondocking. With respect to Disability, you'd be surprised to find out how many able-bodied people have managed to abuse the SSDI system.
Work Remotely – Who says you have to quit your job to become a full time boondocker? COVID-19 showed us that many companies prefer to keep their employees remote, realizing an opportunity to reduce overhead costs. Many boondockers do online customer service, write documentation, and handle client accounts. Ask your employer if you can shift to remote work.
Offer Repair Services – Set up in a popular boondocking location like Quartzsite or Slab City, and hand out business cards offering RV or vehicle repair work. There are many boondockers always in need of repairs or installations. We know of a full time boondocker who installs and repairs solar systems in RVs.
Become an Online Moderator – Modsquad has grown in popularity because people can get hired to work online managing forums, social media channels, and running customer support chats. It's technically the same as working remotely (#4 on our list) but instead of being employed by a company you're actually an independent contractor who sets their own schedule.
Write Books – There is a large community of authors on Amazon that write stories and get paid. Most of these are short stories within a particular genre. Others have managed to create a large following and can monetize full length novels. All of these are downloaded on Kindle. It doesn't have to be fiction, you can write "how to" books also.
Monetize Your Online Skills – Fiverr, Upwork. Toptal, and Freelancer are examples of marketplaces where people can sell their online skills. It could be programming, managing social media accounts, data entry work, creating graphics, gathering research, editing and proofreading books, even writing blogs and newsletters for other publishers. Many boondocking women take this route by becoming a "Virtual Assisitant".
Make and Sell Art Products – A lot of boondocking women also make jewelry and sell them online, mostly through Etsy. They buy their supplies from stores, or in bulk from Amazon, and then create things at their campsite. It's more about creating a name for yourself, building a following, and selling stuff to your fans.
Run an FBA Store – Fulfillment by Amazon (FBA) is a service where you set up a store on Amazon, ship your products to them, and let them handle the selling and fulfillment. Your job is to buy products cheap and ship them to Amazon. A lot of full time RVers are now doing this. If you know anyone producing unique products, you have an opportunity cut a deal with them and run an FBA store.
Organize Boondocking Workshops – Sounds crazy, but there are boondockers doing this. There is a huge demand of RVers who want someone to hold their hand through the boondocking process. Most of these are done in a group setting. Bob Wells of Home on Wheels Alliance, who is a well-known boondocker does exactly this, selling boondocking workshops organized on BLM lands.
Offer Massage Services – If you're already a licensed massage therapist in your state, you can set up camp in a popular boondocking location like Quartzsite (AZ) or Slab City (CA), and hand out business cards to campers you meet. You may be surprised at how many will want a quick massage. You will have to have your own massage table or chair.
Become a Website Developer – If you have skills at building websites, you can market your services to small business owners. There are many developers who do this remotely, usually from their homes. But there's no reason why this cannot be done while boondocking. You just need to have Internet access.
Sell Your Photography Online – There are online marketplaces where you can upload professional quality photos and sell them to publishers, bloggers, and artists. Photodune is an example, as is Shutterstock. The advantage you have while boondocking is taking landscape shots, closeups of flowers, or wild animals.
What About Work Camping?
Work camping is a different animal of its own. You're typically camping at the employer's location, or near it, and working at the employer's facility…
Amazon Fulfillment Centers are popular with RVers because they live in RV parks set up by Amazon, or at other RV parks paid for by Amazon.
Camp Hosting is not really boondocking because it takes place in a developed campground. Even if the campground has no hookups, or is free, it's still a developed campground. There's a lot of competition for these jobs. Drivin & Vibin has some great advice for prospective camp hosts.
Seasonal Work is popular because RVers can create a circuit around the country that keeps them nomadic. Summer tourist season drives up demand for seasonal labor. Popular jobs are carnival work, parking lot attendants, farm hands and ranch hands.
Cutting Costs is Also Important
Making money is only half of the equation. The other half is cutting your expenses. You'll already be cutting costs by boondocking, but more importantly, boondocking in the same site for as long as possible.
Your largest expense is going to be cost of fuel. Thus, the less often your drive your vehicle, the more you save.
Some boondockers can live on very little income. Most of their worry is spending too much.
More Reading on this Subject