There are two (2) categories of costs associated with boondocking in an RV. The first is the cost of outfitting your RV to make it "boondocking ready". The second is increased fuel costs due to traveling further distances into town. How much does it cost to boondock in an RV is primarily based on your comfort level.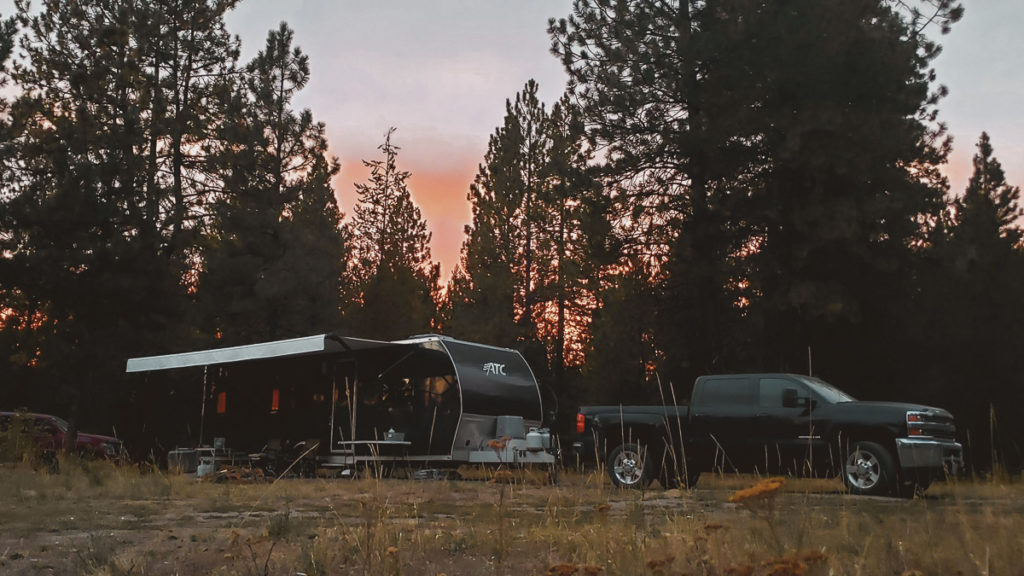 How Much Does it Cost to Boondock in an RV?
Most of these costs involved with boondocking in an RV stem from outfitting your RV to make it more suitable for off-grid use. But there's also increased fuel costs due to traveling further distances to get to town for supplies.
Cost of Internet Access
Almost all boondockers splurge on some kind of solution to get better Internet access…
Most buy a cellular booster that amplifies a weak signal into a louder signal. Expect to pay $500.00 to $750.00 for booster system.
Others spring for a more advanced antenna solution. Expect to pay $150.00 to $300.00 on this.
Many boondockers are now going with Starlink satellite, which costs $600.00 for the hardware and $135.00 a month for the service.
If you don't want to spend extra money improving your Internet connectivity, we recommend using the "Open Signal" app on your phone to find public lands where cellular signal is stronger and weaker.
Read our other articles on this subject…
Cost of Solar and Battery Systems
You should expect to pay about $2,500.00 to outfit your RV with a typical 600 watt panel array, two lead acid batteries, along with a solar charge controller. This set up will allow you to run all of your RV's 12 volt components and propane appliances 24 hours a day, 7 days a week, along with keeping your cellphone and laptop charged. It will not, however, allow you to run your air conditioner, microwave oven, nor any other appliance that has to be plugged into the wall.
Most boondockers go with the above setup, but they will supplement it with a small generator capable of producing up to 2,000 to 2,200 watts of power. That's enough power to run their microwave, and just about any appliance that needs to be plugged into the wall. It's still not enough to power their RV's air conditioner. However, you can purchase a second generator of the same size, chain them together, and produce double the power. That will be enough to run a single air conditioner.
You should expect to pay about $5,000.00 to $6,000.00 for an 800 watt solar panel array, with four (4) lead acid batteries, or two (2) lithium batteries, a solar charge controller, and a 3,000 watt inverter. This set up will give you everything in the paragraph above, plus be able to run your RV's microwave oven, and just about any appliance you plug into the wall. You won't be able to run all these appliances at the same time, however, and you will not be able to run your air conditioner.
If you want everything above plus the ability to run your RV's air conditioning unit(s) up to eight (8) hours a day, then expect to pay anywhere from $12,000.00 to $15,000.00 to add more lithium batteries, more solar panels, more wiring, more mounting hardware, and more man hours to get it done.
Cost of Running a Generator
Most boondockers rely on a generator to power their air conditioning, microwave oven, and anything else they have to plug into the wall…
Most go with a small 2,000 to 2,200 watt portable generator. It's large enough to run a microwave oven, and any other appliance that has to be plugged into the wall. It still cannot power an air conditioning unit. But, you can purchase two of the same 2,000 to 2,200 watt generators, chain them together, and then get enough power to run one air conditioning unit.
The Champion 2,000 watt generator (see it on Amazon) is very popular and reliable, and costs about $500.00 each.
Champion makes it own "parallel link" (see it on Amazon) which connects two of these generators together.
You can also just buy a bigger generator. However, a generator large enough to power an air conditioning unit will be too heavy for a single person to carry in and out of an RV. Boondockers with generators ranging from 3,500 watts and higher usually keep it in the back of a pickup truck, and strapped down securely. Or, their RV is a toy hauler trailer with a ramp door in the back, allowing them to roll heavy items in and out.
Fuel costs for running a small portable 2,000 to 2,200 watt generator is about one (1) gallon of gas for about eight (8) hours of run time. The larger the generator, the less fuel efficient. A 5,000 to 7,500 watt generator will burn a gallon of gas in about four to five hours.
Cost of Propane Usage
Your propane usage will increase when boondocking. You will be running more appliances from propane than you will when connected to power at an RV park…
The price of propane at a fuel station usually follows the same up & down trend of gasoline, but at about 10% to 20% above. Thus, if the price of gasoline is $5.00 a gallon, propane will be between $5.50 to $6.00 a gallon.
A standard 5-gallon propane tank (often referred to as a 20-pound tank) will last a boondocker about 7-10 days of normal use. This generally includes running their RV refrigerator from propane, daily cooktop use, and occasional water heater use. This does not, however, include running the furnace.
A furnace can drain a 5-gallon propane tank in about 3 nights of use, if you're also using propane for your refrigerator, cooktop, and water heater. This is why most boondockers prefer to use portable propane heaters that use a small (green) propane canister.
Those green propane canisters contain 16.4 ounces by weight. They usually cost the same as the U.S. national average of gasoline. So if the national average is $5.00 a gallon of gas, a 16.4 ounce propane canister will also cost $5.00.
Increased Fuel Costs
Boondockers typically spend more on gasoline and diesel than those who stay in RV parks. This is because most boondocking sites located further away from town…
Boondockers have to drive further to get to town to replenish supplies and run errands.
Public lands typically limit your stay to 14-days on average, forcing boondockers to drive to a new camping site.
Boondocking requires one to pull out of their campsite to dump their sewage tanks and refill their water.
This is why most boondockers try to remain camped in the same site for as long as possible. This mean conserving their water, nursing their gray/black tank usage, and limiting their propane usage.
Do You Have to Purchase a Permit to Boondock?
Not at all. Because most boondocking is found on lands managed by the U.S. Forest Service and the Bureau of Land Management. These agencies do not charge fees for dispersed camping on their lands, and do not charge entrance fees on to their lands.
There are other passes and fees that you might encounter, however…
America the Beautiful Pass – This is also known as a National Parks Pass, Annual Pass, or Interagency Pass. This is a card that works for all federal land management agencies. All it does is waive the entrance fee to get inside of a national park. Many boondockers will still purchase this pass because most national parks have dump stations. Otherwise, boondocking is not allowed in national parks. See, "Is a National Parks Pass Worth Buying for a Boondocker?"
Access Pass, Military Pass, Senior Pass – These three passes are exactly the same as the America the Beautiful Pass, except they are issued for life, and will get you a 50% discount on campground fees.
Campground Fees – These fees apply to developed campgrounds only. This is the usual "per night" fee to stay at a campground. Otherwise, boondocking implies camping away from campgrounds, and thus do not incur such fees.
U.S. Forest Service Day Pass – All national forests and grasslands will issue a Day Pass for certain areas of their lands. All it does is allow you to park your vehicle in these areas. These areas are usually trail heads, picnic grounds, and boat launches. You don't have to purchase a Day Pass to use these areas if you don't have a vehicle. Day passes are only for day use activities. They are not needed for camping or boondocking.
Backcountry Camping Fees – This is applicable only to the National Park Service. Most national parks will allow people to camp deep inside the wilderness away from other trafficked areas. They will charge a backcountry camping fee to do this, and it's usually a flat fee that covers you for a certain number of days. Backcountry camping is almost always limited to hikers, horseback riders, or non-motorized boaters, and is limited to tent camping or sleeping on bare ground. See, "Boondocking in National Parks, How and Where?"
State Recreational Passes – States that still hold "Trust Lands" will often allow recreational activities on these lands including camping. To do so, they will require the purchase of a recreational permit. See, "Camping on State Trust Lands".
Is Boondocking Cheaper than Staying in an RV Park?
Absolutely it is. We've stayed in several RV parks over our years of full time RVing and we've compared the costs to boondocking. However, there are some extremely low-rent RV parks that will be cheaper than boondocking, but only if you pay by the month…
We've seen RV parks that costs as little as $125.00 a month with full hookups, but charges you extra on how much electricity you use. These RV parks are typically located in places where no wants to go. It could still be cheaper per month, even if you used a reasonable amount of electricity, just because of how much gasoline you save in not having to run a generator, and not having to drive your RV into town to dump and refill.
See, "Is it Cheaper to Boondock than Staying in RV Parks?"
Will You Save Money by Boondocking?
Of course you will. Each night of boondocking is another night you did not have to pay to stay elsewhere.
Even though RV parks will not charge you extra for water, electricity, and sewage, you are still paying for it in their daily and weekly fees. But with boondocking, you can have options for generating free electricity via solar, and finding places that offer free dump stations and water.
Drivin' & Vibin' has a lengthy article on the costs of boondocking versus paying for camping, "I Hate Paying for Camping and You Should Too".
How Much Income Do Full Time Boondockers Need?
It's possible for a full time boondocker to require as little as $500.00 a month. This is just for the cost of buying food, water, gasoline, propane, and the routine maintenance of keeping their RV or vehicle in working order. But we feel that earning a $1,000 a month is the realistic minimum needed to live happily full time boondocking. See, "How Much Money Do I Need to Make to Full Time Boondocking?"
For Additional Reading