Our rule of thumb is 1-gallon for drinking per person, per day, and one more gallon per day for cooking, washing, and brushing teeth. How much water do you need for boondocking will vary depending on if you're car-camping, or if you have an RV, and how long you plan to be out boondocking…
How Much Water Do I Need for Boondocking?
Try to keep at least one gallon of fresh, clean drinking water for each person, each day, while boondocking. Keep in mind that you can offset this recommendation by bringing other beverages like soda, juice, or even fresh fruit.
But you'll also want to have another gallon of water, per day, for cooking, cleaning up, and brushing teeth.
If your RV has a water tank, a toilet, a shower, and a kitchen sink, you'll likely go through more water than you planned simply because it's easy to go through a lot of water when you have these conveniences.
How Long Will a 100-Gallons of Water Last?
Two people boondocking can make a full 100-gallon water tank last for about four weeks, perhaps up to five…
This is each person taking a shower once per week, and doing it as a "Navy-style" shower.
This is using the water tank for cooking, showering, cleaning, flushing toilet, and brushing teeth.
If you drink beverages other than plain water, you can conserve your water tank even further.
If your RV has a smaller water tank, perhaps 50 gallons, then two people should be able to make that last two to two-and-a-half weeks. You should be able to do the math and figure out how long your water tank will last.
What if I Run Out of Water?
Then you pack up camp and find potable water to refill your tank.
Or, if you have the luxury of having a trailer, then you lock up your trailer and drive your tow vehicle into town. Refill your water jugs, or buy water jugs with screw-on caps.
Another idea… Many boondockers keep a collapsible water tank bladder that they can take to a potable water fill and bring back to their camp. Read on below…
Using a Water Tank Bladder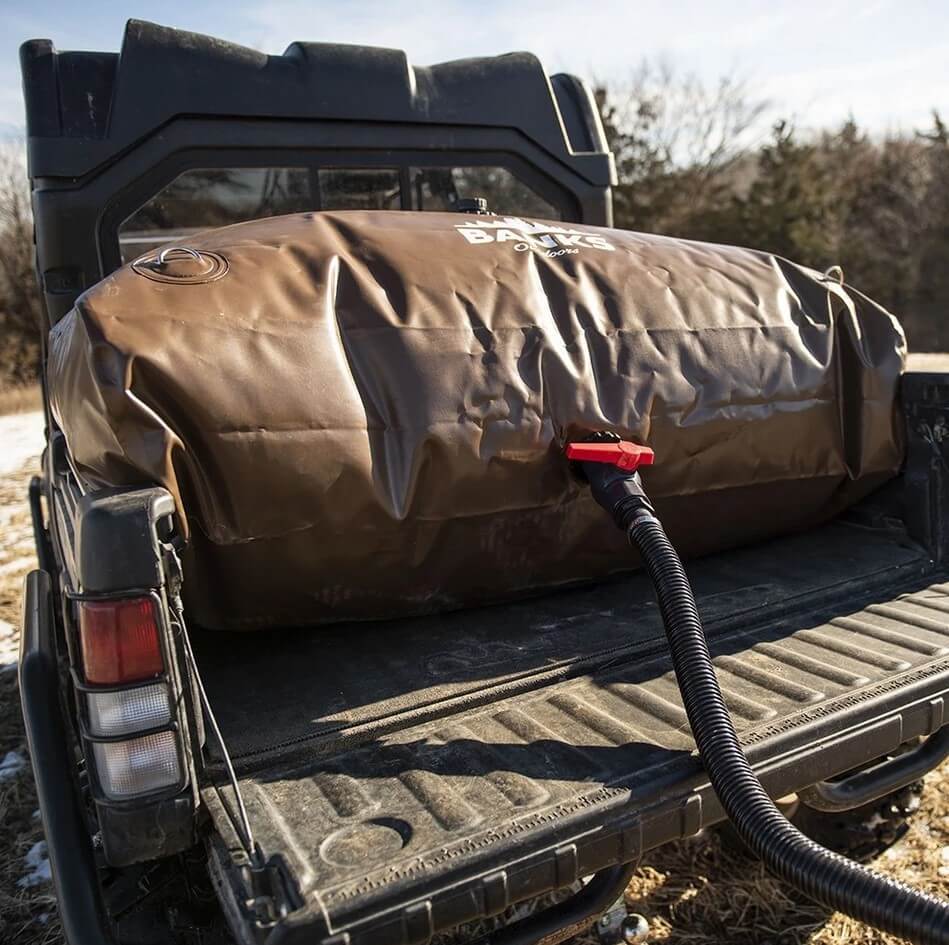 These are used by boondockers who want to remain camped in the same place for weeks or months at a time. This is a collapsible, rubber bladder large enough to hold 20 to 100 gallons of water. They put in the back of their pickup truck, and fill it full of water.
See it on Amazon…
These bladders all attach to a standard garden hose that so you can attach your favorite nozzle, or you can drain into your RV's gravity-fill.
If your RV does not have a gravity-fill port, you will need a "water transfer pump" to push water into its water tank. There are two types… one that is powered by a cordless drill (see it on Amazon), or another that plugs into a standard 3-prong outlet (see it on Amazon). Many boondockers use the cordless drill type. Both of these pumps use standard garden hose attachments.