Finding an RV dump station with potable water is getting harder to do because of water rationing policies and increased liability risks.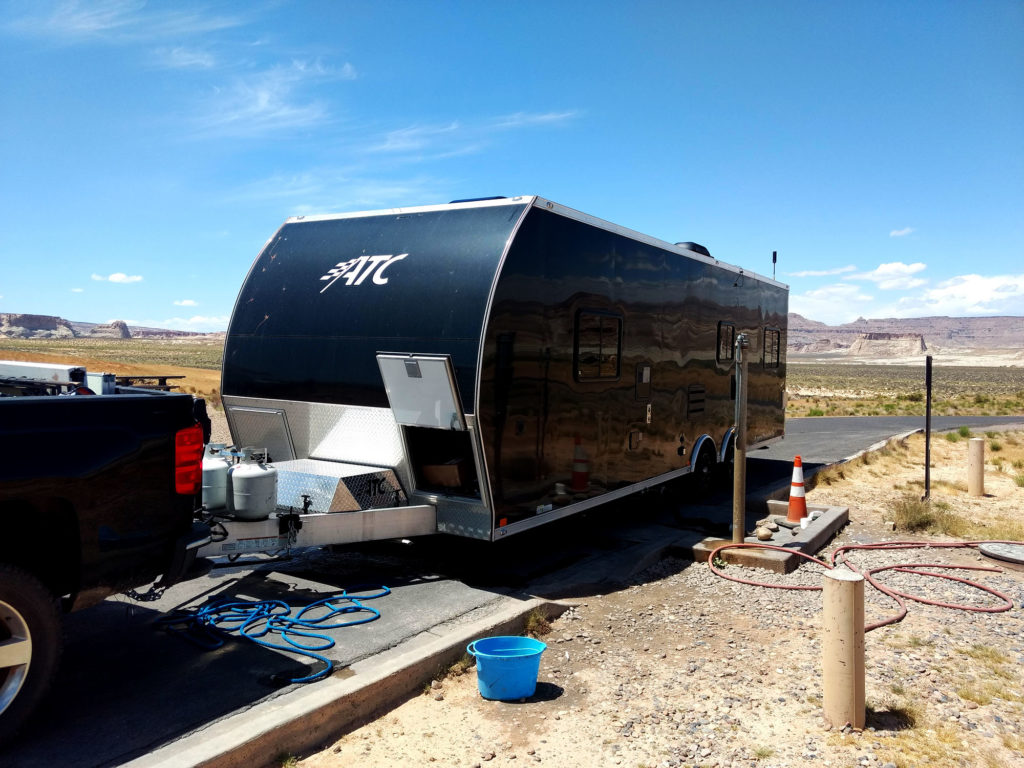 How to Find an RV Dump Station with Potable Water
While many gas stations are adding facilities for RVs, they are also more cautious about limiting their liability and reducing their utility costs. For example, many RV dump stations in California have stopped offering potable water, or charge separately for potable water.
RV Dump Stations With Potable Water
Most RV Parks will let you use their RV dump stations. A good bet are KOAs. Most privately run campgrounds have potable water. Those without dump stations will sometimes let you pull into a space or campsite to dump and refill.
Pilot and Flying J Travel Centers are slowly remodeling their existing locations to include RV dump stations along with RV fuel lanes. Most have potable water. Go to their website and look up locations along your route. Find a location and tap on it to see what amenities are offered there.
Most campgrounds run by the National Park Service, Army Corps of Engineers, and Bureau of Reclamation will have a dump station with potable water. You will have to pay the park entrance fee (day use fee) to use it. Some campgrounds run by the U.S. Forest Service will offer dump stations with potable water.
Indian casinos with travel centers often have RV dump stations. Because state regulations on water rationing generally does not apply to indian reservations, they usually offer potable water.
RV storage facilities usually have dump station with potable water. They will let you pay a small fee to access it. You will have to park your RV by the entrance, go into the office to pay, and they'll let you in.
Websites like Campendium and FreeRoam have listings and reviews of RV dump stations. FreeRoam allows you to filter listings by "Fresh water".
How Do I Know if Water is Potable?
Generally, a spigot painted blue or green means potable water, while a spigot painted red means non-potable.
Many RV dump stations that offer a water faucet will place a sign saying, "Non-Potable Water Do Not Drink". However, in most of those situations, water is being drawn from the same city tap that serves, clean safe water. These signs are placed there because…
The owner has to pay for that water and does not want people drawing 50 to 100 gallons of water at a time,
Because the water faucet is located close enough to a sewer drain that it may be subject to airborne contamination, or
They don't want to assume liability in case someone gets sick.
For more discussion on this, read, "How Do I Know if RV Dump Station Water is Potable?"
Does a Water Filter Make Water Safe to Drink?
Most water filters that screw on to a hose (such as those slim blue filters sold at Wal-Mart) are designed to filter out minerals and metals, and do not filter out chemicals and pathogens. They are only meant to make water taste better, not make it safe to drink. The vast majority of these filters use materials no smaller than 5 microns, which is still too large catch bacteria, viruses, spores, and parasites.
For more information on this, read our full length article, "Does an RV Water Filter Make Water Safe to Drink?"