Getting Internet while camping is primarily done one of two ways… either through your existing cell phone provider, or through a satellite Internet service. Most boondockers use a hotspot through their existing cell phone provider because it's cheaper. But if you want Internet even in the most remote locations, you'll need a more expensive satellite Internet service.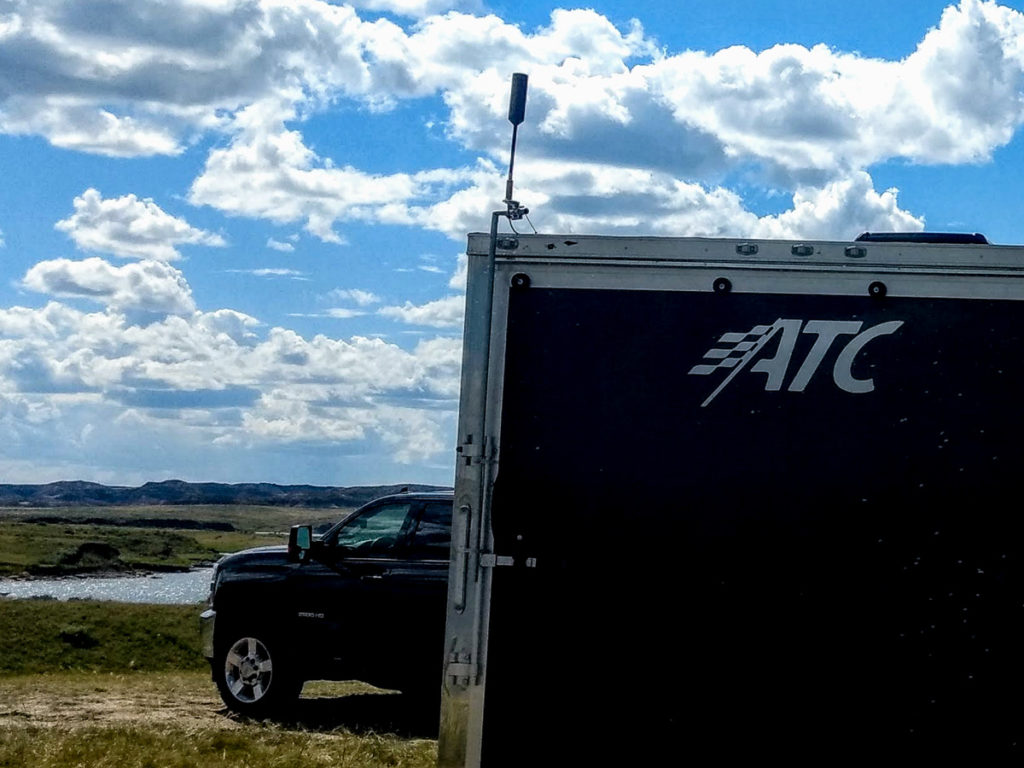 How to Get Internet While Camping
Most boondockers and campers rely on their cell phones for Internet access. You can connect a laptop to your cell phone through a hotspot. A hotspot can be either a standalone device offered by your cellular provider, or the internal hotspot built into your phone.
But if you require Internet access in the most remote locations, you'll need to get satellite Internet service. It's more expensive, requires you to purchase your satellite dish, but you'll be able to get online practically anywhere.
Using Your Cellular Service for Internet While Camping
Either a hotspot device, or the internal hotspot built into your phone, is needed to connect your laptop or tablet to your cellular service. Hotspot devices tend to have more sensitive antennas than the antenna inside your phone. As a result, they do a better job at picking up weak signals. The downside is that most cellular service providers cap hotspot data at about 15GB per month, which is not very much if you're planning to stream movies or music. That same cap also applies when using the hotspot built into your cellphone. On the other hand, if you were to watch a movie directly on your phone, there is no data cap.
How to Get a Stronger Cellular Signal While Camping
Install the OpenSignal App on Your Phone – OpenSignal will display a map showing which areas have strong cell signal, and which areas are weak. It makes it easy to choose where to camp. It's based on actual users running the app reporting their signal strengths. [Visit OpenSignal]
Flat Land is Your Friend – This is because cellular signals cannot penetrate mountains, hills, and boulders. A cell signal traveling across flat, unobstructed land can travel for 10 to 20 miles and still show up on your phone with 2 to 3 bars of strength. Camping down in a canyon offers very poor cell signal because the signal travels over the canyon and doesn't drop down inside where you are.
Hotspot Antennas Grab More Signal – Antennas designed to plug into a standalone hotpot device are ideal for boondocking because they don't require any additional power to function. You must mount the antenna either to your rig, or have it stand on the ground, then run a coaxial cable into your rig, and plug it directly into your hotspot device. Make sure to use a hotspot device that has at least one antenna port, preferably two. Proxicast is the leading brand in the hotspot antenna market (see them on Amazon). Netgear makes a cheap but very effective window-mount antenna (see it on Amazon).
Cellular Boosters Help Increase Signal Strength – Boosters use an antenna similar to the above, but feed the signal into a booster unit. The booster unit increases the signal volume so that a weak signal becomes useable. They do a better job than hotspot antennas in places that get only 1-2 bars of strength, but become useless in places that get 3 bars or more due to the increased noise. The booster unit also has to be plugged into a power source, whereas a hotspot antenna does not. Boosters do not require the use of a hotspot device and will benefit any phone, tablet, or 4G\5G capable device. For RVs we recommend getting the "WeBoost RV 65" (see it on Amazon). For cars and vans we recommend getting the "WeBoost Drive Reach" (see it on Amazon).
Satellite Internet Service is Better But More Expensive
Satellite internet service requires you to purchase a satellite dish and place either on the roof of your RV or on the ground, and will charge you a monthly subscription fee. However, you can get reliable internet access practically anywhere on Earth.
The downsides are….
Satellite dishes are bulky and will take up a lot of precious space inside your rig while you're traveling. Because of the work involved in setting it up, you may not want to do so when overnighting at a rest area or Walmart. However, you can spend the extra bucks for specialized roof mounting systems that will let you set it up or lay it flat at the push of a button.
Most systems cannot be used while driving, however there are some dish options, at higher prices, for those who need satellite internet while moving down the road.
You must purchase your satellite dish. Prices generally run between $5,000 to $7,000 for both the dish and mounting system. There are cheaper dishes on the market, but they are much less reliable.
Monthly service plans average between $75.00 to $100.00 per month.
Actual internet speeds are usually slower than cellular, depending on your cellular service provider and location. But, satellite is always there no matter where you are on Earth.
Satellite Internet Providers
MobilSat is currently the most popular satellite internet service for RVs and vehicle campers.
RVDataSat is also very popular, but is actually a subsidiary of MobilSat.
Starlink, which is the service founded by Elon Musk, is tricky to use with an RV or vehicle. Starlink assigns your satellite dish to a specific geographic area (called a cell), and will not work if moved outside of that area. However, you can contact Starlink have them reassign your service to a new area if you plan to be there for awhile.
HughesNet is no longer available for RV customers, they instead refer you to MobilSat (see above).
For More Reading