There are a variety of ways to minimize trash accumulation while boondocking. It's no fun to camp deep in the woods or desert and have several bags of trash piling up. All that garbage attracts raccoons, mice, bears, flies, wasps, and ants. And it's smells pretty bad too.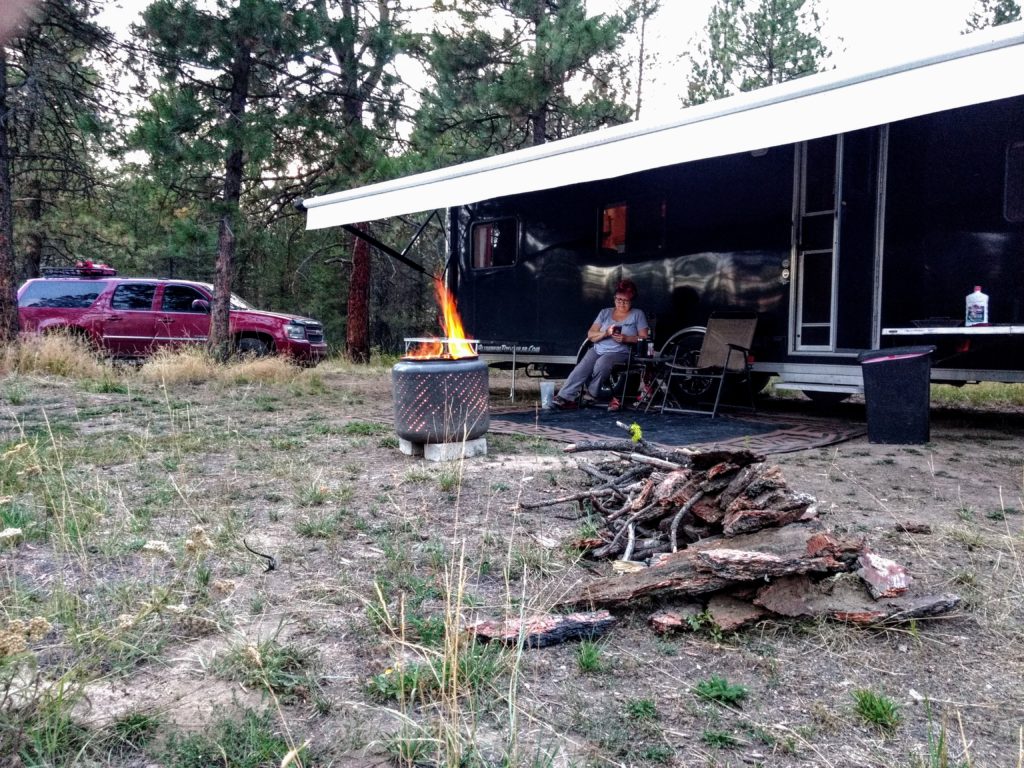 How to Minimize Trash Accumulation While Boondocking
Below are tips we've used to minimize trash accumulation while boondocking over the years…
Burn Your Trash
If you're camped in an area where campfires are allowed, then burn your trash. This includes paper plates, boxes, paper towels, even toilet paper. If you don't mind burning plastics, consider burning smaller items like plastic cups, plastic forks and spoons, food packaging. You can also burn those styrofoam trays that steaks and meats are packaged on. Cloth items, such as a rag that becomes too dirty to clean, can be tossed into a campfire.
Also burn scraps of food. Burn left over food that's gone bad. Burn banana peels, orange peels, etc. If you have any left over grease from cooking bacon, ground beef, or slow-cooking a roast, dump that into a campfire too.
Never dump food, grease, or liquids on the ground because they attract bears and other animals.
Buy Products Packaged in Paper
Instead of buying food packaged in metal, glass, or plastic, buy them in paper packaging so that they can be burned…
Buy milk and fruit juices in a paper carton instead of a plastic carton.
Buy eggs packed in a paper-based crate instead of plastic or Styrofoam.
Buy sticks of butter packaged in cardboard instead of margarine packaged in plastic tubs.
Buy dry rice packaged in paper sacks instead of plastic containers.
Buy Packaging That Can be Crushed Small
For other foods that are not packaged in paper, buy them in packaging that can be crushed small…
You can now buy soups that come in plastic and even paper containers, and not have to buy them in tin cans.
Buy beer and soda in aluminum cans instead of glass bottles.
Instead of buying canned vegetables, buy frozen vegetables and burn the bags they come in.
Buy potato chips in plastic bags instead of Pringles in a can.
Buy nuts and trail mixes in a plastic bag instead of hard plastic jars.
Buy fruit juice in single-use boxes instead of glass jars.
Buy drinking water in single-serve plastic bottles instead of larger, rigid bottles.
Buy More Fresh Foods
Packaged foods obviously includes a package. But fresh fruits and vegetables do not…
Buy fresh whole apples instead of packages of sliced apples.
Buy fresh jalapenos instead of cans of sliced jalapenos.
Buy fresh avocados instead of tubs of guacamole.
Note: as long as you buy fresh fruits and vegetables that remain uncut or unsliced, they do not have to be refrigerated, as long as you eat it within a reasonable time frame.
Keep a "Burn Box" in Your RV
Get a large cardboard box and keep it inside your RV for anything that can be burned later on. Put all paper items in there. Put plastic trash in there if you don't mind burning plastic. Put old food in there. Put moldy fruit and vegetables in there. Having a separate place for burnables will encourage you minimize trash.
Reuse Items
Instead of throwing away a glass jar of jelly, clean it and use for food storage. Glass jars are excellent food storage containers. You can also use them to store used cooking oil.
Reuse your paper plates, paper bowls, plastic cups, and plastic forks, spoons, and knives. There's no reason to limit these items to single-use. Just wipe them clean with a paper towel immediately after use, and don't let food residue dry hard. You can safely eat off these items many times over.