It depends on the city and county. Most medium to large cities have enacted laws to prevent home owners from creating eye sores within their neighborhood. They are particularly concerned about property owners using their land to rent camping space and creating tent cities in their towns.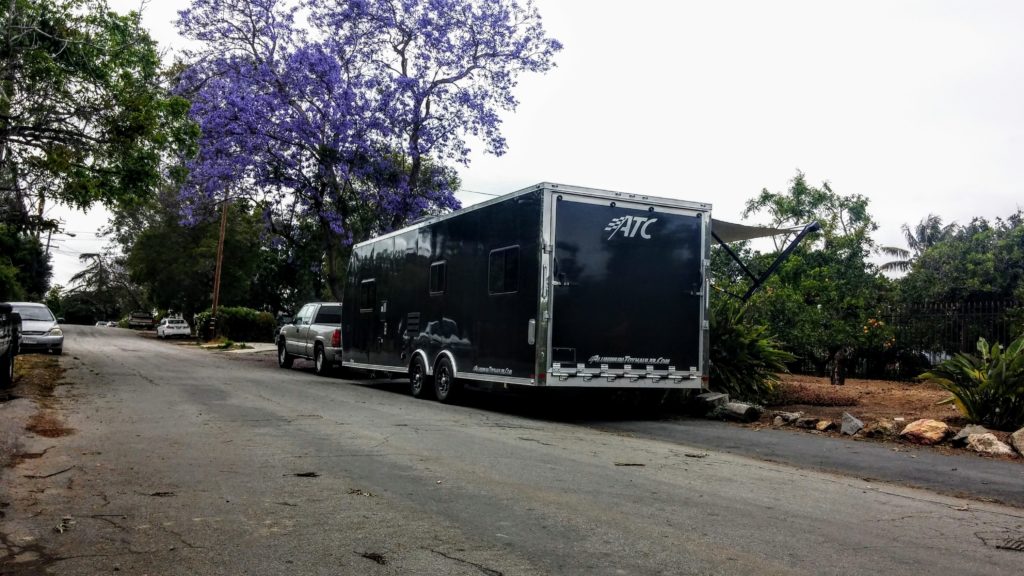 Is Camping on Your Own Land Illegal?
If you're just putting up a tent for your kids to play in and sleep overnight, you're not going to get busted by the cops. However, if you or someone else is living long term in a tent on your own property, you could face fines.
The reason is because most cities have laws against camping, even on private property. They don't want to see land owners setting up motorhomes, trailers, vans, and tent campers creating an eye sore in their beautifully landscaped suburbs. Homeowners associations (HOAs) generally do not allow camping within their areas also.
See recent news article, "Couple Could Face Jail Time for Living in RV in Their Driveway".
What About RV Parks and Private Campgrounds?
Cities and counties make exemptions for RV parks and campgrounds. They do this through zoning laws. If your property is located on land that has been zoned for camping, or related recreational activities, then you may actually be cleared for camping on your property. However, most zones are drawn specifically to carve out RV parks and campgrounds, and will not overlap your property. Hence, if you're camping on your property, or renting out space to campers, you will be in violation of zoning laws.
What About Businesses like Harvest Hosts and Boondocker's Welcome?
Harvest Hosts can often escape legal matters with city and county ordinances because the hosts are typically brick-n-mortar businesses with storefronts, parking lots, or extra acreage on property, and often escape criticism and complaints from nearby residents or businesses. Even though Harvest Hosts may actually be illegal in some cities and counties, local law enforcement will often look the other way unless complaints are filed. Read more at, "Is Harvest Hosts Legitimate?"
Boondockers Welcome is similar, but because it sites are typically located in residential areas, camping could run up against greater scrutiny. City and county ordinances, as well as HOA covenants, are trying to maintain a certain aesthetic in their neighborhoods, and don't want to see people living in their RVs. Boondockers Welcome requires the host to confirm that parking/camping/sleeping in an RV on their property is legal. However, if it turns out that the host erred in their understanding of local codes, it will be YOU (the person sleeping or camping within city limits) who law enforcement will cite. Read more about, "Is Boondockers Welcome Illegal?"
If local code enforcement finds that the host was effectively operating a business renting out space on their property, the host could also be in violation of zoning laws.
But What if I'm Using my RV as a Permanent House, and not Camping?
If you can prove that you're permanently living in your RV or tent, and not actually camping, then you will still be subject housing and building codes. Most cities require a residential structure to have fresh water, heating, cooling, toilet, sewer, windows, doors, along with separate rooms for bathroom. Some cities require residential structures to be connected to city utilities, making off-grid living illegal. If your RV meets all of the city codes, you may be just fine. But be prepared for a nosy neighbor to call City Hall and report you. Hence, make sure you are aware of the housing codes and are ready to defend your position.
Read our other article, "Is is Illegal to Live in a Tent in Your Backyard?"