Generally speaking no, overnight parking is not really allowed at a shopping mall. Shopping malls tend to have large security forces to the large acreage they cover and the need for malls to be a major retail and entertainment destination. Cities put a lot of pressure on mall management to look clean and orderly. The last thing they want is a community of RVs parked out back.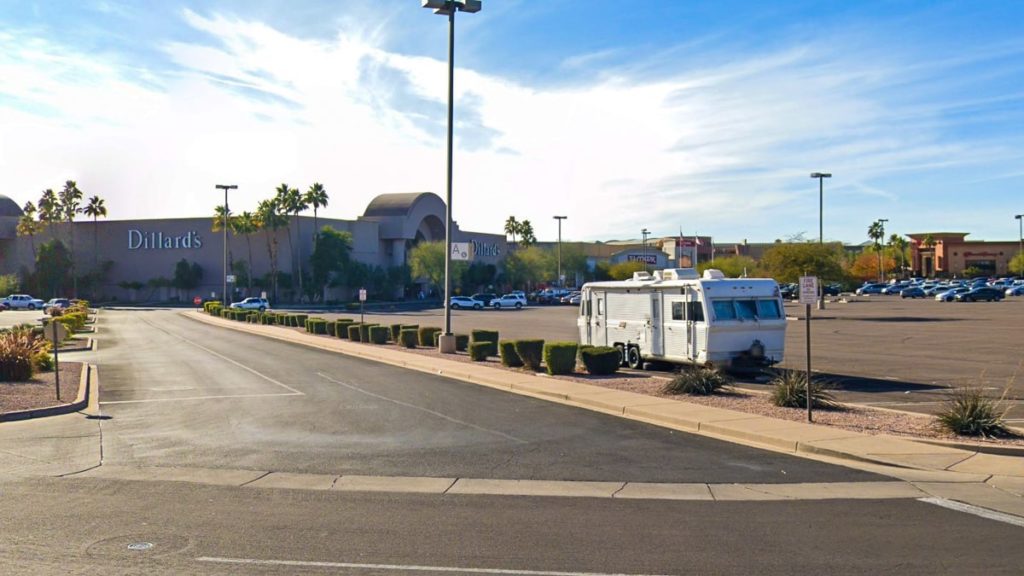 Is Overnight Parking Allowed at a Shopping Mall?
To be fair, we've not used shopping malls for overnight parking.
But many shopping malls we've visited seem to have a sizeable security staff patrolling the area. If they see an RV parking along outer edges of their parking lot, they will easily remember it and put it on their radar.
Moreover, a city relies on its shopping mall to become a premier destination for retail and entertainment. Malls also attract tourists. That city puts a lot of pressure on mall management to create a clean, inviting appearance in order to bring in lots of visitors.
The last thing a city wants is a community of RVers camped in the parking lot, particularly old looking trailers, run down motorhomes, and skoolies painted up with hippie graphics.
On top of that, each medium to large-sized city has laws on the books prohibiting sleeping in vehicles, camping within city limits, and even overnight parking in areas zoned as retail. These laws apply city-wide, but local law enforcement will put more effort into patrolling shopping malls than other retail centers.
It's Not the Same as Walmart and Home Depot
The reason why so many RVers can get away with parking overnight at Walmart, Home Depot, Sam's Club, etc., is because these stores are not tourist destinations. Local residents will still come to these stores, even if there see unsightly RVs and campers parked out front.
If You Have to Park Overnight at a Shopping Mall, Then Go Stealth
If you have a van that doesn't look like a camper from the outside, then you'll probably get away with overnighting at a shopping mall.
Our advice is to park where most of the other cars are parked, just so that you don't stand out.
Keep the lights off, or put up shades in the windows.
Keep the noise down, or use headphones.
Don't loiter outside.
More About Overnight Parking