The cost of RV boondocking is almost always cheaper than staying at an RV park or campground. However, there are some RV parks (usually located in remote towns) where the monthly rate is low enough that it's cheaper to stay there for several months at a time. But otherwise, the costs of RV boondocking is low enough for most people to afford.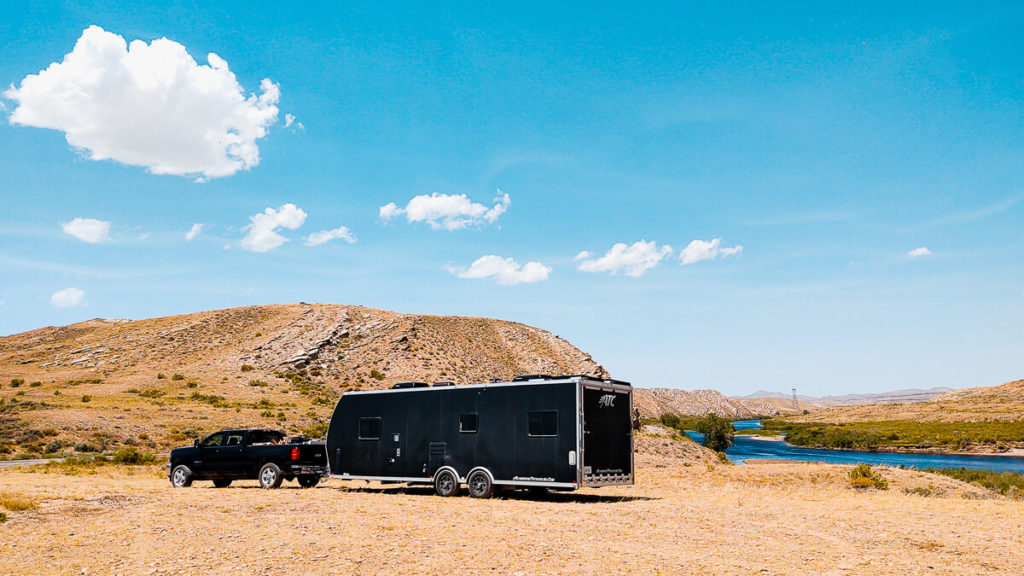 The Cost of RV Boondocking
Most experienced boondockers are able to get by living on public lands for as little as $500.00 a month. However, spending no more than $1,000.00 a month offers much more comfort.
Consider the following…
The cost of gasoline to move your RV or run a generator
The cost of propane to run a furnace or refrigerator
The cost of dumping sewage tanks and refilling fresh water
The cost of food, toiletries, running errands
Outfitting an RV for boondocking
Gasoline & Diesel
The cost of moving your RV from one campsite to another is where the bulk of monthly expenditure is found. Assuming you are towing a trailer, or driving a motorhome, you may pay $200.00 to $300.00 just burning fuel to get you from Point A to Point B. This is why so many full time boondockers try to remain camped in the same site for as long as they can get away with. Some are able to stay for several months at at time (even though it's against the rules).
But there is also the cost of running your generator…
Onan generators, which are often built-into higher-end trailers and motorhomes, tend to be gas hogs. Their popular 5,500 watt (5.5kw) generators will drink up about 5 gallons in about 8-10 hours of use.
Meanwhile, a Yamaha 4,500 watt portable generator will consume about 4.5 gallons of gas in about 14.5 hours. Yamaha's popular 2,000 watt portable generator will consume 1 gallon of gas in about 10 hours.
Honda's 2,200 watt portable generator will consume about 1 gallon of gas in about 8.5 hours.
For further reading…
Propane
The cost of propane tends to be priced at about 10 to 20% above the price of gasoline. If propane costs $5.00 a gallon, then a typical 5 gallon tank (20 pound tank) will cost about $25.00 to fill initially, and then about $23.50 to refill each time.
During the warmer months of the year, expect to deplete a 5 gallon tank in about two to three weeks if only using propane for the refrigerator, cook top, and occasional heating. During the colder months of the year, expect to go through a 5 gallon tank in about 5-7 days, due to heavier heating use.
The smaller 1 gallon canisters (green Coleman bottles) generally cost about $5.00 at most Walmarts. If you can find them bundled into packages of four (4) definitely pick them up, they're a lot cheaper that way.
RV Dumping and Water
The cost of dumping black and gray tanks, as well as refilling your fresh water tank, can vary from $5.00 to $20.00. Some gas stations and travel centers will offer it for free.
Most boondockers find that it's their black tank capacity that dictates how long they can remain in the same site. Thus, the least often you use the black tank, the longer you can remain camped in the same site, and the more money you save.
Gray tank usage is easier to manage because you can capture sink water and shower water in a tub, and dump that on the ground. Many boondockers will just empty their gray tank on the ground when it gets full.
Most RVs are plumbed in such a way that only the toilet dumps into the black tank. But some RVs will also plumb the bathroom sink or kitchen sink to dump into the black tank too.
Generally speaking, without respect to your RV make and model, you can expect 1-3 trips to the dump station every month.
For further reading…
The Cost of Food, Toiletries, and Running Errands
Suffice it to say, veteran boondockers are masters at knowing specifically what food and toiletries they need to last a month, and will buy up a month's worth in one trip.
Boondockers we've been able to talk to tell us that their average monthly expense on food and toiletries works about to about $250.00 a month. Some have given us figures as low as $150.00 a month.
Most rely on shelf-stable foods that don't need refrigeration. Canned meats, specifically potted meat, vienna sausage, and canned tuna, are very inexpensive, and can store at room temperature for long periods of time. Canned vegetables, specifically green beans, are very cheap.
Having to run errands from time to time is why most boondockers prefer using a trailer instead of a motorhome. It allows them to unhitch their trailer and leave it at camp while they drive into town. If you have to run errands, make sure to keep a shopping list so that you can take the opportunity to replenish needed supplies.
The Cost of Outfitting an RV for Boondocking
Most RVs sold off the lot are NOT equipped for long term boondocking. At best, they're capable of getting you through the night at a Walmart or Rest Area when traveling from one RV park to the next.
Most RVs come with inadequate solar capability. They usually come with a single solar panel ranging from 100 watts to 200 watts. This is only enough to slowly charge house batteries while an RV is sitting in storage. Otherwise, if you're boondocking in an RV full time, you are going to need at least 600 watts of solar on the roof.
Most RVs come with only a single 12 volt battery at 80 to 100 amp hours. Boondockers will need a minimum of 200 amp hours of battery power, preferably 400. Read, "How Much Battery Power for Boondocking Will I Need?"
Most RVs come with inadequate battery charging systems. Manufacturers will install an AC-to-DC converter that sends only a trickle charge of power (2 to 10 amps) to the battery, with AC power coming from either shore cord or generator. A few RVs come with "smart converters" that can send as much as 60-90 amps on bulk charging, and then drop down to 10 amps or even 2 amps, to top off. If you plan to boondock full time, you will need a charging system that can recharge your batteries properly to maximize their lifespan. This is a complex study that requires knowing the charging specifications of your battery brand and model, and then finding a replacement AC-to-DC converter that will charge at those specifications.
Most boondockers have some kind of generator to produce AC power. If your RV does not already come with a built-in generator, you will need a portable unit like those made by Honda, Yamaha, Champion, etc. Most boondockers opt for portable generators in the 2,000 watt range because they are lightweight, and you can buy two of these and pair them together for double power.
Boosting your Internet access can add another $500.00 to $1,000.00 in expense. Cellular boosters (like that made by WeBoost and Winegard) are very popular, but also very expensive, and don't always improve signal in many situations. Starlink Satellite is also very popular but even more expensive with initial equipment costs and monthly subscription fee.
What's your total?
It's common to spend $2,000 to $12,000 just to outfit an RV for long term boondocking use, when you factor in items like solar panels, solar charge controller, battery bank, battery charger (or converter), battery monitor, power inverter, portable generator, Internet access, and that does not include professional service time if you hire a shop to install parts for you.