Boondocking in an RV is effectively camping in your RV but located further away from town and further away from amenities. RVers who primarily boondock are looking to get further away from people, and further away from noise pollution and light pollution.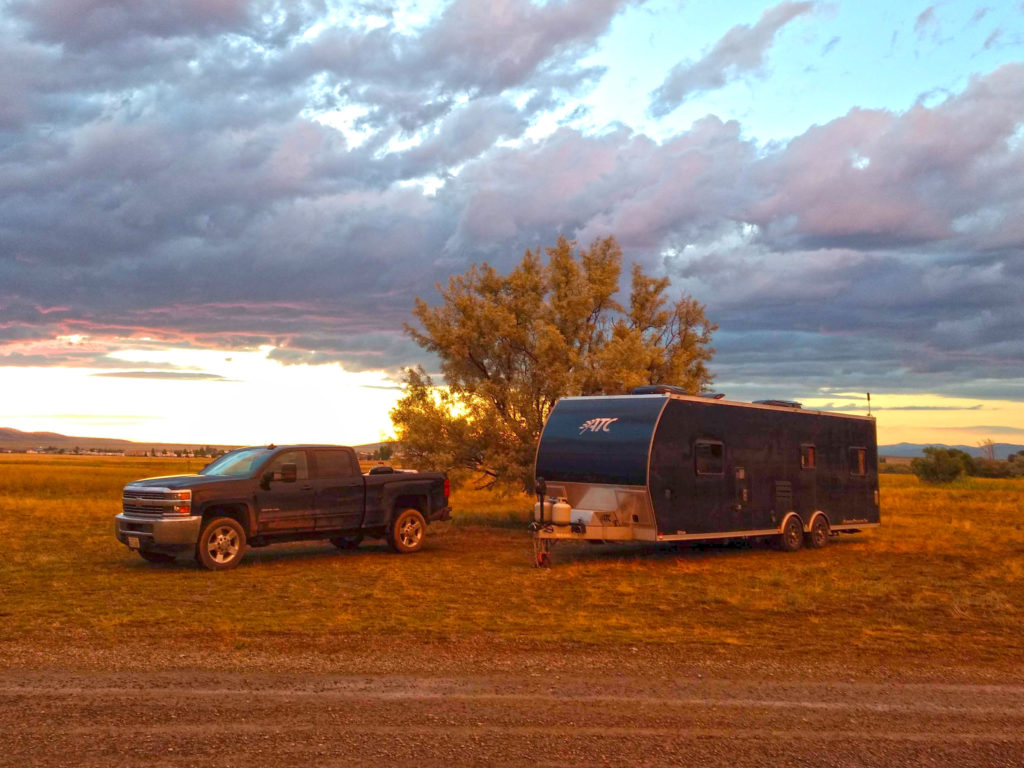 What is Boondocking in an RV?
The goal behind boondocking is to get closer to nature, and camp in the more traditional way of campfires, star gazing, and enjoying the sounds of birds and howling coyotes. RV boondocking is all of that but enjoying the modern amenities and rigid structure of a vehicle instead of a tent. See our other article, "What is the Difference Between Dry Camping and Boondocking?"
Many Boondockers Started Out as Tent Campers
Over the years, as hikers got older and slower, they found their bodies aching from the cold and cramped quarters of a two-person tent. Eventually, they became drawn to small trailers that they could pull with a car. From that perspective, they still wanted to enjoy to sights and sounds of nature, but wanted something more comfortable than a tent. Hence, RV boondocking often stems from this standpoint.
By contrast, RVers who primarily stay in RV Parks and developed campgrounds are travelers who prefer to take their "hotel room" with them from place to place. Their interest is more focused on seeing new sights, trying new restaurants.
People who never enjoyed tent camping, but later went on to purchase an RV, usually don't drive their rigs deep into the woods or desert. They prefer to stay in civilization, but want the mobility and freedom of RVing.
So, the term "boondocking" came up as a way to differentiate between these two perspectives.
Boondocking is More About Self-Sufficiency
RVers who primarily boondock are looking find ways to become more independent and efficient. They love figuring out how to use less water, how to multi-purpose items, and how to live with fewer things and with less money. They love generating solar power, refilling their empty propane bottles, and doing DIY projects. Read our other article, "Are RV Boondockers Generally Poor People?"
Whereas RVers who primarily stay in RV parks and developed campgrounds are less consumed with independence and efficiency and more focused on traveling and seeing the sights.
Boondocking is More About Solitude and Nature
Being away from crowded places, cramped campgrounds, and noisy neighbors is largely what drives boondockers into camping further away from town. Many boondockers feel "stressed" or "anxious" when there's too much external input and find that camping in the woods or the desert helps them feel more at peace.
By contrast, RVers who prefer to stay in RV parks don't mind being five to ten feet away from other RVers and see it as no different than staying in hotels.
Boondockers Spend More Time Outdoors
The idea of camping in nature leads to spending more time outdoors. Boondockers are often hikers and photographers. Many off-road vehicle enthusiasts take their toy haulers out camping further away from town.
On the other hand, RVers who prefer staying in RV Parks see themselves as "living mobile" and are not so much as outdoor enthusiasts than just travelers wanting to experience new places.