Most people we've met dump their trash and garbage from boondocking at highway rest areas. They also rely on trash dumpsters located in forest campgrounds. Many boondockers will also rely on smaller trash cans found next to fuel pumps at gas stations.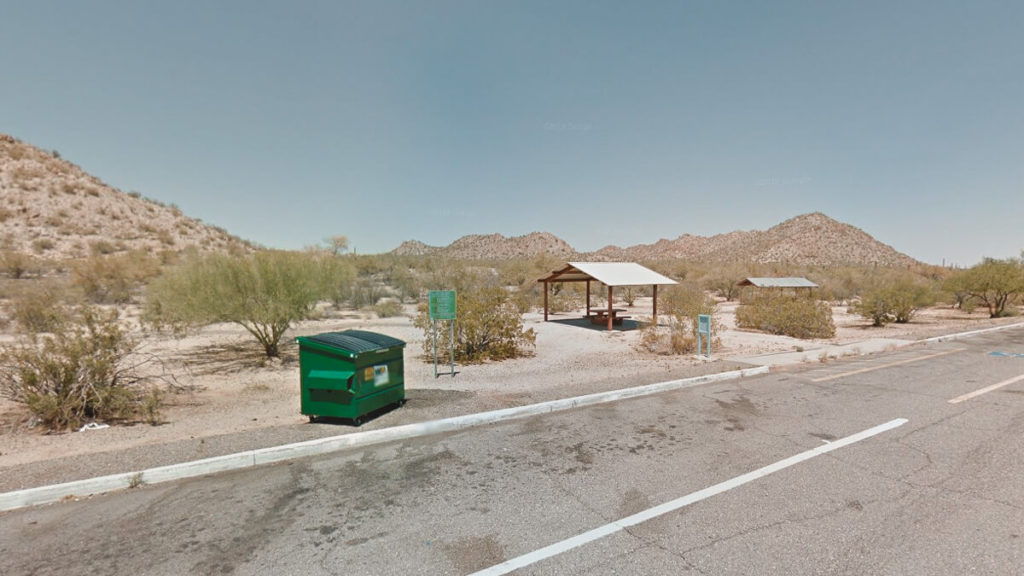 Where to Dump Trash & Garbage When Boondocking
Probably the most common way for people to dump their trash & garbage from boondocking is to stop at a highway rest area and dump it there. Many rest areas offer one or more large dumpsters. But, if a rest area offers only smaller-sized trash cans, you can divide up the trash across multiple cans.
We've met a lot of full time boondockers over our years of camping, and here's a list of places they frequent dump trash…
Highway Rest Areas – Which we've already mentioned above. Most rest areas have full sized dumpsters for public use.
Government Run Campgrounds – These all have either large trash dumpsters or bear-proof trash containers, and are open to the public. Because boondocking is so popular on national forest lands, you can always find a developed campground nearby to dump trash. BLM campgrounds and Army COE campgrounds almost all have dumpsters.
Government Run Day-Use Areas – Both the BLM and USFS operate day use areas, which are often trail head parking lots, picnic areas, boat launches, view points, and visitor centers. These places all have trash cans and dumpsters that you can use for free.
Shopping Centers – Look for a larger shopping center with a fast-food restaurant off to the side. That restaurant will have one or more full sized trash dumpsters, and half the time the employees leave it unlocked. You only need enough to time to toss the trash and drive away.
Apartment Complexes – You may have to unhitch your trailer to get into an apartment complex, but you'll find that they all leave their dumpsters unlocked.
Walmart Parking Lots – Almost all Walmarts have trash cans located right next to shopping cart return stalls. You will want to keep your trash bags small enough to fit into these cans.
RV Parks – Most RV parks will let you use their trash dumpsters if you also pay to dump your sewage tanks. You may actually find several RV parks that don't monitor who comes in and who leaves, and you could easily dump your trash and run.
Gas Stations & Truck Stops – These usually have small trash cans located next to fuel pumps. We've not typically seen any with full-size dumpsters for public use, and they seem to do a good job of keeping their dumpsters locked.
Landfills, Transfer Stations, Garbage Dumps – These are all county-run facilities where people go to dump large volumes of trash. They usually have dumpsters set aside where you can drive up and toss bags. Many counties offer the dumpsters for free, but some will charge anywhere from $1.00 up to $10.00. To find one, you'll have to go to Google Maps and search for, "landfill", "transfer station" or "garbage dump".
Burn Your Trash
Most full time boondockers burn as much of their trash as they can. The more you can burn, the less you have to dispose of elsewhere.
Keep a "burn box" inside your RV and toss burnable trash into it. Stuff like paper towels, cardboard boxes, pamphlets, toilet paper, can all get burned. You can even burn plastic, though we recommend only small, thin pieces of plastic like plastic wrap, potato chip bags, etc, because the smoke from larger pieces can get nasty.
Burning leftover food (and cooking grease) in a campfire is a great way to dispose of food to avoid attracting raccoons and bears.
Don't Buy Food in Glass Containers
Glass bottles and jars are the bane of boondockers. Glass cannot be burned, nor can it be crushed to make smaller. When you purchase beer, soda, or other food items, look for something in cans, plastic, or even paper. You can now buy in soup in cardboard boxes.
Glass containers are a problem for boondockers because when glass breaks outside, it's difficult to pick up all the tiny shards. Your dog or cat will step in it, and it ruins the experience for the next people to camp there too.
Also, glass does not decay and disintegrate. At least cans and paper will eventually decay and disintegrate into the Earth. Not that it's okay to toss this stuff on the ground, but glass litter remains an eyesore virtually forever.
How To Minimize Trash Accumulation
Read our previous article, "How to Minimize Trash Accumulation While Boondocking".