Finding where to take a shower is not that hard once you learn about your options. While most of them cost money, most of them are still pretty cheap. Fitness centers are perhaps the most popular choice for car campers and van dwellers, but there are also a lot of government-run campgrounds with coin-op shower facilities too.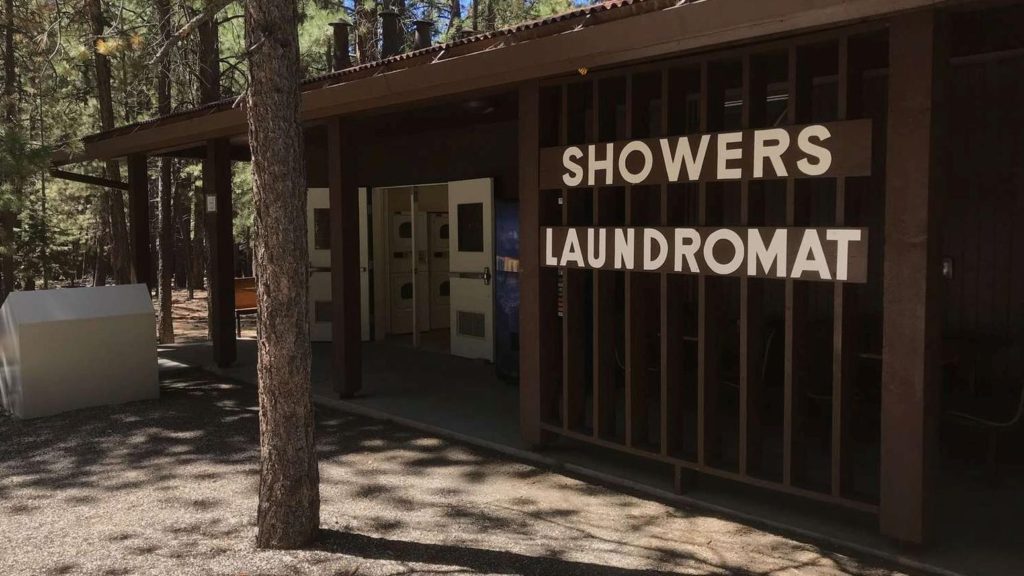 Where to Take a Shower
The following suggestions on where to take a shower come from recommendations from veteran boondockers and from our own experiences…
Fitness Centers
All fitness centers have shower facilities. Fitness centers with locations across the country are the best option. Get a membership that allows you to visit any of their locations.
Choose a fitness center brand that has locations open 24 hours a day. This offers the most freedom, and you can often get away with parking at these locations overnight.
A fitness center membership is only good for one person, you. You will have to buy a membership for each person in your vehicle.
Campgrounds
Campgrounds operated by a government agency (county, state, BLM, USFS, ACOE, etc.) all operate developed campgrounds, and many of these have shower facilities.
Look for campgrounds that do not have manned entry gates, so that you can drive in freely and use their shower facilities.
Campgrounds run by U.S. Forest Service and the Army Corps of Engineers tend to have unmanned entry gates. Some state campgrounds (such as Oklahoma) also have unmanned entry gates too.
These shower facilities are typically coin-operated.
YMCA
Young Men's Christian Association is a nationwide chain of gyms. They offer much lower rates than fitness centers, and you can purchase a national membership if you want. They all offer shower facilities. You typically only find YMCAs in large cities.
Truck Stops
Showers can be pretty expensive at truck stops like Love's, Pilot, Flying J, T/A, etc. You can expect to pay between $12.00 to $15.00 for a shower. These facilities, however, are usually pretty clean and modern.
Many of these businesses offer discounts for frequent buyers, but it's pretty steep. Most offer a free shower each day if you buy 1,000 gallons of diesel each month, which is way out of the range for most boondockers.
Community Swimming Pools
Most medium to large sized cities have a municipally-owned swimming pool open to the public. These all have shower facilities. You don't have to swim in the pool, just shower and get out.
You'll still have to pay the entrance fee, which usually costs between $5.00 to $10.00 per adult, and is usually discounted for children.
If you are not a resident of the city, there is often a non-resident surcharge, ranging anywhere from 20% to 50%.
Boat Marinas
If you're close to the waterfront, there will be several boat marinas. Each marina is effectively a campground for boats. They offer restrooms, laundromat, showers, a store, a cafe, and some kind of common area where people can gather and hangout.
Most showers at boat marinas are coin-operated. But some are also paid at a front desk, then you are given a code to punch in.
You don't have to have a boat. You can drive in and park in the marina parking lot.
Public Beaches
Most public beaches have an outdoor shower facility. They are meant to rinse off salt water. You'll have to park in the beach parking lot, and you will likely have to pay to park. Otherwise, the shower is usually free.
Public beach showers are always cold water.
Homeless Shelters
Every city with at least 20,000 residents has a homeless shelter somewhere. They all have shower facilities, and are usually free…
Some will require you to sleep there at least one night to use the shower.
Many homeless shelters schedule their showers during certain hours (like between 8:00am to 11:00am).
A few will actually let anyone come in and shower and then leave.
Water Jug Shower
If all else fails, get a few jugs of water at a grocery store (usually $1.00 per one-gallon jug), then sit them under the sun for a few hours to warm up.
You can now shower outdoors, in some place with privacy.
More Articles About Showering When Boondocking