An RV is a great way to explore the outdoors. When paired with a good generator, you'll have all the tools you need to comfortably camp anywhere. But, with hundreds of different types of generators on the market, it can be confusing to try and narrow down which one is best for you. Here are some of the things you should be looking for.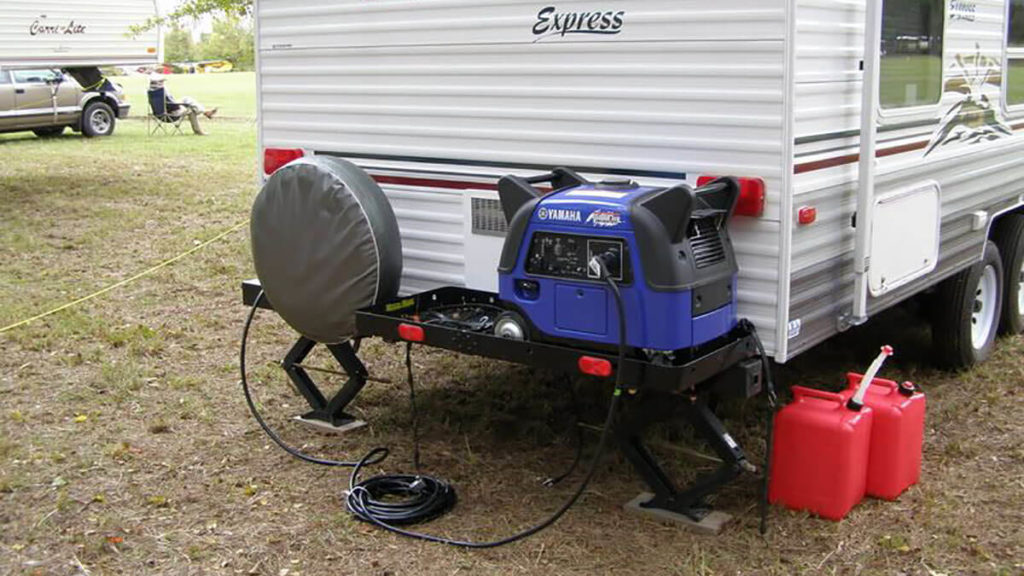 Which Generator to Choose For an RV?
Based on our years of boondocking, here are our recommendations on which generator to choose for an RV…
Champion 2,000 Watt Inverter Generator – (see it on Amazon) It's small enough that it can fit just about anywhere, and light weight so that anyone can pick it up. While this is too small to power an air conditioning unit, you can buy a second one just like it and chain them together using a parallel kit (see it on Amazon). We like the Champion brand because they seem to be built as good as Honda and Yamaha, but are much less expensive, and still offers great customer support.
Champion 4,500 Watt Duel-Fuel Inverter Generator – (see it on Amazon) If you want a generator large enough to power an air conditioning unit, along with running a microwave oven, and Instant Pot, all at the same time, this guy should do it. It's "duel-fuel" capability means you can run it off a propane tank if you choose. Again, we like the Champion brand for its balance of low price, quality build, and great customer support.
Champion 7,500 Watt Generator – (see it on Amazon) If you want a generator with a 50 amp port, try this one. Unfortunately, no manufacturer makes an "inverter generator" with a 50 amp port, thus this unit and others are standard, "contractor style" generators that make more noise. We hate to sound as if we're in love with the Champion brand, however, we know boondockers with other brands, and either you have to pay more money for the Honda or Yamaha, or else you suffer with poor build quality from other brands. Champion seems to hit the balance between price and quality.
What Size Generator Will You Require?
Do you want to run your air conditioning or not?
That is the true decision path on how big of a generator you will buy. If the answer is "no", then buy a generator in the 2,000W to 2,500W range. These units are light enough to easily carry, and small enough to fit into most spaces. They can still power your microwave oven, Instant Pot, coffee maker, hair dryer, curling iron, or what have you. They just won't be able to run all of these things at the same time. What's makes these units even better is that they are "chainable", meaning you can buy two of them and chain them together with parallel kit, and double their power. Once doubled, you can actually run a single air conditioning unit.
If you decide you want your generator to power your air conditioning unit(s), then you are going to need at least a 3,500W generator, but preferably higher. A 3,500W to 3,800W generator should be powerful enough to kick start a single AC unit, and keep it running. Once that AC unit is running, the generator should have enough power left to run a microwave or Instant Pot.
If you have two air conditioning units, then look at a 4,500W generator or higher. You will have to start each AC unit separately, making sure the first unit runs up to speed before turning on the other. Once both AC units are running, you should still have enough power left for a microwave oven or Instant Pot.
This article talks you through the process of accurately determining how much power your generator needs.
Conventional or Inverter Generator?
Generators can broken down into two types. You can either get conventional or inverter options. Conventional "contractor style" generators are the cheapest. But they come with a few significant downsides. One of the biggest issues is that they are prone to power surges, which can damage your devices. Another potential problem is that they are louder.
Because of these problems, it's common for people to use an inverter generator. Though they cost a little more, many people opt to use them because of their reliability and quiet operation.
Generator Noise
When you are on your holiday, the last thing you want is to listen to the thumping of your generator. How much noise it makes should be mentioned in the product description. There are also plenty of generators that have been specially designed to run quietly. If this is important to you, check out this list of quiet generators.
However, if you are still having some problems, there are some techniques you can use to deal with them. You can move the generator further away from your campsite. Another thing you can try is replacing the muffler. You can also put it into a baffle box, creating a soundproof environment. This article goes into more detail on how to silence your generator.
Generator Size
Before buying the biggest generator you can afford, make sure you are capable of picking it up.
Generators are heavy beasts. This is why the smaller generators in the 2,000W to 2,200W range are so popular. They are light weight. In addition, small generators can be chained together to double their output using a parallel kit. Most generator manufacturers sell their own parallel kits.
Generators in the 3,000W range and higher become too heavy to lift unless you happen to be a body builder. What's more is that they are physically larger in size making them more difficult to carry through an RV door. This is why toy haulers make great boondocking trailers; they have a ramp door for carrying in large items.
Warranty Period
Generators with longer warranty periods typically have better customer reviews. This is where you find brands like Honda, Yamaha, Champion, usually in that order. However, these brands are also more expensive. But, don't settle for poor build quality just because it's cheaper. This is because when you're boondocking far from civilization, you will need a reliable generator.
Generator Cost
Finally, it's a good idea to look at how much you can expect to pay for the generators. The amount of power will be the most important that will impact the amount you need to pay. You shouldn't have to break the bank to get something that will be suited to your RV. Often, you will need to be prepared to pay between $1,500 to $2,500 to get a good generator. While this can seem like a lot of money, it will get you a high-quality device that will be able to last for a long time.
Conclusion
Choosing a generator can be a difficult task. But as long as you know what you are looking for, you should be able to narrow it down to a few good options. Then, you just need to plan your next RV holiday and put it to use.
More About Generators for RVs