We've assembled a long list of tips for staying cool while camping in Summer heat. These are based on our own experiences camping and boondocking across the United States and Canada over the years, as well as popular tactics used by other boondockers we've met.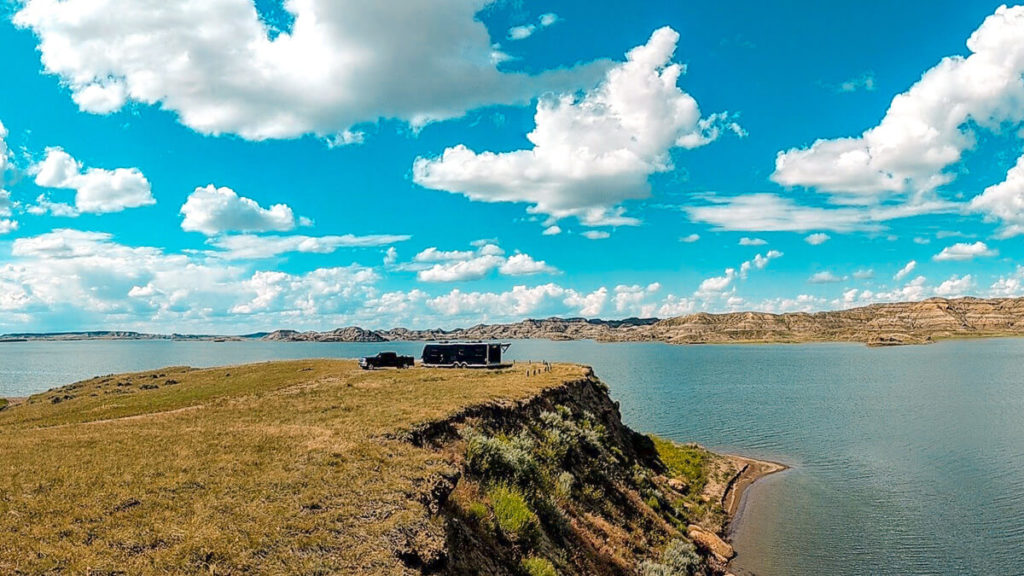 Tips for Staying Cool While Camping in Summer
Higher Elevation – This is by far the most effective strategy in staying cool while camping in summer. It's not about camping further north as it is about camping higher up. Try to stay at least 8,000 feet up during the months of July and August. The air gets cooler the higher in elevation you go. The mountain areas of Colorado, Wyoming, Idaho, and Montana have abundant campgrounds and boondocking. Read, "10 Tips for Boondocking at High Altitude".
The Pacific Coast – The way the winds blow over the North Pacific and down along the Pacific Coast creates a cooling effect along the shorelines of Alaska all the way south into San Francisco. You can enjoy temperatures in the mid-60s to mid-70s right at the California-Oregon border while it's 100+ degrees just 50 miles inland. The problem is that campgrounds along the Pacific coastline are always booked solid in the summer, and there is very little boondocking. Your best bet for boondocking is in Olympic National Forest. Read, "5 Dispersed Camping Sites in Olympic National Forest".
Stay Away From Humid Regions – Everywhere east of the Rocky Mountains, all the way out to the Atlantic Coast, gets very humid in the Summer. The humidity is what makes high temperature unbearable. When you hear people say, "Yes, but it's a dry heat", is actually very true. 100 degree dry heat might sound bad, but it is still way better than 100 degree moist heat. Find campgrounds and boondocking west of the Rockies, and you'll find your RV's air conditioning working a lot better.
Camp on the Morning Side of the Mountain – The morning side of a mountain is the side facing east, where the morning sun strikes. Later in the day, as the sun moves over the mountain, that morning side will be shaded. Hence, you can enjoy shade during the hottest part of the afternoon. You'll have to use a topographic map to spot east-facing slopes and where camping sites can be found.
Use the Windy App to Find Breezy Locations – There is a cellphone app called "Windy" that shows you a map of all wind speeds and patterns. You can easily see where wind tends to blow the strongest, coolest, and from which direction. Generally speaking, Southern Wyoming tends to blow most consistently, and there is national forest land between Laramie and Cheyenne where elevation reaches 8,000 to 9,000 feet.
Get a Dehumidifier – If you are unable to camp west of the Rockies, then buy a dehumidifier. It will make sitting inside your RV much more bearable. You will need a generator to run a dehumidifier. Dehumidifiers are sized by the pint. We recommend something in the 20-30 pint range (see it on Amazon), which is small enough for vans and RVs, but still effective enough to remove water from the air.
Buy Cold Packs – These packs do not require refrigeration. You just squeeze them until you hear something "pop" inside, and they get immediately cold. You can place them inside your hat, or wrap it in a cloth and tie it around your neck. They're fairly cheap too. You can buy a box of 24 for just $20 to $25. (See it on Amazon).
Buy a Portable Air Conditioner – Even if your RV already has an AC unit on the roof, you may benefit from an extra air conditioner unit. Portable units have the advantage of being moved and pointed to wherever you need it. However, most of these units will require you adding an exhaust port to direct moist, heated air outside of your vehicle. Portable air conditioners all require 110-120 volt power, which means you will need a generator. (See it on Amazon).
Buy a Portable Fan – It always seems that when the heat arrives, the breeze goes away. So, get a fan for your campsite to keep you cool when you're sitting outside. We recommend a corded fan because 18-20v battery packs used by most cordless tools cost $100.00 to $200.00 each, and that's just for the battery itself. You can power a corded fan with your generator. These fans will also help keep flying insects off of you. (See it on Amazon).
Position Your RV Awning Against the Sun – If your RV has an awning, then park the RV in such a way that the sun shines directly on the awning. This will cast a shade across the RV, and prevent the sun from heating up the walls of your rig.
Position your RV in the shade – This is an obvious no-brainer. However, the problem with this is that campgrounds and RV parks often have very poor shading. Thus, do your research ahead of time to find out how much shade their spaces offer. The same goes when you're researching boondocking sites. Keep in mind that when you park your RV or van in the shade, your roof-mounted solar panels will not work.
Use Reflectix Sheeting – This is the shiny silver bubble wrap you see people putting into the windows of their RVs. This is amazing stuff! If you drape the entire sunny side of your RV with Reflectix, your air conditioner can drop temperature down into upper-60s. Most RVers, however, only place cut-outs of Reflectix into windows and inside cabinetry, which still offers some effectiveness. You can get Reflectix at home improvement stores and RV supply stores. (See it on Amazon).
Use heat reflective paint on your roof – Home improvement stores sell this type of paint. It's colored white, and will block heat from entering through your roof. "Henry Tropicool" is the most popular brand… it's expensive at $300.00 for a 5-gallon bucket, but many RV owners swear by this stuff. (See it on Amazon).
Buy higher grade roof fans – Most RVs come with small, cheap roof fans (or vent fans) that do a minimal job of moving hot air out. You can get better fans that move air more quickly. The Maxxair Deluxe is one of the best roof-mounted fans in the industry. (See it on Amazon).
Keep all windows open at night – While sleeping at night, keep all windows, along with your roof fans blowing air out. This will create air movement bringing in the cooler nighttime air. As soon as the sun rises, close up all windows and put up Reflectix sheeting panels to lock in that cooler air.
Open your ramp door – A nice advantage with toy haulers is the ramp door in the back. When you drop it down it lets in all the breeze. To keep flying insects out, buy a toy hauler ramp door bug screen. Classic Accessories makes a heavy duty ramp door screen that holds up to abuse. (See it on Amazon).
Don't Park on Asphalt – Asphalt is notorious for getting extremely hot in the sun. All that heat will rise up and pass into your vehicle. If you're parked on it, you'll never stay cool in the Summer. By contrast, camping on earth covered with a short layer of grass, scrub, or chaparral, does pretty well in absorbing sunshine and holding it down into the ground.
Camp Next to Lakes – Lakes will absorb direct sunlight and prevent that heat from rising up back. Meanwhile, late afternoon breezes will blow over a lake and send cooled air into your open windows.
Paint Your RV or Van White – This probably goes beyond what most people would do, but it is a scientific fact that white paint reflects more heat than any other color, and thereby maintains a cooler temperature inside. However, if you plan on buying a new RV or van, look for something painted white, and remove all graphics and decals.
Remove Your Socks and Shoes – It might sound strange, but your feet and toes are where the blood reaches its coolest temperature. If you remove your socks and shoes, and allow a fan to blow on your toes, your body's blood temperature will drop a couple degrees, and you'll feel a little bit more comfortable. Use your calf muscles to squeeze your feet and toes, as this will help push the cooled blood back up your body more quickly.